CordCruncher Headphones
Price: $25 USÂ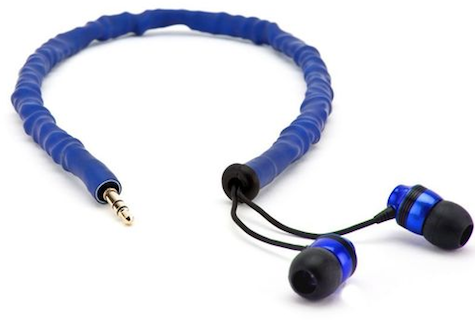 When taking a first look at the CordCruncher headphones you can tell they have unique style about them right off the bat. The headphones are a very versatile and are easy to use. With the function of being able to wear the headphones as a bracelet or necklace, you are able to conveniently carry these headphones on the go.
The CordCruncher Headphones are equipped with a 3.5mm headphone jack to fit most MP3 players and smartphones. They have a unique latex covering on the entire length of the cord that the wires get bundled into to make the headphones tangle free. I found the sound quality of the headphones a bit iffy. The sound output is more bass than it is treble. I changed a few settings on equalizer with my iPad as well with my MacBook Pro to reduce the bass intensity, but on other applications, for example YouTube, it was still overall dominant bass.
I figure these types of headphones would be best for people on the go who aren't looking for the best quality sound, but instead a clutter free solution. The overall comfort of the CordCruncher headphone is great. It comes with three different sizes of earplugs so you are able to get the right fit.
My overall MyMac Review Rating is be a 7 out of 10. Reason being, it has a great design, but the quality of sound could be vamped up a bit.
Make sure you follow all the links and read the FAQ at the company's web site.