Musubo Cases for iPhone 4/4S
Musubo
Price:$34.99
Musubo's cases for iPhone 4 and iPhone 4S are stylish and provide a double layer of protection. The Retro has an exterior hard shell and interior silicon case The Sneaker case provides protection via silicon bumper and a rigid back panel (sole) made of  thermoplastic polyurethane (TPU) designed to look like the tread of a sneaker. The Retro and Sneaker  cases are both priced at $34.99.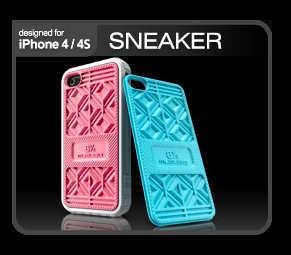 Musubo cases are stylish and practical. The Sneaker case  comes with two soles of different colors and a bumper. The rigid thick rubber of the sole offers a better grip making it less likely to drop the phone,  and cushions the phone if it is dropped.  The size is printed on the sole, similar to a sneaker. I'm sure it's a coincidence but my shoe size is 8-1/2 as is the number on my Sneaker case. The soft silicon bumper protects the sides but the power button is difficult to operate, sometimes requiring depressing multiple times before working. There is a loop on the bumper to allow attachment of a lanyard.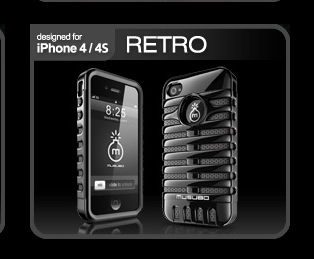 The Retro case  has both an exterior hard shell made of a heat durable polycarbonate material and an interior silicon rubber case providing double layers of protection. In my opinion it's not as stylish as the Sneaker case. It comes in five colors: black, silver, red, white, and blue. I'm not a fan of the hard shell grill. It makes the case too bulky and is a bit masculine in appearance. I do like the cut out in the back for the Apple logo. As with the Sneaker case, I had the same issue with difficulty accessing the power button due to the silicon interior case.
Both cases include a foldable video stand, screen protectors, and micro fiber fabric to protect and clean the iPhone screen. I found the video stand useless because the phone does not stay in the stand if you touch the phone.  I use the stand as a holder when I do not plan to use the phone.
I liked the style of the Sneaker case. The case is less bulky than the Retro and much easier to store in my purse and jacket pockets. The Retro case provides a double layer of protection that is better than most hard shell snap-on cases.
The $34.99 price for the cases is reasonable considering the excellent construction quality of both cases. Given  a choice between the two, the Sneaker is my favorite. Its light weight and highness on the cuteness scale makes it my favorite. My suggestion to Musubo is to nix the stand or make it hold the phone properly. It provides very little added value.
MyMac Review Rating is 7 out of 10.