CL On Ear Headphones
Company:Â Harman Kardon
Price: $200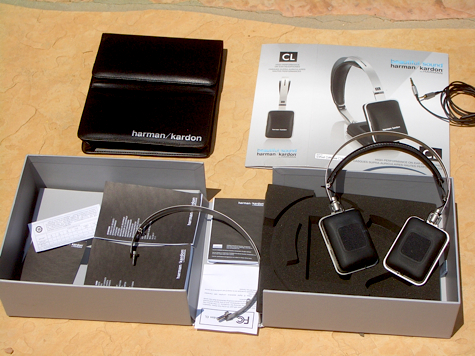 User Report Q & A using our The Answer Is Yes — Now WTQ (What's the Question?) format:
Do they sound good? [ Yes ]
Are they comfortable for extended wearing? [ Yes ]
Is the $200 price reasonable? [Yes]
That's a good start. What about the other attributes of Harman Kardon's new premium on ear CL headphones, sold exclusively at Apple?
Does the microphone in these headphones work for iPhone calls, VOIP calls, Skype, FaceTime, and other voice message uses? [ Yes ]
Is it strange that nowhere on the product packaging or almost-useless printed instructions does it state that a microphone is built into the remote? [ Yes ]
Is Treble Boost equalization on Apple equipment recommended, as with most premium on ear headphones? [ Yes ]
Is the bass response rich and substantial? [ Yes ]
Is the midrange clean and present? [ Yes ]
Is the high end crisp and consistent? [Yes ]
What else do potential purchasers need to know about these stylish and contemporary/classic headphones?
How long should CL be played at 60 percent volume to break in the speaker drivers? [ 20 to 30 hours, in 3 to 6 hour chunks ]
Does the inline controller work efficiently for forward/advance, pause/play, and volume up/down? Â [ Yes ]
Do the two included metal frame options accommodate almost all head sizes and hair styles? [ Yes ]
Is the included leatherette case protective and well-designed? [ Yes ]
Do the headphones fold almost flat for insertion into the case? [ Yes ]
Is the detachable audio cable secure when inserted? [ Yes ]
Is the huge original carton recyclable? [ Yes ]
Do the unmarked ear pieces fit equally well when worn in either left/right position? [ Yes ]
Do high quality audio tracks sound much better on these and other premium headphones then does lower quality compressed audio? [ Yes ]
Is ambient noise passive isolation suitable both for travel and personal use, allowing an appropriate amount of external sound? [ Yes ]
Is the two-year warranty adequate relative to industry standards? [ Yes ]
Did we leave out any other important matters?
Is the "exceptional bass response" acceptable to music lovers who prefer a more balanced audio response, when Treble Boost equalization is used? [ Yes ]
Does this product qualify for "high performance," which is prominent in the product advertising and package? [ Yes ]
Will it take several hours of dedicated listening to become accustomed to CL's unusual sound delivery? [ Yes ] Is this a problem? [ No ]
Does the lack of piercing treble enable serious listeners to have an immersive sonic experience? Â [ Yes ]
Are CL's construction and design of superior quality? [ Yes ]
Closing comments?
Is it fair to consider Harman Kardon CL headphones as high-end consumer, rather than audiophile category? [ Yes ]
If you can buy CL and return them within two weeks if you don't like them, should you do so if you can afford the $200 price? [ Yes! ]
Are these headphones enjoyable to use so that I look forward to listening to my favorite tracks with CL on my bald head? [ Yes ! ]
MyMac Review Rating: 8 out of 10 [ When Treble Boost equalization is used to play good quality audio tracks after an appropriate break in period ]
LINKS:
Dale Thorn's detailed evaluation of CL