Solar Lighted Cover for Kindle Touch
Manufacturer: SolarFocus Technology
MSRP: $89.95
Solar Lighted Cover for Kindle Touch
Having devices run out of battery power when you are away from home is an increasing problem. You set out on a trip with your baggage full of chargers and hope for the best. For your Kindle, SolarFocus has your back. The Solar Lighted Cover for Kindle is a fitted case with a solar panel built into its cover.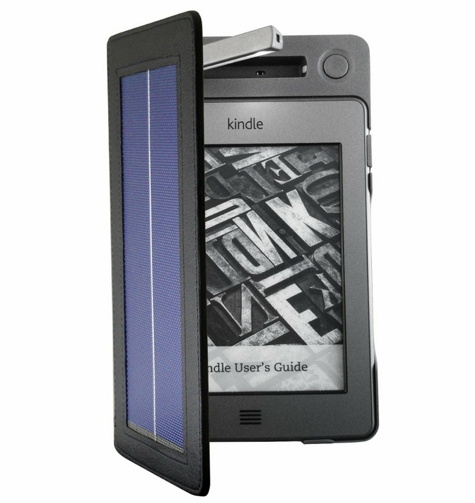 The Kindle Touch snaps into the fitted base with a satisfying click. The solar panel charges a built-in 1500mAh reserve battery. Since this is an extra battery with plenty of power, a pop-up LED light is built in that permits reading at night or on a dimly lit plane. The solar panel is flexible, softly textured, and is framed in leather. A Kindle 4 version is also available.
This innovative product recently won the EcoDesign and Sustainable Technology award at CES 2012. With the solar lighted cover, your Kindle doesn't need its charger at all. Whenever your Kindle is in bright light, it is being charged; there is no special switch required. Just leave it in bright light and a small green LED blinks to let you know it is charging.
Operating the Kindle Cover is very simple. When the power button on the cover is pressed, power from the reserve battery charges the Kindle and will turn off automatically after an hour. A one-hour charge is said to provide up to ten hours of additional reading time. This also ensures that there is plenty of power remaining for the reading light.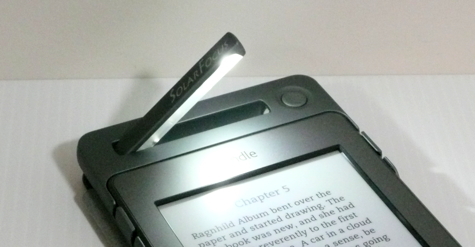 Before a trip, you can plug your Kindle charger into the Solar Lighted Cover and it will charge the reserve battery as well as your Kindle. You'll get at least three months of reading time when both are fully charged. A small LED glows briefly when the power button is pressed indicating how much power remains in the reserve battery. (Green, Fully charged; Yellow, 50%; Red, less than 30%).
With this extended battery life and solar technology come a few negatives. The Kindle Touch costs $99.00 and this solar cover is only $10 less than that. This nearly doubles the cost of the Kindle. One of the attractions of the Kindle is that it is small and lightweight so holding it for extended reading is not tiring. It weighs only 7.4 ounces. The Solar Lighted Cover weighs 8.5 ounces so the two together total nearly a pound. The Kindle Touch is 6-3/4 inches tall and 3/8 inch thick. When it is in this case it is 8 inches tall and 7/8 inch thick.
If the cost and weight trade-off is worth it to you, this device and its new technology is really nice. It works well and is very carefully made. If you travel extensively, chances are excellent that your Kindle Touch won't run out of power.
MyMac Review rating: 8 out of 10