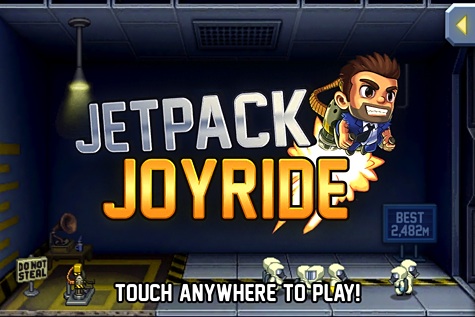 Jetpack Joyride
App Developer: Halfbrick Studios
Version Reviewed: 1.3.1
License: Free with in-app purchasing
Strap on that pack and go for the ride of your life.
Jetpack Joyride is the pinnacle of mobile gaming, and proves that simplicity in controls and concept can make for a perfect gaming experience.
You assume the role of Barry, a character whose single goal is to stay alive whilst breaking into a secret laboratory. It is not clear what Barry's mission is, but staying out of harms way certainly consumes most of his time.
Jetpack Joyride is a side scrolling game that allows you to traverse the levels with your gatling gun jetpack. The jetpack allows gamers to simply control the character movements of up and down throughout the levels. Tapping on the display will see Barry rise to new heights, whilst letting go will bring him back to the ground. A fluttering of taps will allow gamers to position Barry in the best possible location on the screen in order to avoid the various obstacles. Whilst the controls are simplistic the challenges will test your reflexes as Barry gradually increases in speed, making avoiding obstacles nearly impossible.
Throughout the levels additional temporary bonus skills are available that will transform Barry into Lil' Stomper, Profit Bird, and the Crazy Freaking Tele porter, along with the ability for Barry to let his hair down and ride a hard core motorbike.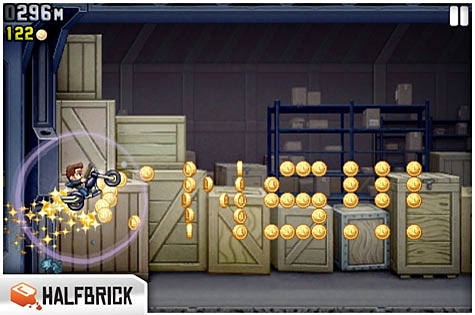 Although the game is repetitive you will be surprised and challenged on each subsequent attempt. Obstacles will change their locations and you may find yourself struggling immediately. This adds a level of frustration that also adds to the longevity and continued determination to try again.
One nice feature is a small mini game placed at the end of a successful navigation of the level. To be eligible to play, gamers will need to collect special tokens throughout the level they are currently playing. The mini-game is in the style of a slot machine. One pull of the virtual lever will see you hopefully achieve three in a row, thereby giving you some enhancements for your character on the next attempt.
The boring nature of repetition is also eliminated by continuous missions being issued to gamers. On each attempt you will have three missions that need to be completed before more are offered.  Some may include traveling a certain distance without collecting any coins, flying 500 meters in a tele porter in a single run, and brushing past 15 red flashing lights in one game. These few examples can't begin to explain the diversity of available missions. They are challenging and will encourage countless hours of gameplay.
Some missions will see you purchase additional equipment from "The Stash" in order to complete a mission. The game does have the option of in-app purchasing in order to collect a large number of coins quickly. These range from US$0.99 to a very reasonable ultimate pack at US$13.99.
If you don't wish to outlay any additional money, you can simply play the game and collect as many coins as possible. With these coins you can purchase additional clothing, jetpacks, vehicle upgrades, head starts, and gadgets. The customization options are very detailed and will appeal to all gamers looking to add performance, or simply a little bling to Barry.
As you proceed through the game and complete missions you will be given star ratings. The more stars you obtain will help you quickly progress through skill levels. When viewing your skill level in the profile area you will also be presented with amazingly detailed information regarding Barry's escapades, including everything from how many deaths you have had and by what method, to the total distance travelled.
All of this information comes together with GameCenter where your achievements and leader board rankings are presented. With over 13 million registered players of Jetpack Joyride, you will be given a serious challenge attempting to make it to the top of that list.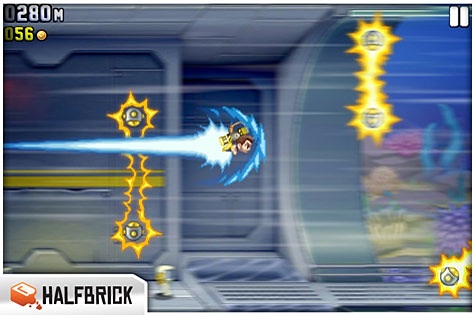 Graphically the game is beautiful with shell shaded characters and backgrounds. Having played the game on both the iPad and iPhone I believe the iPad offers a more enjoyable experience. That is not to say that you will not enjoy yourself on the smaller screen, but the screen real estate of the iPad display does allow for easier control.
The music and sound effects suit the game very well. Even after hours of gameplay I was not tired of the same style of tunes.
The only negative I came across was the initial load time when launching the app. It takes anywhere from a few seconds to a minute to load. At one stage I thought the app had crashed my iPhone. This comment is only a very minor issue and once the game is loaded the gameplay and entire experience is smooth and without any additional interruption.
For a game of this style with amazingly colorful graphics and very fast gameplay mechanics, it was a pleasure to see that at no time did the game appear to drop frames.
Jetpack Joyride is a game that everyone regardless of age can enjoy. It is simple, yet challenging. Therefore, I am awarding this game a MyMac.com review rating of 9 out of a possible 10.