FileMaker Pro 12
Company: FileMaker
Price: $299, $179 upgrade
Requires: Mac OSX 10.6 or higher, Windows XP SP3 or higher. See web site for FileMaker Server 12 requirements and pricing
FileMaker GO 12 for iPad and iPhone
Price: Free
Version: 12.0.2
Requires: iOs 4.3 or later
iPad link
iPhone link
FileMaker Pro is used by thousands of businesses, universities, government agencies, and non-profits, and is available in 15 languages. Yet, even with all this success, FileMaker continues to improve their product to make it as easy-to-use and attractive as possible for anyone interested in creating and maintaining a database.
FileMaker Pro 12 was recently released, with new themes and starter solutions, including layouts tailored for iPad and iPhone. Add new design capabilities, design tools, chart styles, enhanced container fields-including drag and drop, and you have an application that even a newbie like me can use.
Or can I?
Since I don't run or work for a business I have no experience with FileMaker Pro. I currently use Bento, another FileMaker product, which can be described as "FileMaker Lite." (You can read my review of Bento here.) I decided to keep the database simple; I can always build on it later.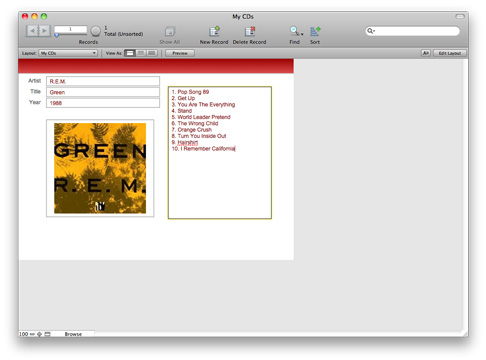 As you can see by the screenshots above and below, I created a very basic database for my CDs. It was fun playing with design and color, though reading and doing the FileMaker Pro 12 tutorial was absolutely mandatory. Although FileMaker Pro has gotten easier to use, there's still a learning curve with such a powerful application. Don't let that scare you off; there's a lot of great information under the HELP menu, including layout tips, new features, how to convert files from FileMaker Pro 11 and earlier, and links to FileMaker's knowledge base and forum.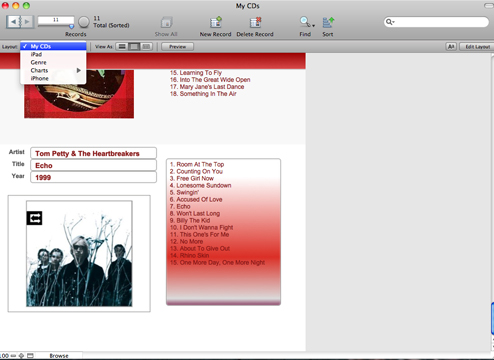 Back to my database. I opened FileMaker Go (FMG) for iPad so my database would sync (more on FMG later). If you're on a wireless network or using FileMaker Pro Server, changes made on one database is changed INSTANTANEOUSLY on the other device. Using capital letters is intentional, that's how fast the change was made. I clicked outside the field on my MacBook, and the change was reflected on my iPad. And it worked exactly the same going from iPad to MacBook. Such simple things make me happy! Make sure you turn on file sharing for the database you want to share on the iPhone or iPad by going to File > Sharing > FileMaker Network on your computer, and chose the file(s) you want to share.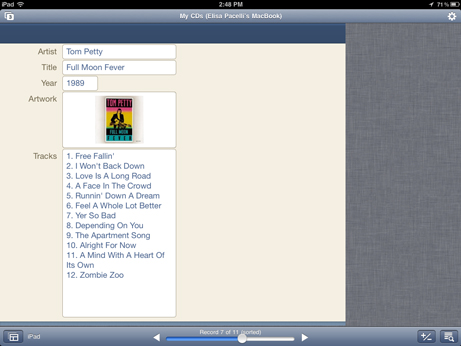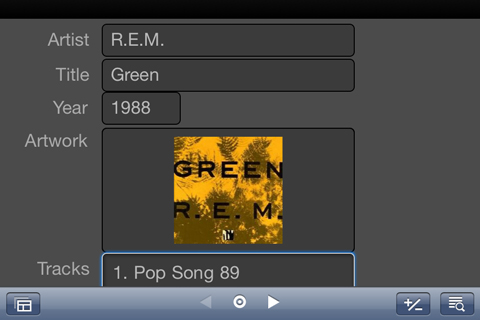 You may have noticed that the record doesn't fill my iPad screen. That was my decision. As the designer of the database, I can control every last detail of how I want my final product to look. If I can't read something on my iPad or iPhone I can either pinch to zoom, or alter my original design. Creating these particular designs for iPad and iPhone took literally minutes using two of the many themes included with FileMaker Pro 12.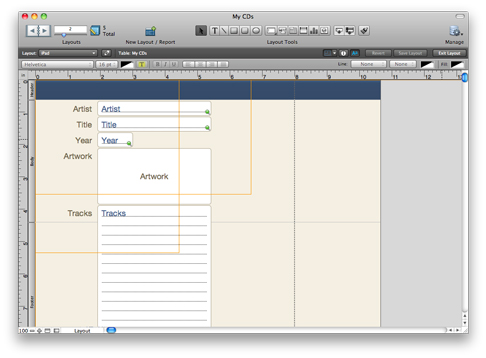 Now let's talk about FileMaker Go 12. Any business or user that runs a FileMaker Pro database and needs to access it from the road would be wise to download FMG for both iPad and iPhone. The FileMaker team included many new features in FMG, not the least of which is, the app is free. However you do need FileMaker Pro 12 to use FMG, and FMG only opens FileMaker Pro 12 databases, so keep that in mind.
Previous FMG users looking for more exporting or emailing formats can now rejoice: FMG exports to Excel, CSV, TAB, or HTML files. Clicking on the gear in the upper right corner gives the options to Export, Print (both are processed within the app), Save/Send, or Perform a Script, and is also home to the Layout or View choices, and Help.
Container fields can hold music, video, or PDFs. I created a field for a PDF in my music database; the PDF opened within FMG, so I never had to leave, read the PDF, then reopen FMG. One more reason why FMG is even easier to use. Easily add a file, photo, or signature on the iDevice, as shown in the screenshot below.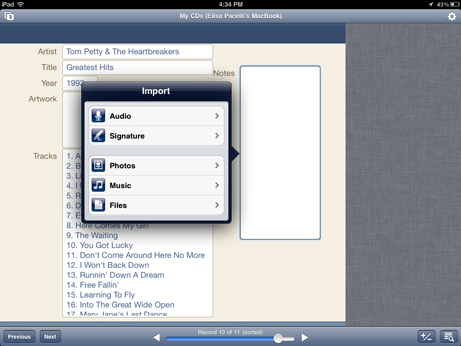 FileMaker Pro 12 ships with 40 new themes. It's easy to start a database with a theme, then tweak it to your own preferences. Or change the theme completely whenever you choose. Use rulers, grids, and guides for ultimate control in the layout. Create buttons that change color in different states.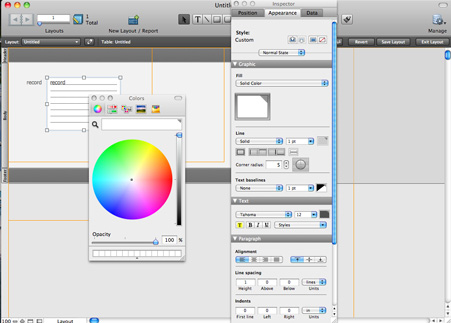 For those of you who have never used FileMaker Pro, you may be wondering how to begin a database. It's actually easier than you would think. FileMaker Pro 12 opens to a Quick Start screen, where you can create a new database from scratch, convert an existing file, or use a starter solution, which is a predefined template that users can alter to fit their own requirements.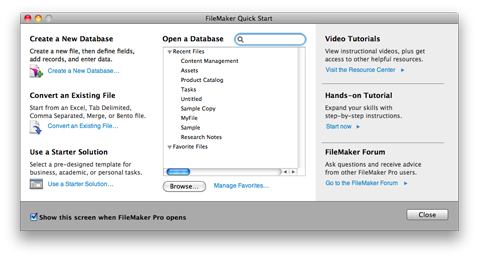 What I've written about in this review is just the tip of the iceberg. I didn't discuss the new charting styles, including bubble, scatter, positive/negative, stacked column, and stacked bar. Nor did I mention how users can run FileMaker Pro 11 and 12 at the same time on the desktop if necessary. Why would you want to run both versions? Databases converted to FileMaker Pro 12 won't open in FileMaker Pro 11. Everyone on the network needs to be using FileMaker Pro 12. Businesses using FileMaker Server 12 will be happy to hear it now supports progressive backups, remote file management, and content streaming.
If you use a database on a regular basis, or even thought about making one, FileMaker Pro 12 is a great choice. It's cross-platform, works flawlessly with iPhone and iPad, and databases can be created and designed specifically to user's needs. Check FileMaker's web site (linked at the top of the review) for more information, forums, and demos. You won't be sorry.

MyMac.com Review rating: 9 out of 10