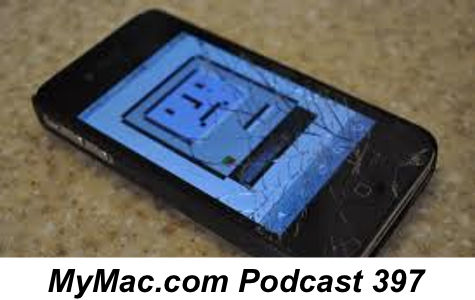 Download the show here
Subscribe in iTunes
Gaz is back and Guy is so happy he decided to break the glass on his iPhone. Well it wasn't QUITE like that, but close. Lots of feedback this week from Twitter, FaceBook, and email where the GMen answer some questions about music in the Gazmaz home, the iOSification of the Mac, and what does it take to get your iPad on the big screen in meetings or training sessions. Oh, and yes, Guy changes the way he records the podcast…again. The 400th Podcast contest is almost at the close so hurry up and get your FaceBook Likes in before it's too late.
The contest sponsors for the 400th episode of the MyMac Podcast are lining up and you guys are going to get some great stuff. Here's what's there so far:
ALK Technologies Co-Pilot iOS GPS App
BusyMac's BusyCal
Splasm Software's AudioBook Builder and CheckBook Pro
ZeoBIT's MacKeeper 2012
Boinx Software's iStopMotion Pro, FotoMagico Pro, and BoinxTV
MacPhun Software's FX Studio Pro
Noodlesoft's Hazel
Plasq Software's Comic Life 2 and Comic Life for the iPad
Publication International's iCookBook
RealMac Software's RapidWeaver, Analog, and Courier
Reggie Ashworth's AppDelete (App Store), AppDelete (Web site), and VidConvert (WebSite)
Slinkware Software's Slink
Smile Software's TextExpander, PDDpenPro, and DiscLabel
TwistedWave's TwistedWave audio editing app for iOS
Just go to FaceBook and like the MyMac Podcast page and…that's it! No other barrier to entry.
Some links:
Belkin's LiveAction Camera Grip $49.99 Â and the app that goes with it is free!
ClamxAV anti-virus app free!
Lexagon by Andy Winton free!
This week's podcast music is from b-Shake – Our Future begins here