Sound Bunny
Developer: Prosoft Engineering
Version reviewed: 1.0
License: $9.95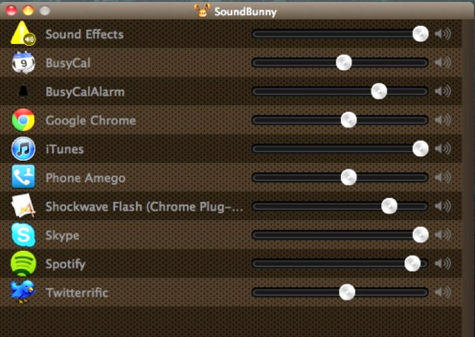 Ever been on a Skype call with the volume turned up so you can hear clearly when a loud system alert nearly knocks you out of your chair? The problem is that the volume control on your Mac is universal; turn up the volume and all sounds are turned up equally.
A few years ago, Prosoft Engineering introduced an app called Hear that does many very nice things to improve and tweak the Mac's sound quality, and one of its modules is called Mixer. With it, you independently control the volume level of each app that is running.
For instance, you can have iTunes play at full volume and have system alerts play at a lower volume. You can control the volume with simple sliders for games, movies, music, Flash player, Safari — any app that is running is visible in the Hear Mixer window. Each app can be muted as well.
This is really helpful and it's actually surprising that it's not part of the MacOS. Perhaps it will be someday, but in the meantime Prosoft has released Sound Bunny which is a stand-alone version of Hear's popular Mixer at half the price of Hear.
Sound Bunny is $9.95, a very good deal if you want to easily control the volume levels of your apps independently. Sound Bunny is available as a $9.95 download from Prosoft's site – http://www.prosofteng.com/products/soundbunny.php
MyMac review rating: 9 out of 10 recommendation