iZON Remote Room Monitor
(with Stem:Connect app v2.2.7)
Company: Stem Innovation
Priced: $130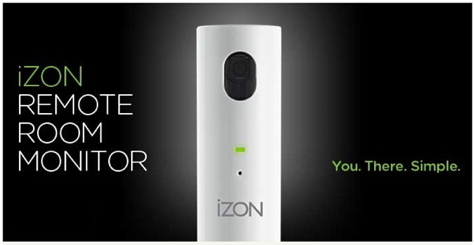 The iZON Remote Room Monitor by Stem Innovation is an app-controlled device that becomes part of your Wi-Fi network. It watches and listens to room activity and sends the stream to your iOS device. Because your iPhone, iPad, or iPod touch is mobile, you can see and hear what's happening wherever you are—on another Wi-Fi network or out and about on Edge or 3G.
Consider the possibilities—baby monitoring, home surveillance while you are away, keeping track of pets, watching your front door, and a multitude of small business surveillance applications. In addition to watching and listening, you can also record five-minute clips to your own free, private YouTube account.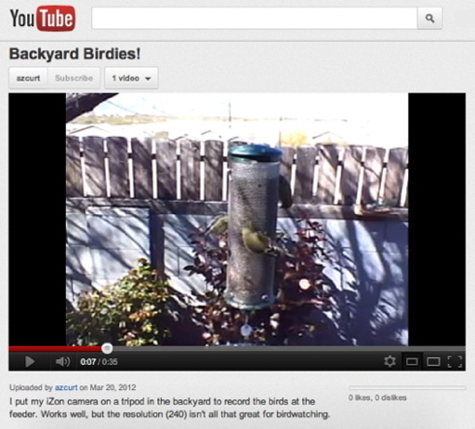 The iZON is a small, white cylinder about three and a half inches tall. The unit contains a camera and a sensitive microphone. It sits on a small plastic dome and is held in place by magnets that very cleverly permit the unit to be swiveled and tilted. Bonus: The unit will hold onto the head of a tripod because of the magnets.
The base can be mounted on a ceiling with the included hardware, and an app setting will flip the image over so it reads correctly on your screen. It is beautifully designed and nicely made: even the packaging is elegant. A generous eight-foot cable is included with a small power brick that can be be plugged into any 110V outlet.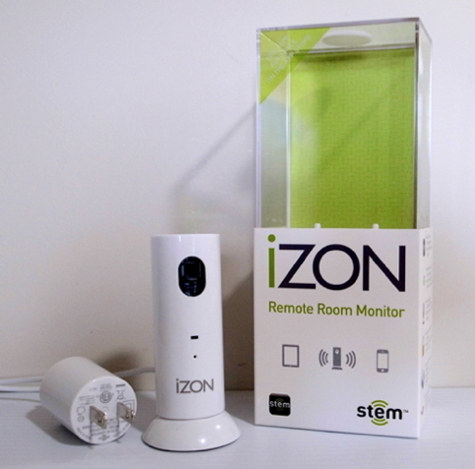 Set-up is easy, but activation/validation on your iDevice can be a little tricky. However, if you read and follow the instructions carefully, you shouldn't encounter many problems. When the device is plugged into a power outlet, it immediately begins sending a Wi-Fi signal. You must then pick up the signal on your iOS device using the free Stem:Connect app from the Apple App Store and add the iZON to your Wi-Fi network.
Once that is done, the signal from the monitor is protected by your passworded Wi-Fi account—but not before. There is an indicator light in the app showing the connection status. Red indicates that the unit is not connected, Amber is used during set-up, and Green indicates that the unit is connected to your network. The app will recognize more than one unit if you want to have several units monitoring at once.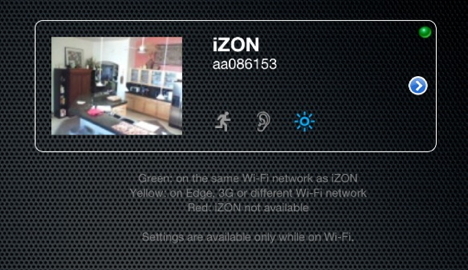 The iZON unit may lock-up up from time to time. The only way to get things going again is to reset it by physically unplugging it from the wall and replugging it. If you are away from home or have the unit mounted on a high ceiling when this happens, you're going to be frustrated. Lock-ups are unusual, but they can happen.
Any time you open the app, you see an image from your feed on which you can tap to see and hear what the camera is viewing almost in real time. For some unexplained reason, the stream runs 17 to 20 seconds after the fact. This lag is frustrating, and if your unit is used for surveillance and you see a bad guy, remember that your recording is running 20 seconds late.
Here's where the surveillance part comes into play. Both the camera and the mic can be set to send you an iOS Notification if the motion or noise thresholds you set are exceeded. For instance, you can set the motion detection so that your dog won't trigger a notification but a person walking into the room will. There is a small LED status light on the unit that can be turned off from the app.
Here is an example of the YouTube video quality. This iZON was set up on a tripod outdoors near a bird feeder.
PROS:
• Beautifully designed and made.
• Being able to view the stream on a mobile iOS device anywhere is a techno-wonder.
• Sending Notifications to your iDevice when the unit senses motion and/or sound is a great feature.
CONS:
• Resolution of the camera is pretty low (480 x 320) and low light imaging is poor. This means that baby monitoring would be best on audio only.
• 20 second lag time.
• The unit locks up occasionally. This is a real problem if you are away from home or if the camera is mounted where it cannot be reached easily. This defect is the primary reason for the lower rating.
All this is wonderful, amazing technology, but if the thought hasn't occurred to you already, this poses some potentially troublesome issues. This device could easily be used for nefarious purposes in the wrong hands. The user can turn off the status light so the unit attracts no attention and it can be set to activate when it senses movement or sound. It is small, could easily be hidden, and it only requires a standard 110V outlet.
This issue shouldn't discourage you from using an iZON for your own non-nefarious purposes—it's an excellent device—but we all should be aware that others might be tempted to use one of these for purposes for which it was not intended.
MyMac review rating: 7 out of 10.
UPDATE: Since this product was reviewed, Stem released Firmware Update v1.3 on March, 27, 2012. After installing the update, the device is much more stable. With the installed update, the MyMac rating is 8 out of 10.