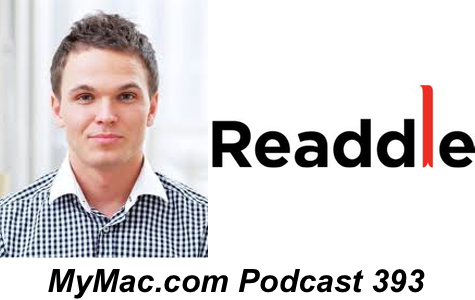 Download the show here
Subscribe in iTunes
Apple has a new iOS announcement, but that doesn't come until tomorrow for Guy and Gaz so they have NO idea what it's going to be. However they're PRETTY sure it's a new iPad with gee whiz new stuff in it. Real stretch of the imagination there, however Guy ALSO thinks there will be a special Jimmy Buffet branded one with a built-in Margarita mixing guide! Or maybe that will be saved for the iPad 4. Lastly, the GMen interview all the way from the Ukraine, Denys Zhadannov from Readdle.com about their fantastic iOS apps
The contest sponsors for the 400th episode of the MyMac Podcast are lining up and you guys are going to get some great stuff. Here's what's there so far:
ALK Technologies Co-Pilot iOS GPS App
BusyMac's BusyCal
Splasm Software's AudioBook Builder and CheckBook Pro
ZeoBIT's MacKeeper 2012
Boinx Software's iStopMotion Pro, FotoMagico Pro, and BoinxTV
MacPhun Software's FX Studio Pro
Noodlesoft's Hazel
Plasq Software's Comic Life 2 and Comic Life for the iPad
Publication International's iCookBook
RealMac Software's RapidWeaver, Analog, and Courier
Reggie Ashworth's AppDelete (App Store), AppDelete (Web site), and VidConvert (WebSite)
Slinkware Software's Slink
Smile Software's TextExpander, PDDpenPro, and DiscLabel
TwistedWave's TwistedWave audio editing app for iOS
Just go to FaceBook and like the MyMac Podcast page and…that's it! No other barrier to entry.
Some links:
Readdle.com
Bejeweled by Popcap Games .99 cents. Guy thought it was Bejeweled Blitz but he was wrong!
Spotify by Spotify LTD Free but there are premium services too
This week's podcast music is from Fresh Body Shop