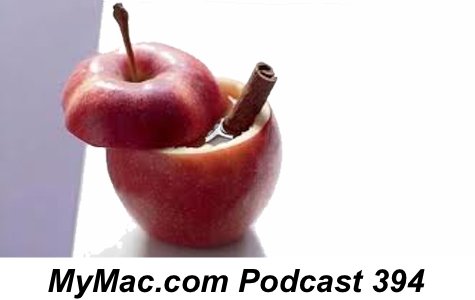 Download the show here
Subscribe in iTunes
Gaz orders an iPad while Guy gives away an iPod Touch to his sister. Arnie gets REAL tired of Guy being unable to pronounce his name and takes drastic measures. We know we know, you've heard ALL about the new iPad and AppleTV…well not yet you haven't until the GMen give their view. Also why let technical details keep you from installing the new iOS iPhoto app on your iPad 1st gen? Confused? You won't be after this episode of the MyMac Podcast.
The contest sponsors for the 400th episode of the MyMac Podcast are lining up and you guys are going to get some great stuff. Here's what's there so far:
ALK Technologies Co-Pilot iOS GPS App
BusyMac's BusyCal
Splasm Software's AudioBook Builder and CheckBook Pro
ZeoBIT's MacKeeper 2012
Boinx Software's iStopMotion Pro, FotoMagico Pro, and BoinxTV
MacPhun Software's FX Studio Pro
Noodlesoft's Hazel
Plasq Software's Comic Life 2 and Comic Life for the iPad
Publication International's iCookBook
RealMac Software's RapidWeaver, Analog, and Courier
Reggie Ashworth's AppDelete (App Store), AppDelete (Web site), and VidConvert (WebSite)
Slinkware Software's Slink
Smile Software's TextExpander, PDDpenPro, and DiscLabel
TwistedWave's TwistedWave audio editing app for iOS
Just go to FaceBook and like the MyMac Podcast page and…that's it! No other barrier to entry.
Some links:
Silent Film Director by MacPhun Software $1.99
iPhoto for iOS by Apple $4.99
This week's podcast music is from Josh Woodward – Dirty Wings (http://www.jamendo.com/en/album/7098)