Picturebook
App Developer: Maplekey Company, LLC
Version Reviewed: 1.3.2
License: Free with in-app purchasing. Universal app.
Bedtime stories have been passed down through generations. You may find that the story you tell your child is the story that was told to you.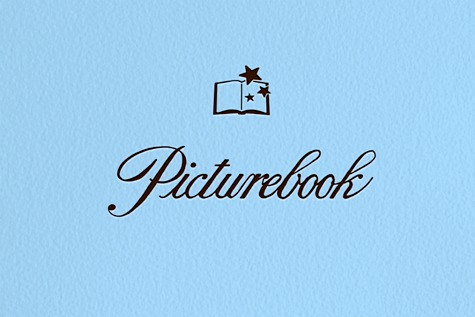 With the introduction of the Picturebook app you can now magically create these stories and share them with friends and family. 
Making the book is a pleasant experience and one that is going to be best suited with the involvement of children. You have the ability to create a story and add various built-in illustrations to assist in telling the tale. There is a small collection of available illustrations but users can purchase additional in-app graphics should they choose.
The additional graphics packs are priced from US$0.99 and include various topical clip-art style illustrations that include space exploration, farming, dinosaurs, pirates, and school. The two built in collections are everyday objects and basic farming. Additional packs are available for free as a download. One of these packs is the dinosaur basic collection.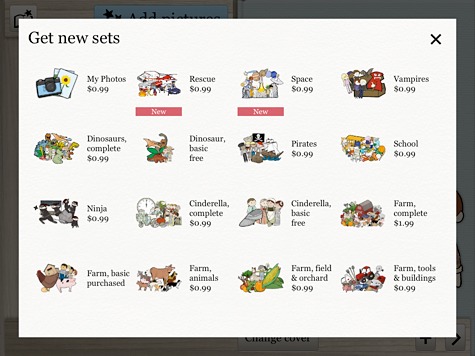 For the review I opted not to purchase any additional in-app content. I wanted to find out if it was possible to create unique stories from the supplied elements. I was able to successfully construct several different story lines over a short period of time proving that you don't necessarily need to purchase additional in-app content.
As this app is perfectly suited for children I was concerned the in-app purchasing may be detrimental but the developer has included an additional toddler lock to that of Apple's own password timeout functionality for iOS. Whilst it is a good deterrent, any child with the ability to recognize numbers will be able to proceed to purchasing additional content. It is advised that when allowing a child to use an iOS device you should proceed to Settings > General > Restrictions and then locate and turn off in-app purchasing.
Included with the app are three beautifully created books. A fourth is a manual on how to create your first book. All of these books can also be edited if you wish to start with a template.
When it comes time to create your book you will be drawn to the simplicity of adding text and building scenes from the illustrations available. Once a graphic has been applied to your story you can rescale it by performing a pinch and zoom, or rotate by using the two finger rotate control found in many iOS apps. Double tapping on a specific graphic gives you the option to copy, delete, rotate horizontally, or move the image to the background or foreground in order to present the correct perspective.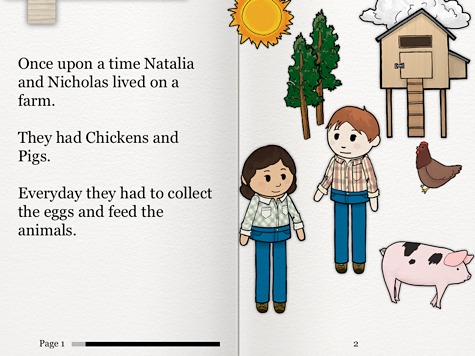 When you have finished compiling your story it will automatically save and you can read it whenever you choose. You can also edit, add, and update a book. A perfect way to use this app would be as a photo diary. Simply add a photograph upon purchasing the option to use your own images, and then add a story about the day or event as they occur.
When you are ready to share your story you have three options: Picturebook, Email, and Facebook.
The Picturebook option is dependent on the recipient having the app installed on their device. There is also the opportunity for others to edit the story if you allow this functionality. Alternatively, you can lock the file so it can not be edited. Once sent the recipient will have two weeks to download the story before it will be removed from the Picturebook servers. Please note it will at all times remain on your device unless you decide to delete it.
Sharing via Email will produce a PDF version of your story as an attachment. This option did produce a larger than expected file size. For a three page PDF the file size was 2.8MB. In future updates it would be good to see quality options for outputting stories to minimize the file size for easier compatibility with email.
The app overall is very nice and appeals to children and adults. It encourages children to read and become involved with developing their own story that has a significant level of satisfaction. The user interface is easy to navigate and learn whilst still maintaining enough control to not limit the user's ability to create a unique experience.
If you are concerned about the in-app purchases then the developer has also just released Picturebook: School Edition for US$9.99 that includes over 250 illustrations, 12 complete picture sets, and all available add-on features. The paid version of this app also contains no advertising or additional in-app purchases. It is fantastic to see the developer supporting more than a single purchasing option.
Overall, the app is developed nicely with a simply to use interface, beautiful clip art style illustrations, and a versatile series of sharing options. In future versions it would be good to have options for moving text to various locations along with the option of altering fonts and their associated sizes.
Therefore, I am awarding this iOS App a MyMac.com review rating of 8 out of a possible 10.