NuTouch Gloves
Company: Newer Technology
Price: $19.99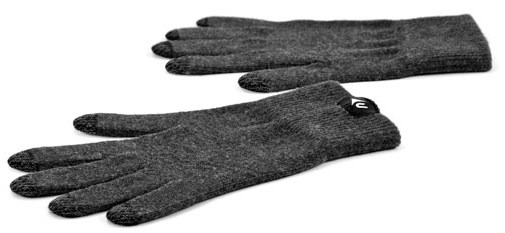 I live in the Northeast region of the United States, where every winter, cold is a way of life. Using your iPhone or other smartphone outside is not a pleasant experience: either you're unable to manipulate the screen with a gloved hand, or you need to remove your gloves to use the phone. Neither option is a good choice.
Enter NuTouch Gloves by Newer Technology, the perfect marriage of convenience and warmth.
NuTouch Gloves are thin, unisex gloves with a special conductive fiber woven into all 10 fingertips, allowing wearers to use their touch screen devices with ease (and warm hands!) There's no specific left/right glove, and the special fiber is on both sides of each fingertip of the gloves.
NuTouch Gloves work with any type of touch screen device, including smartphones, gaming systems, eBook readers, ATM's, and GPS's. The gloves keep your hands warm while giving enough flexibility to hold and use your device. I found them to work flawlessly with the iPhone, iPad, and Kindle Fire I tested. I was even able to take my credit card out of my wallet.
I don't like to wear gloves unless it's really cold outside, because they feel too bulky. These gloves are more form-fitting, and can be worn under thicker gloves if it's ridiculously frigid. If your house is a little chilly, wear them indoors. In fact, I typed this entire review on my MacBook wearing NuTouch Gloves.
One small drawback I found was the NuTouch Gloves felt a little slippery on the steering wheel when driving. Not enough to lose my grip, just enough to notice.
NuTouch Gloves come in four sizes: Small, Medium, Large, and XLarge. A note on choosing size: according to the box I should wear a Small, based on my hand length. I usually wear, and ordered, Large gloves. I may have been able to get away with a Medium, but not a Small. I recommend buying whatever size you normally wear in a glove. There's plenty of stretch so they should fit just about everyone.
Overall, NuTouch Gloves is a phenomenal idea and product. If you like or need to use a touch screen device while outside in colder climes, I highly recommend getting a pair of NuTouch Gloves.
MyMac.com Review rating: 9 out of 10