Take Control Of Backing Up Your Mac 
Author: Joe Kissel
Publisher: TidBITS Publishing Inc
ISBN-13: 9781615423941, 210 pages
Price: eBook US$15.00. Print US$28.99
Backup is a process that most of us would acknowledge as being an essential part of the computing experience. Why then do so many of us fail to backup?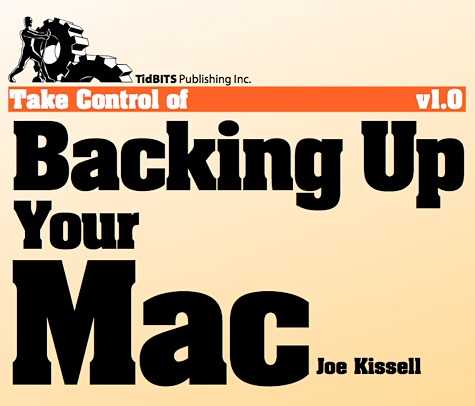 Joe Kissel, gives us the answer in Take Control Of Backing Up Your Mac. This is by far the most concise reference guide for preserving your information.
No stone is left unturned as you are presented with information far surpassing general knowledge. The possible methods and pitfalls of individual options are discussed, as well as cloud storage, and every possible backup application you can think of.
Readers will be presented with the author's own backup strategy as a starting point. It should be noted that the author is not biased to his own setup and openly encourages strategies that best suit the individual user.
Throughout the first stage of the book you will consider why versioned backups are important and why you should create bootable external hard drives. Multiple partitions are also explored along with the option for offsite backup. If you think creating a backup strategy is all you need to do, then think again. The book recommends you reassess your setup on a regular basis. This is excellent advice as technologies change and what was once the perfect solution for you may now be cumbersome and outdated.
Picking and preparing a hard drive for backup purposes is extensively overviewed. Everything from capacity, to connectivity, to the best drive for Time Machine is discussed. If you're a Time Machine user you will not be disappointed. A chapter is dedicated to examining every aspect of the Mac OS X in-built backup application. You will be instructed on how to exclude files, restore data, delete files, encrypt the Time Machine backup, use a single backup disk with multiple Macs, migrate to a larger hard drive, and solve common problems you may experience.
If you're not a Time Machine user then you are not left out. ChronoSync, CrashPlan, QRecall, Retrospect, and Synk are just some of applications and services discussed throughout the book.
Creating a bootable duplicate is one of the simplest ways to ensure you can continue working without interruption when your hard drive fails. SuperDuper and Carbon Copy Cloner are both explored along with the correct ways to test your duplicate.
The importance of offsite backup is examined along with what to do when a drive fails and you need to restore from your backup.
By now you would assume I know everything there is to know about backup. Well the information doesn't stop there as not all common backup solutions will suit every user. Specific backup needs are explored such as digital photographs, huge volumes of data, version control, backing up a small network, and backing up whilst away from the home or office.
The final chapters of the book address additional hardware options that are not necessarily mainstream or suited for every user. RAID and associated technology such as Drobo storage solutions, network storage devices, and local network servers are all referenced.
The last chapter is an essential guide to the hardware you should not use in your backup strategy. Expert opinion is given on optical media, flash drives, SD cards, and tape drives.
Take Control Of Backing Up Your Mac is packed with detail and is the only solution any Mac user will need for creating and modifying a successful backup solution.
There are certainly no omissions and as a result I am awarding this reference guide a rare MyMac review rating of 10 out of a possible 10.