Adobe Photoshop Elements 10
Company: Adobe
Requires: multicore Intel processor, Mac OSX 10.5.8 or higher, QuickTime 7
Price: $99.99, upgrade $79.99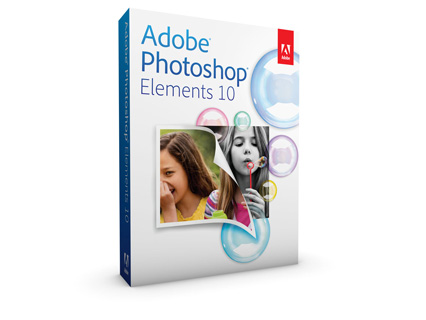 In part 1 of this review I focused on the Adobe Elements 10 Organizer. Now we'll talk about the Adobe Photoshop Elements 10 Editor.
New to PSE10 is the ability to paint effects onto specific photo areas. Use the Smart Brush in the toolbox to create new ways to work with and visualize your photos. The first photo below is the original I took of a cruise ship. In the second photo I applied a Pencil Sketch to highlight the ship and give the photo a little interest. Since the sky was a bit overcast the day the photo was taken, I brightened it up in the third photo. Finally, just for fun, I gave the entire photo a fluorescent glow.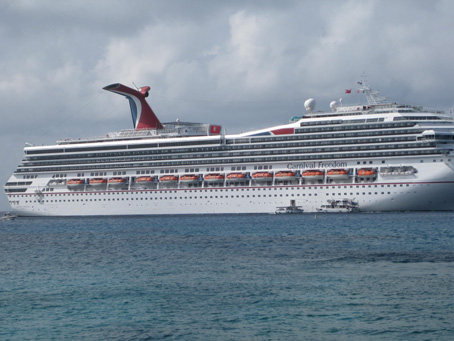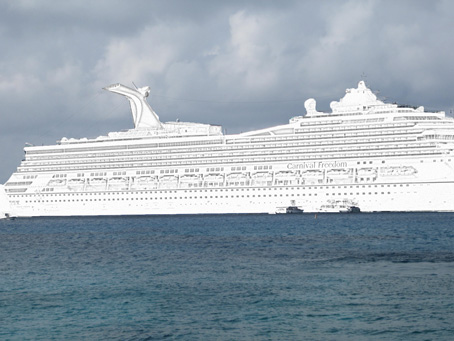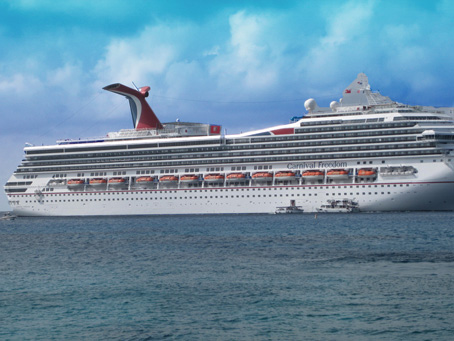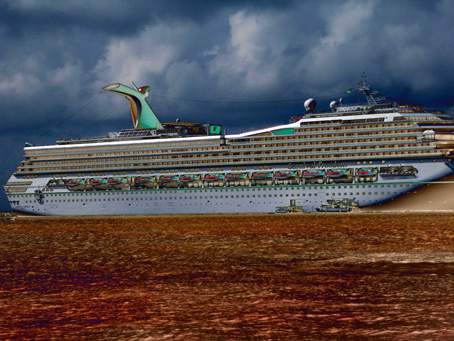 Using the toolbox to pick and choose how you want to edit photos is considered doing a Full Edit. There's also a Quick Edit tab for simple lighting and color adjustments. But if you're like me and need a little more hand holding, use Guided Edits. Guided Edits can help touch up scratches, correct skin tones, give a depth of field, apply effects, and merge photos, amongst other cool choices. Again, using the cruise ship example, I applied the Reflection edit for the next photo. Follow the step-by-step instructions to give your original photo a new personality. Don't worry if you make a mistake; that's what the Undo button is for.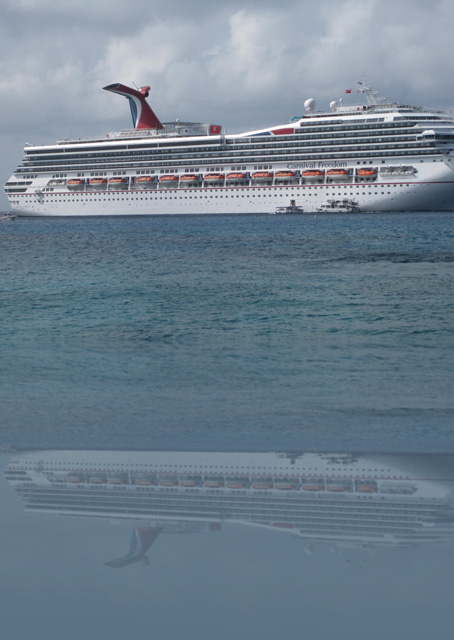 Another new, fun feature is the ability to add text directly to a photo. Draw a line or shape on the photo, customize color, font and size, then start typing.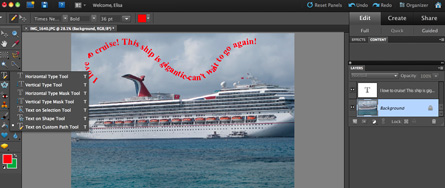 Other new effects include Depth of Field, which highlights a subject, and Orton effect, which gives the subject a dreamy feel. Below is a before and after photo using Depth of Field.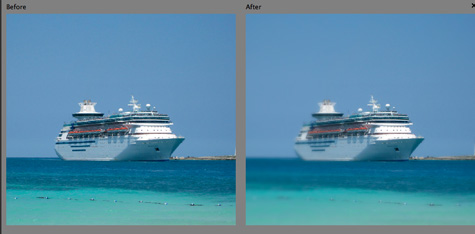 If you'd like to share your photos, there's plenty of choice there, too. Of course you can still attach photos to an email or send them to your Flickr account. Now you can add Facebook to that list. It's easy to tag your friends and organize albums for easy uploading. It was much easier to do this with PSE10 than it was with the Facebook plug-in for iPhoto.
PSE10, as well as Elements 10 Organizer, has wonderful built-in help, in addition to online access to videos, forums, support, and the Adobe Elements Inspiration Browser, which is a fabulous resource for all things Photoshop Elements. Plus, at the very bottom of each screen is a lightbulb icon with a link to a tutorial in the Inspiration Browser that pertains to the currently selected tab. Very clever!
Adobe Photoshop Elements 10 doesn't have all the bells and whistles of Adobe Photoshop, but sometimes bells and whistles can be overkill. If you're new to photo editing, or have an older version of Adobe Photoshop Elements, you won't go wrong picking up a copy of PSE10. Keep in mind if you're a newbie that there is a learning curve; it does take some time to master a lot of the techniques. But the end result will be well worth the time invested.

MyMac.com review rating: 8 out of 10