Explorer Touch Mouse Limited Edition
Manufacturer: Microsoft
Price: $49.95 (including 2 x AA batteries)
The Microsoft Explorer Touch Mouse is a stylish, wireless mouse that offers the convenience of multiple programmable buttons alongside a scroll bar that works both vertically and horizontally. Previously available in glossy black, the limited edition version is burgundy in colour, making it stand out from usual black, beige, silver and white accessories Mac users will be used to.
But while the Explorer Touch Mouse certainly looks good, how does it stack against other high-end mice like those from Apple and Logitech? Does the new Microsoft BlueTrack technology really mean that this mouse will work effectively on a range of surfaces, not just mouse mats?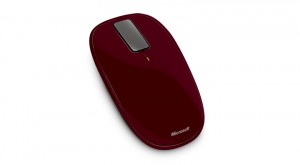 Installation
Although some features work without driver software, installation of Microsoft IntelliPoint for Macintosh (version 8.2 or later) is required for full functionality. This requires about 30 MB of disk space and is downloaded form the Microsoft website rather than provided on a CD. Once downloaded, installation is quick and easy, but requires a restart. After installation a new pane appears in the System Preferences called 'Microsoft Mouse' that handles all the controls except tracking speed; this can either remain part of the standard Mouse control panel or, optionally, be controlled via the IntelliPoint settings on the Microsoft Mouse control panel.
As well as driver software, the Explorer Touch Mouse needs a USB adapter to be pushed into a free USB slot before it can be used. This push-in adapter is really very small, thumbnail-sized in fact, and bound to be easy to lose, so I do hope Microsoft will make replacements available through the usual retailers and online vendors! However, the Explorer Touch Mouse does have a nifty trick up its sleeve that should ensure that these adapters aren't lost too quickly—when not in use, they slide into a recess on the underside of the mouse. Even better, there's a spring-loaded click-in, click-out capture mechanism that keeps the adapter secure once its pushed into the mouse. It's a small but classy feature that reveals some serious thought went into designing the Explorer Touch Mouse. Of course, with that said, it's obvious that a Bluetooth mouse would have been that much better. Bluetooth mice don't need an adapter because the transceiver is built into all modern Macs, so there wouldn't be any need to supply this mouse with a small, easily-lost piece of plastic.
Incidentally, when the mouse isn't being used, it can be switched off, which should considerably improve battery life compared to those wireless mice that supposedly sleep when not in use. There's a small switch in a recess on its underside that can be pushed on or off with a fingernail. It also appears to have been improved in terms of power consumption overall when compared to earlier wireless mice from Microsoft. Whereas those typically have quoted battery lives around the three-month mark, Microsoft state that the Explorer Touch Mouse should have a battery life of more than 18 months per pair of AA batteries.
Controls
As mentioned already, the Explorer Touch Mouse has programmable buttons configured through the Microsoft Mouse pane in the System Preferences. On the whole this aspect is intuitive and works well. By default, the left and right buttons are configured to work as click and control-click, the latter normally opening a contextual menu in most Mac OS  X applications. It was also pleasing to note that the Explorer Touch Mouse worked just as well in Windows via Parallels Desktop, though as with the way it works on the Mac, other functions including the programmable buttons will only work if the control software is downloaded and installed, this time for the Windows operating system.
The centre button on the Explorer Touch Mouse is a bit less counterintuitive. It actually works in two different ways: as a scroll wheel and as a set of three buttons, a top button, a middle button, and a bottom button. All of these can be programmed through the control pane. This reviewer found that it took a few 'tries' to get commands to work as anticipated, so there may be some bugginess here or a conflict with some other bit of software running on the Mac being used to test this mouse.
But once the buttons were working, they worked quite well. By default, the top and bottom buttons are set to scroll pages up and down, like the page-up and page-down keys on many mid-to-high-end keyboards, while the middle button switches the user from the current application to the next active application. If held down, it works like the standard command-tab keyboard command, allowing the user to choose which application he or she switches too. Again, there may be some bugginess here: clicking the middle button more than once doesn't switch the user through all active applications, but merely toggles between two applications, and application switching doesn't work at all from System Preferences.
On the other hand, as a scroll wheel this button works rather wheel. Sliding the finger up or down the button causes it to function as a wheel, and haptic feedback (vibrations to you and me) give the user a sense of how far and how fast the virtual 'wheel' is turning. There are various settings and options available in the Microsoft Mouse control panel, including switching the haptic feedback off and increasing or reducing the amount of vibration produced when the scroll wheel is used. By default, the mouse is flick-aware, meaning that users can flick rather than continually stroke the scroll wheel, each flick have a certain amount of momentum, keeping the page scrolling up or down even when the finger is removed from the scroll wheel. The faster the flick, the further the page will scroll, and this sort of function is useful for browsing long documents like web pages and word processor documents. Naturally, the user can adjust scrolling speed, and there's also an option for turning on accelerated scrolling, which makes it easier to scroll through very long documents.
One unusual feature offered by the middle button is horizontal scrolling. By wiping the finger across the mouse button windows pan to left or right. To be fair, this isn't a very useful feature because relatively few documents need to be scrolled that way, but it can be handy when viewing web pages designed for unusually large screens (a bad way to design web pages, but seen now and again anyway). It may also have some usefulness to those working in graphic design and other fields where large documents need to be produced and edited. Because the middle button is much taller than it is broad, moving the finger horizontally it isn't particularly comfortable or precise, and this is one of those situations where adjusting the scrolling speed will be really important.
Finally, while these settings are by default applied to all applications, it's easy to create specific sets for particular applications. So while the right button might work as control-click in most applications, it could be used to run the keystroke that switches between weapons in a shoot 'em up game.
Performance
Microsoft declare that the BlueTrack technology used by the Explorer Touch Mouse means that it works across a wider range of surfaces than most other mice, even polished granite and carpet! Unfortunately, this reviewer did not find this to be the case. His usual mouse is a $15 Logitech Optical Mouse, a very basic mouse that happens to work perfectly well on the dining room table where he does most of his work. That table has a mildly polished wood surface, but the Logitech mouse seems to have no problems with it. By contrast, the Explorer Touch Mouse worked rather indifferently on this surface, and after a while, moving the mouse around on this surface proved to be tiring and inaccurate.
The reviewer then went on to try a variety of other surfaces including two different mouse mats and two types of cardboard. The bottom line was that glossy cardboard and satin-finish mouse mats didn't work well, but matt grey cardboard and matt-finish mouse mats worked much better. On the right surface the mouse worked well, but users may find that the Explorer Touch Mouse doesn't work with all tabletops or mouse mats, so some experimentation may be called for. That's actually not uncommon with mice, and this reviewer has yet to find a mouse that works equally well on all surfaces, and the fact this mouse has BlueTrack technology doesn't seem to buck that trend at all. But lest this reviewer forget, the Explorer Touch Mouse did work on carpet!
Apart from the problems this reviewer had getting the the three middle button settings to work entirely as they should, the Explorer Touch Mouse is easy to program and comes with lots of useful options. The default set should satisfy most users, but being able to set them to do things like triple-clicks and specific keyboard shortcuts will appeal to power users. The scroll wheel aspect of the Explorer Touch Mouse also works well, even allowing for the fact that wiping a tall, thin button sideways is less precise than moving the spherical button in the middle of the Apple Mighty Mouse.
Summary
Overall the Explorer Touch Mouse is a competitively-priced piece of hardware with lots of high-end features. It's a worthy alternative to its Apple equivalent, stylish and useful, compatible with Macintosh computers right out of the box, but priced substantially lower ($49.95 vs $69.99). The burgundy red finish is very eye-catching, but beauty is more than skin deep here, with the little details being well thought through as well. The click-lock recess for storing the adapter gives a good indication of the amount of thought that's gone into designing this mouse. In short, a good quality mouse that should easily earn its keep on desks everywhere—provided they're not too shiny!
Pros: Good battery life; built-in on/off switch; works well on appropriate surfaces
Cons: Not Bluetooth; doesn't work well on shiny surfaces; control panel bugs?
System requirements: Mac OS X (10.3 or later for advanced functions)
MyMac.com Rating: 8 out of 10