Adobe Creative Suite CS 5.5 Master Collection
Adobe Illustrator CS5
Flash Catalyst CS5.5
Adobe Systems Inc.
$2,599.00 US, Upgrade from Adobe Creative Suite Master Collection 5 $549.00 US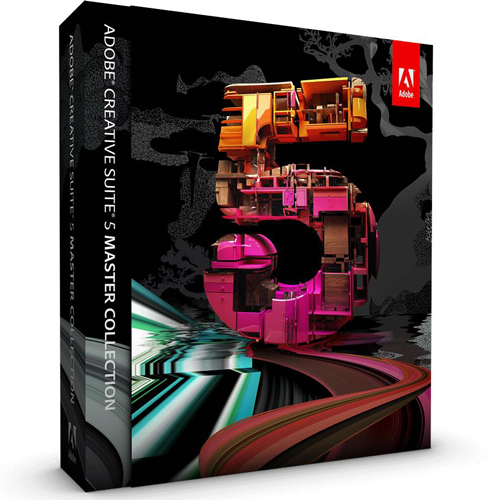 Adobe Illustrator  CS5 and Flash Catalyst CS 5.5 Part 1
In April, Adobe released the Creative Suite CS 5.5 Design and Master Collection. The collection includes Photoshop CS5.1 Extended, Illustrator CS5, InDesign CS5.5, Acrobat X Pro, Flash Catalyst CS5.5, Flash Professional CS5.5, Flash Builder 4.5 Premium Edition, Dreamweaver CS5.5, Fireworks CS5, Contribute CS5, Adobe Premier Pro CS5.5, AfterEffects CS5.5, Adobe Audition CS5.5, Adobe OnLocation CS5.5, Encore CS5, Bridge CS5, Device Central CS5.5, and Media Encoder CS5.5. This is a robust suite for designers, creatives, and developers. The Adobe CS5.5 Master Collection offers HTML5, enhanced video production and digital publishing capabilities with cross platform support including mobile devices. For this review I will be exploring Adobe Flash Catalyst CS 5.5 and the latest features in Adobe Illustrator 5.
Adobe Flash is a multimedia platform that is used to create vector animation and interactivity to a web page. Flash Catalyst CS5.5 is an exciting application for you to create interactive elements on a web page without writing code. I have to admit I was skeptical. Adding Flash animations has been intimidating at best, as I am not a web developer nor do I write code. Flash Catalyst allows you to import an Adobe Photoshop, Adobe Illustrator, or an Adobe Fireworks file to use for your animation. Adobe has made Flash Catalyst a robust, yet easy to use, Flash experience for new and experienced web designers.  As I decided to use an Adobe Illustrator CS5 file to import into Flash Catalyst for my animation, let's discuss what is new in this software.
New Features in Adobe Illustrator CS5
Adobe Illustrator CS5 is the latest version of  Adobe's vector graphic software. Vector images are editable and scaleable as they are based on mathematical formulas. Adobe Illustrator CS5 has been updated with some exciting new features for graphic designers and artists. For this review I will highlight five of the many new improvements to Adobe Illustrator CS5.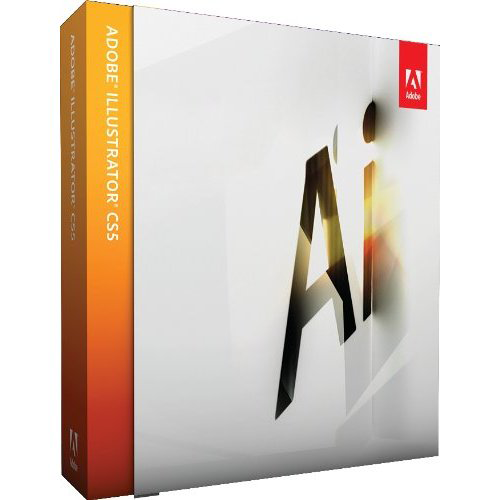 The Perspective drawing grid is a great concept and is well-executed in this application. If you have ever attempted to draw a street scene or buildings in Illustrator and have difficulty in scaling elements, this tool will be indispensable. Using your favorite drawing tool, drawings can be made in one, two, or three point perspective. Objects may be added to the drawing and placed perfectly in perspective and alignment. If you drag an element to change the proximity, or duplicate an element, the element will  instantly transform to the proper perspective. For example, if you are placing windows along the side or plane of a building, the application changes the window to its correct perspective no matter where you place the window. A truly magical feature and one that I found extremely useful.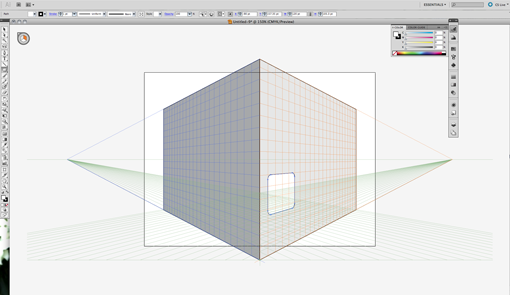 This isn't a 3D tool however, as you can't rotate a design to view it from different angles. The Perspective drawing tool is comprised of the Perspective Selection and the Perspective Grid. The three planes of a shape can be changed via the Grid Plane widget. Drawings may also be dragged into Adobe Illustrator CS5 and Illustrator will automatically assign the correct perspective to the drawing. One tip I found helpful was to turn Smart Guides on to assist in aligning components.
The new Shape Builder tool is a simplified version of the Pathfinder tool. It allows you to merge and intersect complex shapes into a single shape. By placing your cursor over the selected shapes, you can instantly preview the shapes that will be altered and decide to add or subtract from the shapes. The Shape Builder tool selects the edges and areas of objects and allows the merging or erasure of those areas or break into overlapping shapes to create a new one. There are several options to the Shape Builder tool including gap detection, merge mode, and cursor swatch preview. An added bonus is that you can paint in your shapes with the Shape Builder tool by the Color Swatch palette.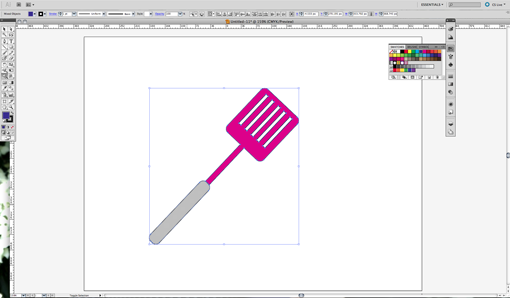 In the example below, I created the spatula using the rounded rectangle and the rectangle shapes. After the shapes were in place, I selected them all, then used the Shape Builder tool to add and subtract shapes. I then double clicked on the Shape Builder tool to select Cursor Swatch Preview, that brings up a small three color swatch. By using the left or right arrows, you can scroll through the swatch palette, select a color, and use that color to fill in the shape.
Beautiful Stroke, or Variable Width tool, allows change of width control to a drawn stroke. Using any drawing tool, draw your stroke or design. Select the Variable Width tool and hover the cursor over the drawn path and a small point will appear on the line. Click and drag the point to add or subtract the width of the stroke at that point. Points may be added for greater control. There are presets for a variety of widths and you can save your variable stroke as a custom profile. The Variable Width tool can also be used with the pattern tool and brushes. My example below shows two strokes. The top shape was made with the Pen tool, then the Variable Width tool was selected. I added anchor points along the path to increase or decrease the width of the stroke. The second stroke was made with the Pencil tool.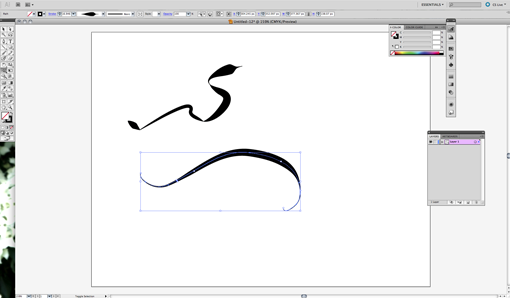 Another exciting tool in Adobe Illustrator CS5 is the Bristle Brush tool. This tool enables the user to make painterly vector illustrations. There are ten different brushes to choose from including round, flat, and fan styles. Each brush can be adjusted to size, width, density, thickness, opacity, and stiffness, and saved as custom brush profile. As a painter, I love using this tool as it simulates the "feel" of using natural painting media. The strokes can be blended and I like the ability to modify individual strokes without loss of quality. The capability to refine every vector painting stroke gives artists or illustrators enormous control over their creations.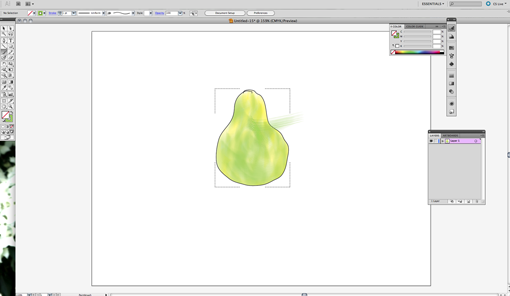 Along with the Variable Width tool and Bristle Brush, there are expanding drawing options. Draw Behind allows you to create a shape beneath other shapes on the same layer. With the Draw Inside mode, you can draw or place objects inside a shape. Draw Inside essentially constructs a clipping mask around the object, and makes it easy to paint a shape intuitively. In the painting of my pear below, the square around the shape is the clipping mask around the pear. In the first example, you can see where I have taken liberties and drawn outside the lines. With Draw Inside, you don't have to worry about that as the clipping mask contains your painting strokes within the selected shape. The new Drawing Modes, combined with the Bristle Brush, simplifies the task of painting in Illustrator.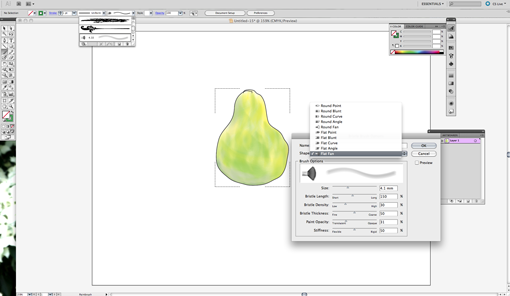 Finally, the round-trip integration between Adobe Illustrator CS5, Adobe Photoshop CS5, and Flash Catalyst CS5.5 will be most useful to artists or designers who have to add Flash components to their work. You can edit artwork in either Adobe Illustrator CS5 or Photoshop CS5, then return to Flash Catalyst CS5.5 to add animation to the work. It is a seamless integration between the three applications and will save designers much time in editing. If editing needs to be done on vector images, single objects, or groups, Flash Catalyst allows you to launch Adobe Illustrator to do the edits then return to Flash Catalyst. Animation objects like buttons, scroll bars, text input, and sliders, need to be revised in Adobe Illustrator. Bitmap images are edited in Adobe Photoshop CS5 before returning to Flash Catalyst. You must download the Flash Catalyst FXG extensions for Photoshop CS5 before you can round trip edit images. You can download them here.
Graphic designers probably will have upgraded their Illustrator to CS5. Let's face it, there is no other robust vector graphic software that can currently compete with Adobe Illustrator. For new Illustrator users contemplating purchasing or upgrading, this version will certainly make creating artwork an easier endeavor. Almost all of the application's refinements are time efficient and lower the learning curve for new users of the software. Adobe has removed many of the more tedious design tasks such as drawing perspective, brush control, realistic brush painting, and creating shapes.
As an avid Photoshop user, I have shied away from Adobe Illustrator in recent years as I work a lot with bitmap images. However, I have been having a great time reacquainting with Adobe Illustrator, especially the aspect of having artistic control over my vector designs. There is not a lot to find fault with in Adobe Illustrator CS5. Adobe has scored a grand slam home run with this latest version.
Adobe Illustrator CS 5
MyMac Review Rating
9 out of 10