VideoHunters available from the iOS App Store
App Developer: The App Company
Version Reviewed: 1.4
Licence: US$0.99 – Compatible with iPad – Requires iOS 4.0 or later
VideoHunters will change the way you consume, collate, and experience YouTube.
At first you may ask why do I need an app for the iPad which delivers YouTube content? Doesn't Apple already have a built in YouTube app? You would be correct in this statement. You would also be mistaken to give this app a miss as there is a level of control for YouTube content that only this app can deliver.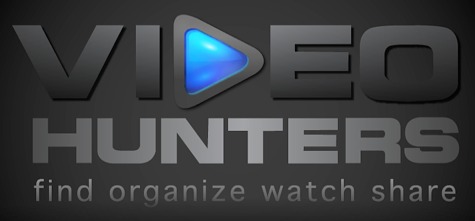 The key difference can be immediately seen in the simple yet effective layout of content. The app developer has done a marvellous job of optimising the content for the iPad size screen. At no time do you feel frustrated when browsing or searching for content and associated YouTube channels.
The navigation process is fantastic. Users simply tap and flick from left to right to see additional content in each line of related theme videos. Unlike, the built-in YouTube app, The VideoHunters app just feels smoother and more responsive. Certainly, video playback and thumbnail previews load extraordinarily quickly in comparison to its counterpart.
I have long given up using the built-in YouTube application mainly because it never worked properly. Content would either fail to load or the streaming would halt midway through the video in question. Through my testing, I have been able to confirm that neither is the case, regardless of using a 3G or Wi-Fi network. The buffering would always remain well in advance of the video content. This is a significant deal when you are looking at the playback of high definition video content. High definition content will be played back in most cases but is limited to the initial upload quality.
Social networking options are built into this app. Users can announce on Twitter or Facebook a video they find interesting. They can also forward a link to the video via email. This social aspect is handled much better than the built-in YouTube app.
Content can also be saved to your Favorites, Playlists or Subscription areas provided you are logged into your YouTube account.
Playlists will be one of those areas that commuters will appreciate. Users can load up the playlist and have content ready to view over a 3G network whilst in transit.
Finding content on YouTube is always interesting. Sometimes you're spot on, but many times you are way off. VideoHunters as their name infers, takes hunting for interesting video clips to a completely new level. It is this browsing and searching ability that guarantees a higher rate of success when searching for content.
When searching for some of my favourite bands I came across interviews and live performances that I had never seen before despite spending several hours per week looking for this kind of content through traditional means. I credit this to their simple yet thorough search and browsing options.

Upon performing a search users are given access to more search criteria than the built-in YouTube app allows. This allows users to search by relevance, upload date and view count. Users can also specify when these events took place such as within the last month, this week or the last 24 hours.
A further button is available in the search menu. It currently only presents YouTube. In future editions of the application it appears that users may be able to select from a variety of video services, if the app developer decides to activate this option.
Browsing content was also as user friendly as that of searching. Browsing gave complete control and access to all categories of video content, along with their popularity and relevance to the time the video was uploaded. YouTube channels can also be browsed under similar conditions.
One additional area I initially didn't think much of but ended up really enjoying was the Staff PICKS. All the big name YouTube channels were included in areas such as News, Entertainment, Music, Comedy, App Reviews, Technology and Sports to name a few.
Themes is a significant feature of this app. It is a complete game changer when it comes to relating content of interest to the individual user. If your interest is in movies or music, you will be able to create a theme specifically suited to your needs. Perhaps you want to follow all related videos for your favourite movie star or music performer. Whenever a new video which matches your theme is uploaded the app will find and add the video in question to your viewable theme library.
You may find that in certain themes, you will see video which is not directly related to the content you are interested in. Well, the app developer thought of this and through a filtering option you can remove videos which are not of your interest. This is done through simply excluding certain words which will present unwelcome results.
Themes are in no way limiting. You can create hundreds of different themes within this app. I dare say you will run out of theme ideas before you find the apps limitation.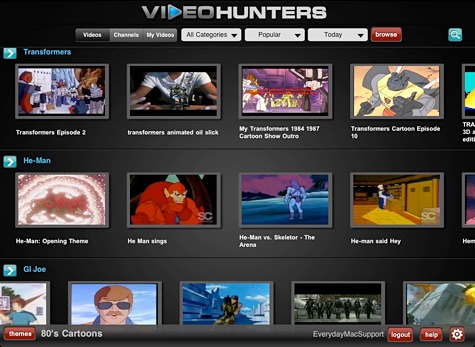 A large volume of preset themes are already available in the application, giving users a wide range of content areas such as American Idol, 80's Cartoons, World Of Warcraft, Pixar, and Space Exploration, just to name a few.
One of the best features in the app is the non-appearance of comments. How many times have you seen comments to videos which are purely spam and non informative, at the same time being generally degrading to the person who upload the video. If you still want comments you can always click on the YouTube button within the app which will then take you to a more traditional view of YouTube in order to read and add comments.
Users will also notice when first loading this app, VideoHunters has undertaken a series of instructional videos on how to use the application. They are complete and concise, allowing you to get fully aquatinted with the application in a very short amount of time.
This app has it all. It is video on demand done well. I only hope this app and the technology running in the background will one day be applied to our media centres and home television content. I believe the US$0.99 price point is a bargain for the control consumers will receive. You will not want to go back to the traditional YouTube application or website after using this app.
With that in mind I am awarding this app a MyMac review rating of 10 out of 10.