Dragon IP 100 Table Top Speaker System
S. E. M. Audio Laboratories 
Price: $251 US plus shipping
Available from company direct store via PayPal purchase
"It's stylish, John, in a Museum of Modern Art way," says Barbara, my wife. "I like the look of this new speaker you're reviewing." She is fussy, so that's serious praise. "It doesn't look like other speakers you review, because they aren't very attractive. Why does it have that big silver front piece?" It's brushed aluminum for a premium designer feel, according to the company.
Concerning the sound, "After you determined how to get the controls figured out, it sounds good," she adds. "At first I was disappointed with the music playback, but once you turned up the volume and got your equalizers happy, I enjoy listening to your demo playlist both for primary and background music."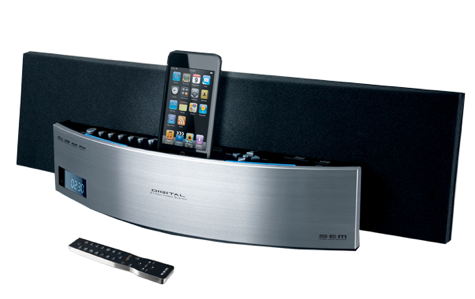 All this praise from my spousal listening panel will help readers determine if S. E. M. Audio Laboratories' Dragon IP 100 Table Top Speaker System is worth considering, especially for husbands. It is.
S. E. M. is a Hong Kong company with a beautiful web presence for its small, comprehensive lineup of compact, powerful, and versatile speaker units. Dragon IP 100, abbreviated here as Dragon, ships with a detailed instruction manual and full-featured remote control unit
Playback is enhanced with the choice of a built-in equalizer, or EQ. Five are available, and you may not like the audio presence of any of them. Don't worry. iTunes is equipped with both preset and custom equalization for personalized frequency emphasis. Treble Booster is my current iTunes EQ choice with Dragon, due to its strong bass but slightly lacking high end when the audio source is unequalized. I typically use JAZZ and ROCK EQs on the Dragon, the latter being brighter and the former being more muscular.
Internet audio sources, such as Pandora, MOG, or YouTube, are not equalized. You'll have to choose from one of the five S. E. M. EQs, which may be a compromise if your ears are well-tuned. MyMac recommends the company allows users to go beyond five limited EQs when desired.
S. E. M. calls Dragon an "Ultra High Power High Fidelity Speaker System." Those terms are not quantifiable. Volume level 30 is highest, and it is very loud. Depending upon the source volume and EQ used, 30 may shake your crystal glassware or it may not, but Dragon won't distort. Bass overall is rich and strong, if not ultra-clean; midrange is up-front; and treble is smooth without being piercing.
Dragon is consumer audio gear, not audiophile quality. The sonic performance spectrum is not fully seamless, and the speakers have some hot and cool spots. This system will perform beautifully at an indoor or outdoor apartment or small house party. Lowest listening levels are the least satisfying.
This speaker system is called 2.1, due to its built-in subwoofer. An integrated subwoofer does not inherently improve the listener experience, but with Dragon the boom-boom bass typical of external subwoofers is not a concern when enjoying the full bass. There is, according to the company, a powerful sound stage due to the acoustic design of the unit. MyMac accepts this premise. Stereo separation is minimal, tending toward a wall-of-sound sonic presence.
Be patient when first using Dragon. No break in period is mentioned, but as with all high-powered speaker systems, twenty or more hours of usage assist optimum audio.
Dragon's remote control is the largest and most full-featured we have ever used. There are 25 individual round buttons, several of which are dual-purpose, such as iPod/AUX. The buttons are responsive to the touch, and the custom-shaped tall, narrow physical remote is comfortable to hold and use. A working battery is included. The remote's range is comfortably large
The company tells MyMac: Well noted that the remote has many buttons. Our focus here was to not have multiple sub-menus in the software rather have one-touch functionality despite the unit being feature rich.
All buttons on the remote unit are equally round, small, and black, with white lettering designating their purposes. No buttons are illuminated. It is possible to learn which button to use, after extended periods with Dragon. Bright ambient light is required to see the white lettering. There are so many buttons and their placement is so non-intuitive that MyMac recommends S. E. M. hire an interface design consultant to improve future button design and placement.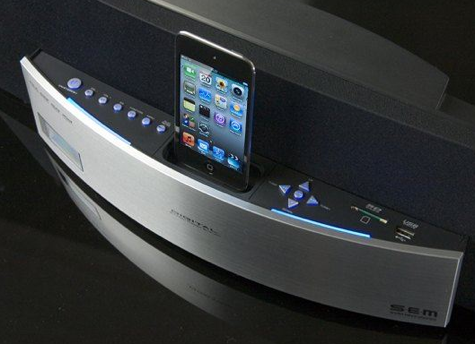 Additional photos are available at the company's product site.
Dragon has more ports, buttons, and built-in features than any other one-piece speaker system. FM radio! USB and SD card input, with folder memory! Timer, sleep mode, and snooze alarm! iPod dock charging, with remote track navigation! LED front panel menu and ID3 tag display! All of the above, and more, are available from a front deck series of illuminated blue buttons and with the remote control. Eleven different iPod inserts are included!
The company wants to please, and tells MyMac: An interesting feature, and likely important to customers, is the alarm function — allowing for both wake and sleep to: iPod/iPhone/USB/SD/Radio.
The rear port panel contains power, auxiliary input, video output, and FM antenna wire. A long two-stage power cable unit is provided. There is a backup battery compartment for the LED display. Two AAA batteries preserve the clock and radio memory preset settings.
Dragon has, in fact, so many features and settings for its clock/radio, iPod/iPhone, and AUX modes that I'm getting bleary reading the manual and writing about them. The only areas where this splendid one-piece speaker is lacking are insufficient audio equalization and remote control button placement and visibility. Once S. E. M. addresses and corrects these two concerns, their Dragon IP 100 Table Top Speaker System will achieve a higher score. Until then, you can purchase this solidly built and innovative consumer audio product with confidence, based on our 8 out of 10 MyMac Review Rating.
Regarding shipping, S. E. M. tells MyMac: All our products are available exclusively via website (with global deliveries supported of course). Courier costs to the United States (or globally for that matter) are expensive. However, to support the online sales channel, we've already absorbed a substantial amount of this costs and capped shipment up-cost to 25% of order value — in this case, bringing the Dragon to approximately US$ 315 (still providing an appealing feature rich value offering).
Our focus thus far has been to make the online sales channel as simple and cost-effective as possible, to allow our fans and fellow audiophiles to consider the merits of our milestones and not have shipment costs be a deterrent.