BodyGuardz Clear Skins & Carbon Fiber Armor
Company: BodyGuardz
Price:
iPad 2 Clear Skin full body protector – $29.95 USD
iPhone 4 Clear Skin – $24.95 USD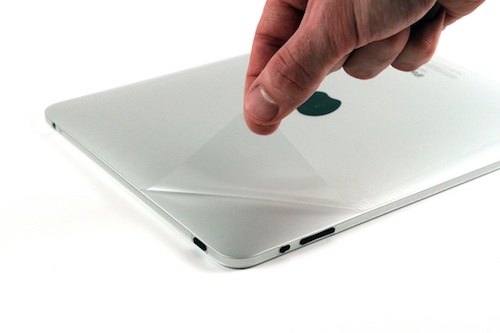 I have to admit that I'm a minimalist at heart when it comes to the appearances of my electronic devices. Apple's designs are simply elegant and I like to show them off. Bulkier cases can sometimes detract from the inherent good looks of these devices, so I'm constantly on the lookout for cases that provide decent protection while staying as thin as possible. Possible solutions I've seen include the polymer skins for iPhones that involve a liquid application, but I've always been a bit intimidated to apply one to my iPhone. I finally worked up my nerve and gave BodyGuardz a try and I'm glad I did.
I've always been afraid of putting down upwards of $30 of my hard-earned money for an iPad or iPhone skin/screen protector because I've had difficulty applying every screen protector I've ever tried. If an annoying dust speck doesn't drive you crazy, then the inevitable fingerprints will. After trying BodyGuardz, I feel much more confident in doing so.
A word of caution is in order if you're planning on applying a BodyGuardz Clear Skin on your iPad 2. Watch the application video to see every precaution to take. It offers tips on making the application easier and the final product much better looking, if not invisible.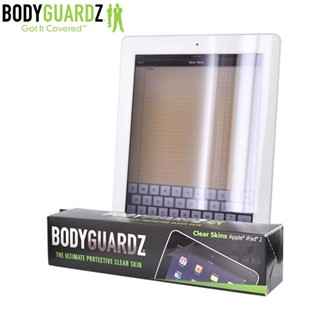 When applying the Clear Skin, find a nice, CLEAN, and quiet place to work. Distractions during this process will definitely mess up the looks of your application. As long as you're careful and follow the tips on the video you should be okay.
Start your application by laying your iPad 2 screen side up on a clean towel at a well lit location. Turn your iPad off completely. Make sure you have the application solution sprayer ready to go, as well as a second lint-free cloth to use as a blotter. The supplied squeegee is essential equipment as well.
Lightly spray your fingers and hands with the application solution (a dilute bubble bath solution) and carefully peel the screen protector off the backing, touching the sticky side as little as possible. As long as your fingers are well wetted with the solution, they won't leave fingerprints on the film. Hold the film sticky side up in your palm and spray it generously with the solution.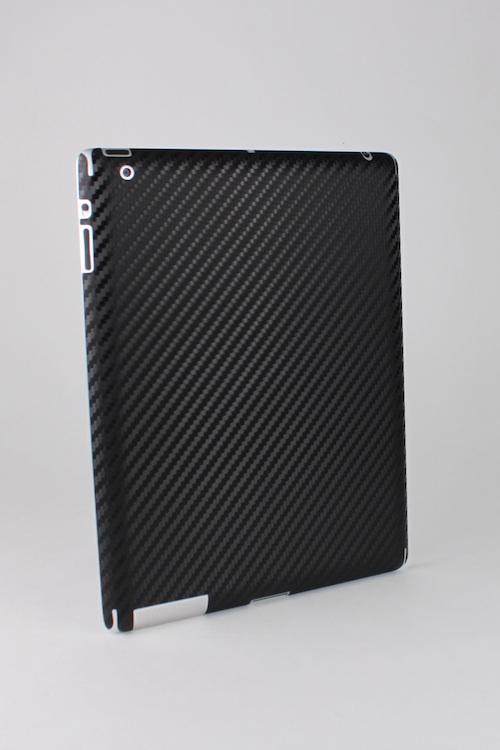 I find it easiest to line up the circular openings around the camera and home button first. Make sure your edges are nice and even as well. With a blotting cloth in one hand, use the supplied squeegee to work from the center of the screen out towards the edges. Blot up any solution that gets pushed out from under the film with the blotting cloth, especially near the camera and home button. Be careful not to let the solution get into your headphone jack or in the seam around the home button. Get as many bubbles out as you can, but if the bubbles contain just solution and not air, don't worry too much. I really want to emphasize the care that needs to be taken when working with any sort of liquid around your iOS device. Any sign of liquid damage invalidates your warranty, so be careful!
Once you have it in place and have squeegeed as much solution out from under the film as possible, wipe everything dry with your blotting cloth. At first you'll think it doesn't look very good, for there will invariably be bubbles of solution you couldn't squeegee out and there will be some haziness. Don't worry, because in three to four days at most, all the bubbles and haziness will work their way out of the film.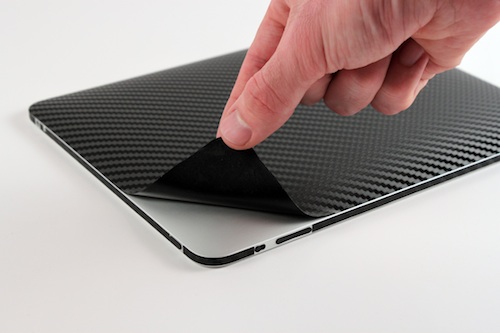 Repeat the procedure for the film covering the back of your iPad. BodyGuardz comes with two spray bottles of solution, so you should have plenty to do the back too. The corners take patience. As the film dries, the corners will stay in place, but you have to keep working them for about 15 minutes. I find the blotting cloth to be especially helpful for this part of the application. The video on BodyGuardz website demonstrates this nicely.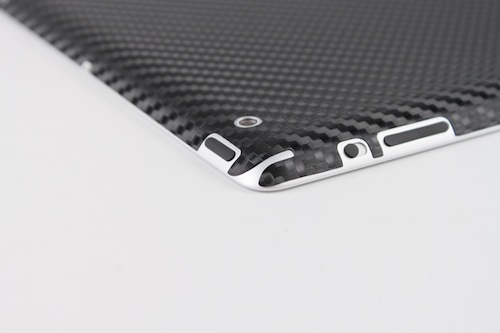 I've had the BodyGuardz Clear Film on my iPad 2 for a 2 months now and I'm amazed. It's virtually invisible and wears like iron. I had envisioned the corners peeling up, especially on the back cover, but they're still in place without any sign of wear or abrasion after weeks of heavy usage.
Understand that BodyGuardz Clear Skins don't protect your iPad from damage caused by dropping it. What they do best is protect the iPad from scratches. This is the same material applied to the front bumpers of cars to protect against stone chips and and is applied to the rotors of helicopters. The testimonial videos on their website provide demonstrations of just how scratch-resistant BodyGuardz Clear Films truly are. Handfuls of wood screws and gravel rubbed vigorously on the iPad do no damage whatsoever.
I've also taken a look at the BodyGuardz Clear Skin for the iPhone 4 and I'm similarly impressed. After applying the much larger iPad 2 Clear Skin, the application on the iPhone 4 seems easy. The procedure for applying the Clear Skin to your iPhone is the same as I described for the iPad. It's just much easier working with smaller pieces of film.
One thing I must give BodyGuardz kudos for is that they supply two complete sets of films for the iPhone 4. Thank you, BodyGuardz! I wish more companies selling screen protectors would take BodyGuardz's lead in this idea. The lifetime replacement warranty is another plus.
I've had the BodyGuardz Clear Skin on my iPhone 4 for a week and it's holding up just as well as my iPad. The iPhone 4 takes much more abuse than an iPad, being stuffed into my pants pockets constantly, placed in a cradle on my drives to and from work, and being handled much more frequently. So far, the Clear Skin is proving to be as tough as advertised.
One thing you may notice with the iPhone 4 Clear Skin is a small amount of lint collecting at the film edges the first few times it's placed in your pocket. After a day or two, this quickly wears off and you can barely tell the Clear Skin is in place on your iPhone.
The Clear Skin does make your iPhone feel slightly tacky, but in my opinion that's okay. A naked iPhone is sleek and beautiful, but it's also slippery. Okay, stow the smart comments. And being made of two panels of glass, you can't help but worry about it slipping out of your grip. The slight tackiness created by the Clear Skin makes my iPhone feel more secure in my hands.
I've given the BodyGuardz Clear Skins for both the iPad 2 and iPhone 4 a serious workout and I find their products to live up to their claims. If you want to maintain the stylish looks of your iPad or iPhone without a case, give BodyGuardz Clear Skins a try. They're well worth the investment.
MyMac.com Review Rating: 9 out of 10