iHome iA63 App-Enhanced Alarm Clock FM Radio Stereo Speaker System
Company: iHome
Price: $99 US
Compatible with all versions of iPod touch, iPhone 3, 3GS, 4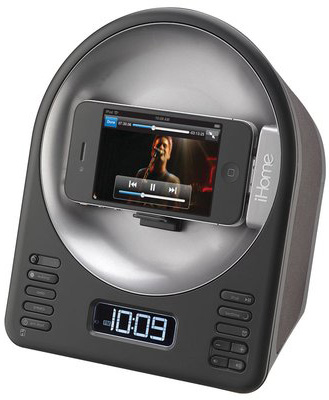 iHome has a history of creating functional, multi-purpose products. The iHome iA63 is the latest in the series. Combining an alarm clock, iPod/iPhone dock, FM radio, and speakers into one sleek unit is no easy task, but iHome found a way to do it, and do it well, with a few exceptions.
The iHome iA63 is small enough to make it portable, but large enough to output pleasing audio. Buttons on the front control the iPod/iPhone, radio, alarm, and volume.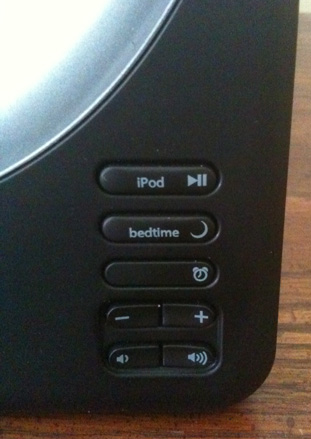 Setting up isn't as intuitive as I would have liked. My nature is not to read manuals but to figure things out as I go along, only referring to guidance if I'm truly stuck. I needed to read this manual, especially for setting up radio presets and setting an alarm.
While my iPhone is docked in the iHome iA63 it's also being charged. I've never had my iPhone charge so quickly; it was even faster than plugging it into a wall outlet. Very impressive.
If you're the kind of person who likes to listen to music while falling asleep, the iHome iA63 has a bedtime button that can be set to 90, 60, 30, or 15 minutes. The sound gradually decreases and the music automatically shuts off at the end of the time period. Conversely, if you set the alarm for music rather than a buzzer, the music gradually increases for a gentle wake-up, a feature my husband loves.
Other features included in the iHome iA63 are a snooze button (a must on any alarm clock for me), adjustable dimmer switch, and a rotating switch to put the iPhone in landscape mode.
Once I got more familiar with the iHome iA63, I really enjoyed using it. My biggest issue, and it could just be my issue, is changing the alarm in the dark. My husband gets up before me. With our previous alarm clock he was able to turn off his alarm and set a new one for me an hour later by using just one knob and one button on the clock. It didn't matter if it was still dark out. The first time we used the iHome, he couldn't see which button was which, and he got frustrated. I woke up and finally adjusted the alarm for me. Bottom line: multiple alarms would be a very nice addition.
iHome released a free iPhone/iPod app to use with the iHome iA63 called iHome+Sleep. It has a lot of really great options, but based on my experience, I can't recommend it yet.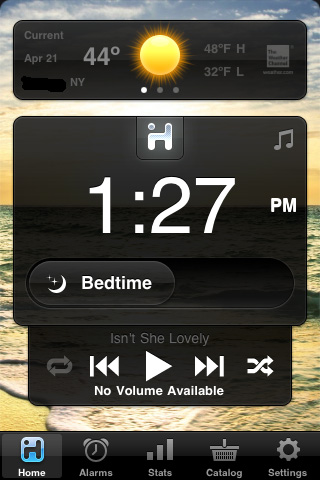 iHome+Sleep offers multiple alarms, sleep logs, weather, reminders, and social media messages. The alarms are customizable, so you don't have to wake to the same settings as your partner. This solved our problem of changing alarms in the dark.
Night 2: I set the alarm for my husband to get up at 6:30AM. Mine was set for 7AM with a reminder of something I needed to do during the day.
I woke up on my own about 6:25AM and noticed the iPhone screen had gone black. Uh oh. I waited until 6:30AM before I checked anything. 6:30 came and went. No alarm: the app crashed. Not a good thing when you need to get up at a certain time.
Night 3: I decided not to use the iHome+Sleep app and stay with the clock alarm. Husband had the same problem of setting the alarm ahead for me. At 7AM my alarm went off. A few seconds later the iHome+Sleep alarm also went off; I never turned it off in the app. However, the Getting Started Guide within the app warns users that app alarms may not sound if the iHome+Sleep app is not in the foreground. It wasn't, and the alarm went off anyway.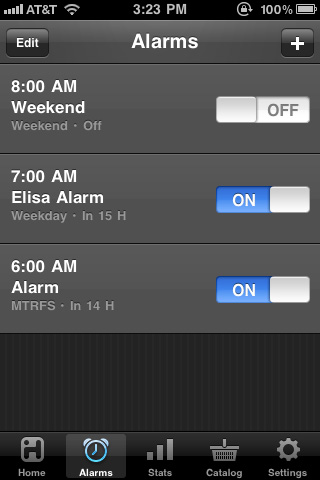 The iHome+Sleep is a fantastic idea with many helpful options that aren't quite ready. I had too many issues with crashing and sleep logs not recording to recommend using this app at this time. Once the bugs are worked out I think the iHome+Sleep app will add a lot of value to the iHome iA63.
I've owned and used iHome products for a few years and I've been very pleased with their performance. I can now add the iHome iA63 to that list.
Pros:
• works with numerous iPod touches and iPhones
• programmable snooze time
• use in landscape or portrait mode
• dimmer switch
• aux-in port on back for use with another audio source, such as a computer or CD player
• wake to radio, iPod, or buzzer
• bedtime sleep timer
• battery back up in case of power outage
• full feature remote control included
• compact size
Cons:
• not intuitive to set up
• alarm can be tricky to set
• iHome+Sleep app still too buggy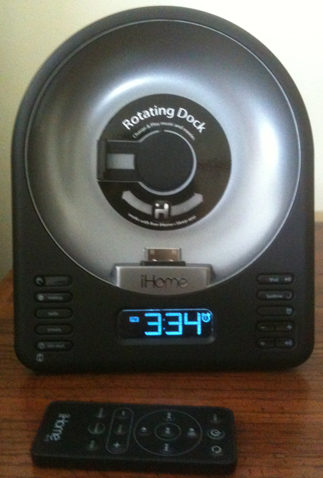 The iHome+Sleep app is totally separate from the iHome iA63, so my review rating is based solely on the unit. Except for the alarm problems we had, which, like I said, could be my problem, I found the iHome iA63 a compact, quality alarm/speaker system that I would use on a daily basis, both inside and outside.
MyMac.com Review Rating: 8 out of 10.