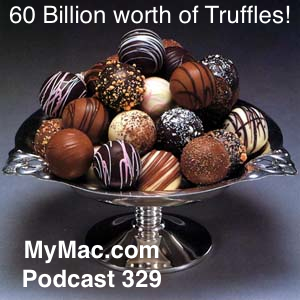 Download and listen in your browser here
Subscribe in iTunes here
Steve Jobs takes a leave of absence and Apple announces their quarterly results for the 1st quarter of 2011 which adds up to a LOT of Italian white Alba Truffles! We also have some great audio feedback from Scott (Pocket Sized Podcast) Willsey and Tim (TechFan) Robertson about Nuking Verizon…or something like that. We're also giving away a few Mac App bundles courtesy of AppSumo!
The
Macworld Expo
is coming SOON and Tim and Guy will be on the Main Stage at 12 on Saturday the 29th of January! In the meantime start listening to Tim and Dave on the
TechFan Podcast
or ELSE!
Links:
MetaX

Contact info: Want to be on the show as a listener invite? It's MUCH easier than a WalMart return line after Christmas!! Drop us a line and let us know you want to be on the show. Gaz(twitter.com/gazmaz) and Guy (twitter.com/macparrot) on Twitter, guy@mymac.com andgaz@mymac.com, or our Skype direct number 703-436-9501. Also go into iTunes and leave some feedback.