Olympus Digital Recorders
Prices from $48 to $150 online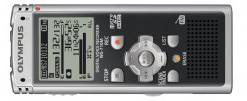 There is still a need in this new world order of multi-function consumer devices for  dedicated single-purpose equipment that does its job efficiently and affordably. Olympus' new pocket digital recorders are world-class products at bargain prices. If you are married to your iPhone or iPod Touch for recording live speech and music, stop reading now. If you have a recurring or occasional need for a compact recorder, keep reading.
WS-710M, which I call the silver one, is a high-end stereo recorder with a zillion optional settings that most users won't need, plus a ton of onboard storage capacity and a micro-SD slot. There are so many possible variations on its settings that the printed user guide becomes incomprehensible attempting to present them.
I am technically savvy, but I was defeated during several attempts to master this recorder. It has exceptional value for quantity and quality of audio tracks, plus built-in USB rechargeable AAA battery and computer connectivity, but unless you plan to become proficient at its multitude of buttons and options, save a hundred dollars and purchase its sibling, the VN-8100PC.


Both recorders ship with a nifty padded carrying case plus required cables and a concise printed manual in several languages. Many additional accessories are available. Built-in speakers are not very loud. Spend a few minutes reading about each of these two units at their Olympus web sites.
I refer to VN-8100PC as the black one. Within five minutes of unpacking it, I had altered its default settings to my specifications, and I was making my initial test recordings. The microphone is just right sensitive, and the liquid crystal display panel is just right easy on the eyes. Storage capacity is adequate for most personal and professional situations.
Using the included USB cable, Macintosh connectivity and volume mounting are  effortless, as are locating files and dragging them to my Mac's Desktop for editing in Rogue Amoeba's Fission. Sound is crisp and accurate — more so than you expect for around fifty dollars.
VN-8100PC ships with two disposable AAA alkaline batteries. The recorder has no moving parts, so each fresh set of batteries lasts a long time. Carry a couple of extra sets with you, as appropriate, or invest in a battery charger and four or six rechargeable batteries, if you are concerned with environmental battery disposal waste.
For quality of sound and enormous quantity of features, WS-710M receives a  good score that is diminished by its bewildering complexity and inadequate printed manual. MyMac Review Rating: 7 out of 10.
VN-8100PC gets a perfect 10 out of 10 MyMac Review Rating for its low price and high degree of usability.
If you are interested, have a look at the Amazon.com user reviews for these brand new products: