By guest reviewer Devon Gilbert and John "Nemo" Nemerovski
Devon and Nemo spent hours listening, evaluating, and comparing these three innovative, affordable headphones with microphones, or headsets, if you prefer the term. We will first describe them one at a time before we rate or rank them.
Crossfade LP
Company: v-moda
Price: $200
Web site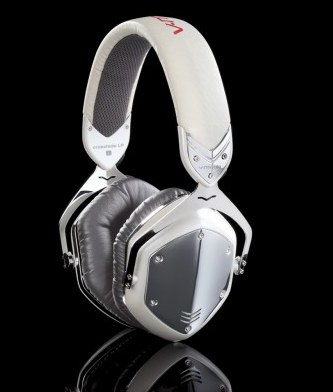 ts02+mic
Company: thinksound
Price: $100
Web site
Arctic Sound P321
Company: Arctic Cooling
Price: $43.45
Web site
V-moda's new Crossfade LP full size over ear headphones are impressive out of the box. The packaging is attractive and colorful cardboard, without any dreadful plastic tomb. A stylish leatherette form fitting custom "unique musical fashion statement" zippered case encloses the headphones, cables, and 1/4″ plug adapter. Crossfade LP are based on DJ headphones, but these ones don't fold. All materials are solid and built to last, yet lightweight and comfy for extended use.
Earpiece cushions are padded and comfortable. Chassis construction is durable metal. Cables are detachable, with woven Kevlar-reinforced fabric exterior, unlike any we've seen previously. Double bravo to v-moda for their styling choice of materials.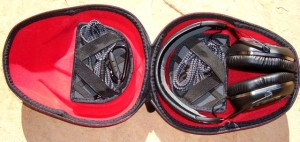 Crossfade are somewhere between sexy, elegant, and techno. Several colors are available, and the red headphones look especially exciting on the company's web site. You can see photos and read an extensive description of Crossfade LP there. Alert: obnoxious music is impossible to avoid at v-moda.com, so make sure you know where the MUTE button is located on your computer's keyboard.
Two different detachable cables are provided. One is for listening only, and the other has playback controls plus an inline microphone. The controls work as advertised, but the microphone's audio is below the standard of the rest of this premium product. The location of the controls is too high up the strand, and should be lowered by several inches. The listening experience is satisfying for all genres, but is not exceptional. We recommend customizing your equalizer settings for optimum sound.
MyMac Review Rating: 7 out of 10
* * * * * * * * * * * * * * * *
TS02+mic is thinksound's latest and greatest environmentally friendly and versatile in ear headphone + microphone combo. Packaging is all recycled and biodegradable materials, and the speaker housings are from a renewable "natural resonance" wood source, plus PVC-free cables.
The official name for this product is: ts02+mic 8mm in-ear high definition headphone with microphone + call/music control. We asked Aaron Fournier from thinksound for an explanation. Here is his response to our questions:
1.  Why does it matter whether your earphones are 8mm or 9mm or 333mm? Why do you make a big deal out of that number?
This is purely so we can design a smaller, lighter and more comfortable headphone.  It is more difficult to design a smaller speaker driver with full sound and that is why the cost is higher in manufacturing it.
2.  Why did you decide to make these new buds so rich in bass? What were your technical, marketing, and audio goals?
They arent too rich in bass.  They do have a slight bump (about 3dB+/-) more than flat. This is because there is also a slight bump in some of the highs by about the same amount. There is not a large dip in the midrange as there usually is with in ear headphones nor is there a giant peak in the mid/bass region. This gives our headphones a nice, smooth sound that isn't fatiguing. It is really all the best aspects of our rain model headphone but improved mids and low end. I generally use the flat or no eq. Although it may vary slightly from a nano to ipod or iphone.
3.  How much should your eco platform influence purchasers who care most about price and performance?
Our eco platform doesn't impact our overall price so that shouldn't be an issue.  Thinksound headphones are very high quality and should be treated like a high end earphone. I think some people have seen other companies advertising wood products saying they are eco friendly when they really aren't. Some companies have wood headphones but use PVC cables and plastic packaging that can't be recycled. Every part of our headphones were designed with the environment in mind and we chose the best materials possible. We use lychee wood which is readily available and not in the least bit threatened. We hope that people can tell a true green product from people who are using it as a gimmick. All our products will keep the environment in mind not just one product from our brand.
4.  Who do you consider to be your primary competitors for price, performance, and style?
Well, this really is up to the consumer to decide. We consider the ts02+mic a pretty high end earphone and we think it out performs many in the same and higher price range. We hope people in all age groups will like our products. We won't name any specific brands because we want our products to speak for themselves.
Devon is very impressed with everything about ts02+mic, because he is primarily "an earbud guy," as he calls himself. Fit, comfort, audio experience, and environmental impact are all tops in his judgment. Phone call voice sound is better than with the Crossfade LP, reviewed above. Thinksound did a stellar job and deserves a strong score.
MyMac Review Rating: 9 out of 10
* * * * * * * * * * * * * * * *
Arctic Sound's P321 is a horse of a different feather: full size over-ear headphones that are USB powered, and have a built-in retractable, flexible microphone — at a very low price. Devon was impressed that these headphones started playing an iTunes track immediately upon being connected to my MacBook Pro, without annoying visits to System Preferences > Sound > Output. You may have to set this preference for "Unknown USB Audio Device" the first time you use these 'phones.
The physical headphones are large and well padded, but are not overly comfortable at first. Plastic is used for all the rigid components, and for the headband frame. The flexible, retractable microphone is cleverly built into the left speaker housing, and this mic works perfectly. An ergonomic gray control unit resides about two feet along the connecting audio cable from the right speaker housing. This cable is the world's longest, which may or may not be an asset, depending upon how much distance you like to have from your computer.
The company describes this right-side puck as "an advanced in-line remote for track selection, volume, mute, and bass boost control. The bass boost control allows users to intensify the bass and enhance their gaming and listening experience relatively." All that is true, except it is impossible to know which of the three buttons performs which function, because they are black buttons without obvious indicators visible in normal or dark room lighting. How about instead having different colored buttons for different functions?
Audio listening experience with Arctic Sound's P321 is okay to good, depending upon your standards. These headphones are fine for casual music listening, and they are perfect for Skype calls or similar situations in an office environment. Don't step on them because they are not super durable. No case is provided.
Our rating takes all the above into account, as well as the extremely competitive pricing for so many features, especially the outstanding microphone.
MyMac Review Rating: 6 out of 10
* * * * * * * * * * * * * * * *