Guest writer Roman Woznik's first report from Europe
I work for eco, The Association of the German Internet Industry, during my college years. Following the call of eco, I attended the United Nations Internet Governance Forum in Lithuania. It's a Multi-Stakeholder conference on Internet Governance where participants from the governmental, private and civil society sectors meet and discuss the future of the Internet and its policies.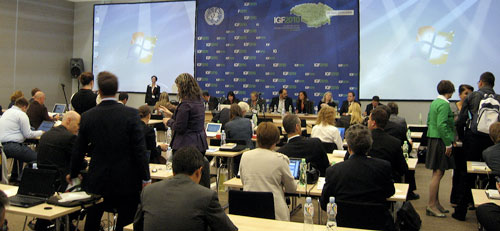 While sitting at the huge round conference tables I was greeted by lots of glowing Apples. I was amazed to see rows upon rows of MacBooks and MacBook Pros being used by civil rights activists and government officials alike. Looks like that's one thing they could agree upon was using great computers. I would say the ratio of PC notebooks to Macs was at least 50/50. Having switched my whole digital life to Macs and an iPhone about half a year ago I guess I didn't realize how common they have become, and the prejudice of Macs being solely for designers and video editors was soon forgotten.
Why would anyone just using his notebook for typing, light movie-editing, browsing and consuming media pay a minimum of 1000 € for his portable computer? Because everyone has the same needs: a stable and comfortable OS, not having to fear viruses and malware, a solid and well-built hardware, as well as an unmatched customer support. That's worth a certain price for some people who know what they prefer.
There are even those who don't know what to do. I saw several individuals covering their DELL or HP logos on the front of their notebooks with Apple stickers. I thought that was pretty hilarious. Like they were ashamed of having a Dell or a Lenovo Notebook instead of a MacBook. That got me thinking that some people think Macs are cool but are not going the last step to switch from the PC to the Mac.
During this trip I could really witness the iPad's capabilities outside of a home or the Apple Store, far away from a Mac or PC to sync with. My superior, the head of the eco Internet Policy Team, and his colleague had brought along their iPads instead of their MacBooks for this trip. They used them primarily to check corporate emails, browse the web when needed and kill zombies in their free time.
With all the great productivity Apps available for the iPad, making, editing and sharing business documents have become very comfortable tasks. As we all know the battery life is amazing. (I never actually saw one of them being recharged.)
It was very exciting watching the iPad in action. Its small form factor makes it great for whipping out and casually sending out emails, with a brilliant screen that doesn't make it tiring to dedicate oneself to more comprehensive email writing or other business tasks. With a minimum of ten hour battery life, even the busiest of workaholics won't have to worry about it dying out on them on a long business trip.
The MacBook Pros and MacBooks offer a very similar battery life (I have witnessed the amount of 12 hours being shown on my MacBook Pro 13" screen) with a small difference in usability. When using notebooks and wanting to get the most out of the battery you constantly have to check for unnecessary services and connections (turn off WiFi, Bluetooth and Apps when not in use) and dim the screen, making the experience a bit limited.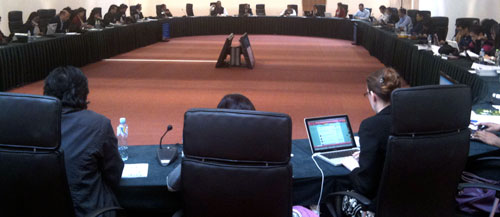 The iPad's battery has gone through rigorous testing by all tech journalists. Walt Mossberg of The Wall Street Journal also mentioned getting over 10 hours of battery life out of the iPad while stressing it to the max. So it should manage a business day with its emailing, writing and browsing quite formidably.
My tasks at the conference were diverse but one of them was to make notes at specific workshops we had pointed out ahead of time. I asked myself: Would it have been okay for me to bring an iPad along (I don't own one…yet) instead of the company's iBook when I having to write paragraphs upon paragraphs of notes during the workshops?
The writing would have been primarily in English I guess, but writing with the iPad in German is a little bit different than in English. German has what we call "Umlaute" — muted vowels. In this case the vowels are written with two dots above them (ö, ä, ü). These are accessed on the iPad keyboard by tapping the letters o, a, or u for longer and then letting go.
I found this to be taking some speed out of my type flow. In the previous iPad firmware those letters were selected from a list, making it even longer. On regular German keyboard layouts these letters have their own keys. So if I knew ahead of time that I would be writing long texts in German I would prefer to take along the MacBook Pro, or a Bluetooth iPad keyboard. Maybe when finishing college and getting promoted I won´t take so many notes at these conferences.