Apple iPhone 4 Bumper (currently unavailable for sale)
Griffin Reveal Etch iPhone 4 Case — $29.99
Griffin Elan Frame iPhone 4 Case — $29.99-$34.99
Griffin Outfit Ice iPhone 4 Case — $29.99
By now, the big to-do about iPhone 4 reception issues and Apple's Case Program seems to have subsided. That being the said, need for a case for your iPhone 4 is still just as great as it has ever been. A recent incident in my own life drove that point home to me clearly.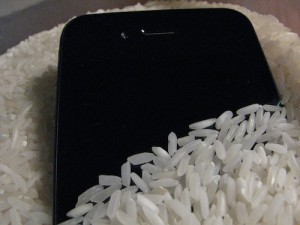 Just recently while out fishing with my father, I learned a real lesson about the importance of having a case on your iPhone. Let me give you some good advice; don't keep your phone in your pants pocket while walking around in a boat! Having been an avid fisherman for nearly all of my forty years, I have never fallen out of a boat while fishing — until last weekend.
While placing the boat on the trailer at the boat ramp, I tripped and fell headfirst out of my boat and into the balmy sixty-degree waters of Owasco Lake, one of upstate New York's famous Finger Lakes. Not only was it truly embarrassing, but with my iPhone 4 in my pocket, I was certain it was instantly ruined! In fact, as I was falling all I could think of was the fact that my iPhone was about to bite the dust. Fortunately, I was testing out the Griffin Outfit Ice case, which provided just enough protection to save my iPhone 4 from ruination.
As soon as I jumped up out of the water, I quickly pulled my iPhone out of my jeans pocket, immediately shut it off and wiped any water off the encased iPhone. After getting things in order with the boat and getting back to my pickup truck, I carefully removed the iPhone from the Outfit Ice case. To my surprise and relief, it was mostly dry! I also realized that it only takes a tiny amount of water to ruin electronic devices.
Once home, I placed the iPhone in a bowl of dry rice and set it on my back deck in the bright sunshine for the rest of the day. I was sweating bullets all day long, so you can imagine my relief when I turned the phone back on that evening and it worked. Initially, I got a message on the screen indicating that earphones were plugged in and the speakers wouldn't work, but it turned out to be a stray rice grain in the earphone jack.
The Outfit Ice case is by no means a waterproof case. The front of the phone and the jacks/ports are all completely exposed, but even the barrier it provided for those few crucial moments helped save my iPhone. The moral of the story is, get a case on that iPhone! Let's take a look at few of the selections from Apple and Griffin to see what might work for you.
Probably the iPhone 4 case with the most notoriety is Apple's own Bumper case. I purchased one in an Apple Store in Charleston, SC back in June, but the only way to get one now is through Apple's case program. If you want one, you're pretty much out of luck at the moment.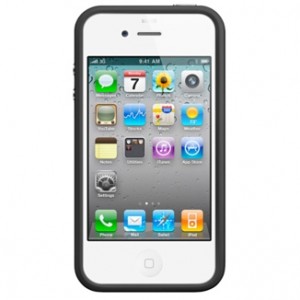 I know some people have berated the case for its simplicity, but that's one thing that makes it an attractive design. It offers very little protection other than keeping the metal band around the sides of the phone from becoming marred up. If you lay the iPhone 4 flat, the bumper case will also prevent the glass from coming into contact with most surfaces. Being made of Corning's "Gorilla Glass," I don't find that the iPhone 4's glass scratches all that easily, but the Bumper case will help a bit.
Apple's Bumper case is actually a very well-made product, with the buttons on the case being made of actual metal that are integrated into the plastic case perfectly. If you look closely at it, the bumper case is put together with the same precision and attention to detail we expect from all of Apple's offerings. They must be a pain for Apple to build, so I'm not surprised at all that they're in short supply.
Griffin's Elan Frame iPhone 4 case is nearly identical to Apple's bumper case. The case is simply a two-piece plastic band that wraps around the perimeter of your iPhone 4. A synthetic leather band is embedded in the plastic to enhance gripping the case.

The two pieces making up the Elan Frame slide apart easily and slide onto your iPhone 4 without much difficulty. There are large openings at the top and bottom of the case that are nearly identical, permitting you to reach the on/off switch, earphone jack and docking port easily. There is another large opening on the side that allows easy access to the volume and mute buttons. Since the back is wide open, there is nothing interfering with your camera or the LED flash.
Overall, I find the Elan Frame to be a fine substitute for Apple's bumper case, although I think for what it is, it's a bit overpriced. If you're in  the market for a case that allows you to show off the sleek look of your iPhone 4, this case should work out fine.
As part of Apple's case program, I opted for Griffin's Reveal Etch case. Once again, this is a fairly simple design that works well with the iPhone 4. The one-piece design slides onto the iPhone 4 easily. It consists of a silicone band protecting the edges of your phone. It has a hard plastic back as well. The front of the iPhone 4 is completely open with this design.

The silicone band on the Reveal Etch has openings for the mute switch, earphone jack, speaker, microphone and docking port. There are raised buttons for the volume buttons and the on/off switch.
The Reveal Etch's plastic back has a modern looking black carbon-fiber appearance. I like the look and it was one of the determining factors that made me select it in Apple's Case Program. It has an elongated opening for the back camera and flash unit as well.
The Reveal Etch is a nice case that maintains the slim design of the iPhone 4. It's fairly simple and straightforward, just as we have grown accustomed to with other iPhone cases over the years.
Of the four cases being reviewed here, the case I'm most impressed with is Griffin's Outfit Ice case. Yes, perhaps I'm a wee bit biased toward it after my plunge into icy waters, but I still like the appearance and form factor of the the Outfit Ice case.

The Outfit Ice case is hard plastic with a rubberized exterior finish. It's a two-piece case, with a thin front bezel piece snapping onto a cup-like back piece. It goes on your iPhone 4 easily and I really like the blue color of the review unit Griffin sent. It's very eye-catching. The Outfit Ice also comes in hot pink, bright red and black.
The case has openings for all buttons and ports, with another opening on the back for the camera and flash. As I said before, its many openings mean the Outfit Ice case is not waterproof, but it just might provide that extra bit of protection needed to save your phone in an accident.
I think Griffin has done a fine job with some of its latest offerings in iPhone 4 cases. Take a look at them at the links provided and I think you'll agree.
MyMac.com review ratings:
Apple's Bumper Case — 8 out of 10
Griffin's Elan Frame Case — 7 out of 10
Griffin's Reveal Etch Case — 8 out of 10
Griffin's Outfit Ice Case — 9 out of 10