Pelican i1015
Company: Pelican
Price: $27 on Amazon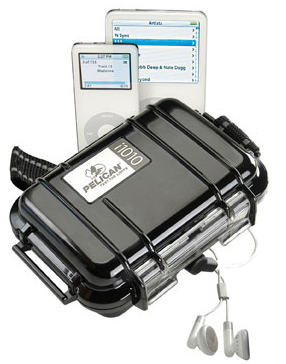 iPods and iPhones fit snugly in this hard plastic protective case from Pelican. The inside of the case is padded with rubber bumpers and also contains  an input for your earphones. Put your iPod in the case, connect the provided cable to it, lock the case with the snug and secure latches on the side and then connect your earphones to the external jack and you're ready to go. The Pelican case feels secure and comes with a lifetime guarantee. I keep mine on the front seat of my car with my iPod in it and it's hit the floor a few times on sudden stops. Both the case and my iPod still look like new. The case comes with a carabiner (or D-clip). You can start your music, lock the case and hang it on your belt or backpack. Another handy feature: The rubber rectangle inside the case that serves as a cushion for the iPone or iPod has a space under it where you can easily store your headphones . Everything rides in the same box and all of it is practically indestructible. Nice.
One caveat: The company says the case is not designed to be submerged in water. Don't use it for swimming.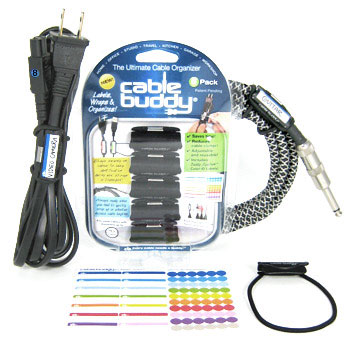 Cable Buddy
Company: Winning goal products
Price: 6.95
Cable Buddy is a clever little device that can help organize the tangle of wires and USB connectors cluttering up the space behind and under your computer. It is little more than a miniature Bungee cord attached to a plastic trough. You place a cable or wire in the trough, pull the Bungee tightly across it and hook it to the other side of the plastic. Sound simple? Maybe after the fourth try, and if what you're dealing with is a skinny cable as opposed to a bunch of thick wires, it is. The video demo on the company's website is helpful, but I didn't find it quite as simple as the guy doing the demo. One of the nicer features, once you pass the dexterity test, is that the Cable Buddy comes with color coded labels that you attach to the plastic housing. You can write on the label and identify what device it's for, or you can also use the self adhesive dots (provided). Stick one on the cable buddy and another near the port where it lives on your computer or hub. There are lots of little ties and straps (not to mention a rubber band) that will perform the same task of getting cables wrapped up and out the way, but this one comes with an identification system.

Foam Tips
Company: Comply
Price: $9.95
When it comes to earphones, one size does not fit all, which is why companies typically include three or more sizes of ear tips with the earphones you purchase. Usually the tips are silicon and in some cases,  as I found with my Full Metal Jacket earphones from Skullcandy, the company provides several sets of both silicon and foam ear tips. Comply says its foam tips are made from "a unique breathable memory foam that is activated by body heat and becomes ultra soft, reducing irritation and fatigue." In-ear foam tips that aren't noise canceling are annoying so you'll want something that fits right. I can't speak for Comply's competitors (and there undoubtedly are many), but the boast for this bubblegum pink set of three is accurate. If you listen to music in bed at night, you'll probably find that if you fall asleep with the foam tips still in your ears you won't wake up with sore ears. Christmas is right around the corner and If you have a 12-year-old daughter, these things might make the perfect accessory for those new earphones you're going to buy here.
Mac Review Rating for Pelican i1015 and Comply's Foam Tips: 9 out of 10
Mac Review Rating for CableBuddy: 7 out 10