Doxie Scanner
Company: Apparent Corporation
MSRP: $129 US
http://www.getdoxie.com/index.html
Scanners aren't pretty. They're not cute or sexy. Sometimes they're not even easy to use. And they're definitely not fun. But with Doxie, all that has changed.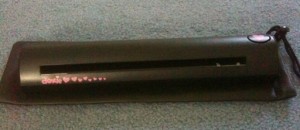 Doxie is a small, portable scanner that's incredibly simple to set-up and use. Download the appropriate software from Doxie's web site, launch the Doxie application, plug the scanner into a USB port on your Mac, and after calibrating Doxie before the first use you're ready to let the fun begin.
Doxie can scan both documents and photos, ranging in size from business cards to 8.5″ x 14″. Note, though, that business cards cannot be scanned into Address Book, but can be added to iPhoto as a .jpg.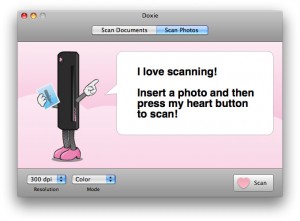 Before you're ready to scan, Doxie's playful scanning window asks you what you want to scan, then tells you how. Document scan resolution defaults to 200 dpi, but offers a range between 75 dpi and 600 dpi. With photos, the default is 300 with the same dpi range. All scanning may be done in color, grayscale, or black and white.
Once you've made your selections, place the document or photo face down in the scanning slot, click the heart button in the upper right corner of Doxie, and within seconds your scan is complete. At this point you can choose to save the item to your computer, or you can send it to an application on your computer for further editing. Doxie automatically recognizes installed compatible apps on your computer, called destinations, which, in my case, include iPhoto, Evernote, Preview, and Adobe Photoshop.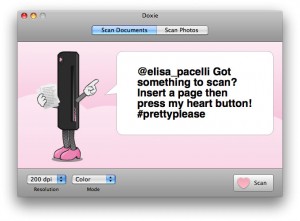 Alternatively, scanned items can be sent to the cloud. Share photos on Flickr, or send documents to Google Docs. Other available cloud apps are Picnik, Scribd, Tumblr, and Twitter. You can customize cloud apps in the preference pane.
A very nice feature of Doxie is the ability to keep your document or photo in the Doxie Cloud. Once you've sent your item to the Doxie Cloud, it converts it into an URL that can be shared with family and friends so they can easily download the item. You can even limit the amount of time the item will be available for download. Super simple, and super quick.
I sent a few photos to Flickr, and some documents to Evernote. Both worked seamlessly. Then I uploaded some pictures to the Doxie Cloud and sent the link to a few friends. They're now the proud owners of some baby pictures of my kids. All reported no problems whatsoever accessing the Doxie Cloud.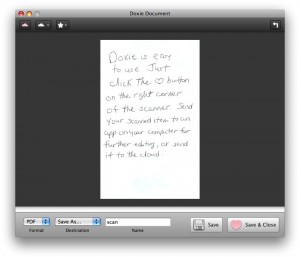 I did run into a small issue when scanning wallet sized photos. For some reason, the Doxie software decided to crop the photos. It was simple enough to fix, but I'm wondering why they were cropped. It didn't crop any other photos I scanned.
There are two minor issues some users may have with Doxie. First, in order to use the scanner, the Doxie application must be opened before scanning. Just clicking the heart button on the scanner won't get things started. Second, the USB port on Doxie is on the rear right, so the USB cord can get in the way of the output. Personally, I have no problem opening the Doxie application before I begin scanning. As for the USB cord, it's over six feet long, and very easy to move out of the way.
Doxie is an easy-to-use, portable scanner. The packaging includes a quick start guide, which is most likely all you'll ever need. At $129, Doxie is reasonably priced, and a great reason to stop torturing yourself trying to scan with an all-in-one printer.