Kensington Portable Notebook Locks Review
Company: Kensington
Kensington MicroSaver DS Keyed Ultra Thin Notebook Lock – $49.99 at Kensington
Kensington ComboSaver Combination Portable Notebook Lock – $18.15 at Amazon.Com
My oldest son will be taking his brand new $1,000+ MacBook Pro High School, graduation gift to college this fall, and frankly, I can't afford to replace it. He will need to take measures to be sure no one steals it. A laptop is stolen every 53 seconds in the USA and I really don't want him to become a statistic.
We'll be installing some security software within the machine, but how should we physically protect it? Answer: Go to the #1 seller of laptop locks, Kensington.
Kensington produces a variety of locks for home and business solutions including desktops and laptop computers. We'll take a look at two solutions for laptops.
Both locks attach to the security slot built into most laptops. Both employ super strong carbon steel cables, and both are fairly easy to use.
The MicroSaver DS Keyed Lock for Ultra-Thin Notebooks uses a rotating head which makes it easy to attach to your computer. Since the head pivots around, you can move your laptop fairly easily with the lock connected. The lock comes with two keys, and both keys have a serial number on them. The included, and sparse, instruction sheet tells you to record this serial number on the sheet, and you have the option of registering that key code with Kensington, which looks fairly simple on the Kensington Website. I did not register because this is my son's task to perform.
I assume you can get a replacement, right? Well, after searching through the Kensington support FAQ, I found a section about these locks and a link to order replacements. I went to the site and thought, "great, you can get a replacement key," but after further investigation I found one of the questions is, "What color is your key? Black or Orange?" These keys are gray. My advice is don't lose the key.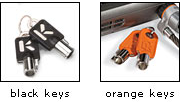 The MicroSaver DS Keyed Lock for Ultra-Thin Notebooks comes with an orange cable tie to keep it wrapped up when not in use, but frankly, it needs two.
Other than the key and the cable wrap, this is a fine lock for your laptop.
MyMac Review Rating: 8 out of 10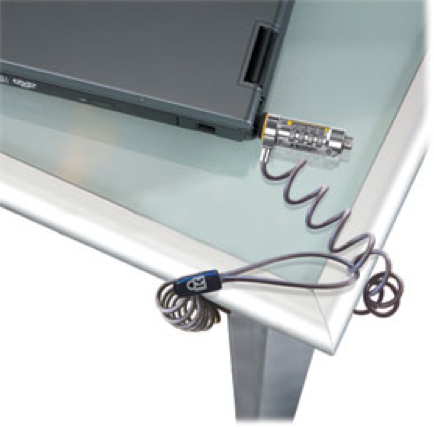 The ComboSaver Combination Portable Laptop Lock differs in two significant ways from the MicroSaver: It has no keys and the cable is coiled.
The coiled cable is much easier to manage when not being used because it coils up like a slinky and has a smaller storage footprint. The self coiling cable extends from three inches to six feet giving you ample cable to secure to an object.
Instead of a keyed lock the ComboSaver utilizes a four digit combination wheel. The lock comes with a tool attached to the cable that allows you to set your own combination. To use the lock, you hold in the button on the end, stick the T-Bar locking mechanism into the security slot on your laptop, rotate the T-Bar, scramble the combination numbers, and release the button. To unlock, dial in the combination, hold the button in and twist the lock off.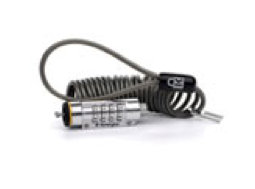 I wear pretty weak glasses to read small print, but had no problem seeing the numbers on the combination wheel without them. If your vision is worse, or in low light, you might need to pull those glasses out to read the numbers, or even a flashlight. Also, the area where the combination needs to be dialed in is painted red. Once you use the lock for a bit, you'll know where the combination needs to  be dialed in, but I can see the paint wear off over time which might become an issue for an unfamiliar user.
Once again, you can register the combination with Kensington (which I did not do because this will be my son's task to perform) and I assume you could retrieve it from their website if you forget what it is. This was not tested by me.
MyMac Review Rating: 8 out of 10
I showed both of these locks to my son and asked him which one he wanted, because he WILL be using one. He decided to take the ComboSaver because he was afraid he might lose the MicroSaver key. Since he can't remember to shut a light off, flush a toilet, or turn off a TV, I thought it was a good choice.