pocketBar Bag
Company: Urban Tool
Price: $99.90 US
https://webshop.urbantool.com/us/bags/show-pocketbar
When I looked at the pocketBar shoulder bag on the Urban Tool web site, my first thought was that it was not the most attractive bag I've ever seen. When it arrived at my door a few weeks later, my opinion did not change. However, the pocketBar is growing on me—it's really quite useful.
Many of us leave the house each day with a backpack or pocketbook filled with our iPhone, iPod, flash drive, digital camera, SD cards, wallets, keys—you get the idea. When we need one of those devices, we dig through the bag until we find what we're looking for. If it was the camera, that perfect photographic opportunity may have passed. This is where the pocketBar comes in.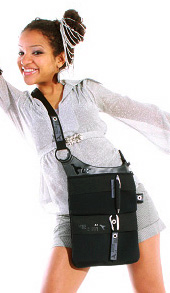 The pocketBar, made by Austrian company Urban Tool, has one zippered pocket at the top that goes the depth of the bag. Perfect size for your Amazon Kindle, or iPad without the case, based on the dimensions shown on the iPad's web site. To be honest, I wouldn't be comfortable carrying around an iPad without a case, but that's a personal decision. My Kindle in its case fits in the pocket snuggly, but with enough wiggle-room to easily take it out.
On the front of the bag are four padded pockets with elastic covering the openings, making it quick and easy to access your items. At the top is a small pocket with a pull-out yo-yo and a key ring. I used it to carry a flash drive—this key ring would never hold my key chain! Those I put in a different pocket. Another pocket held my camera, yet another my iPhone. My wallet and a small pack of tissues went in the main compartment.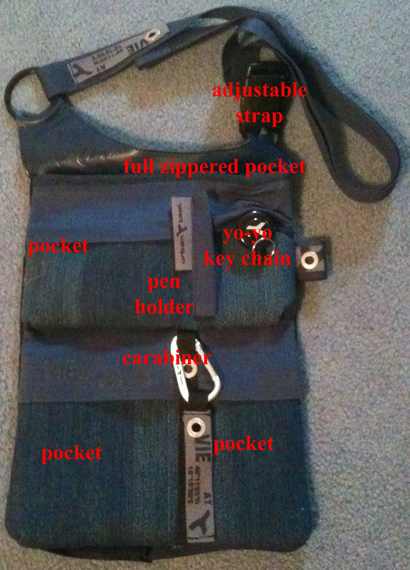 The back of the pocketBar has another zippered pocket, in case you need additional room. Completing the features on the front are a carabiner and a pen holder.
There are multiple ways to wear the pocketBar. Notice I said "wear," not "carry." The thick, adjustable strap of the bag is worn across the body or around the hips. There's a removable wearing strap at the bottom of the bag that can be hooked around the upper body, hips, or leg for extra security, but I found it to be uncomfortable. I also found it much easier to walk with the strap across my body, rather than on my hip. Your mileage may vary.
It was nice to walk around with everything I needed and have my hands free, unlike when I use a pocketbook. I never felt like the pocketBar was falling off, nor did I feel like my possessions were unsafe or unsecured. Having my phone, camera, wallet, and other items conveniently held in separate pockets made retrieving those items much, much easier.
My only concern was with the zipper on the top pocket. It's made of plastic, and I had to use a little bit of force to open and close it.
I'm a girly-girl, and carry a massive sized pocketbook, so the pocketBar wouldn't work for me in everyday life. But when all I need are my fun little gadgets, guess what bag I'm using?