Pro Runner x450 AW
Company: Lowepro
Price: $379.99
lowepro.com
DESIGN
Having had the opportunity to use a number of Lowepro products, I can tell you that the Pro Runner is made very well. The materials (600d Polyester Square Rip-stop Polyester) and build quality are second to none. There are a number of features that help to set this roller bag apart. From its fully padded interior to its patented, built-in All Weather (AW) Cover, the Pro Runner x450 AW guards your expensive gear and instills that peace of mind we all long after when going on the road.
Some of the features include: a spring-loaded trolley handle; premium wheels; checkpoint-friendly laptop sleeve; see-through luggage/business card pocket; side compression straps with quick-release buckles; a Hideaway Tripod Mount system; rain-flap lids; SlipLock attachment loops; mesh side pockets; discreet front pocket accommodates a light jacket, cell phone or MP3 player; memory card pockets on the inside lid; padded mesh back-pad; thickly padded shoulder straps with 5 adjustment points; padded waist-belt; durable rubber grab handles; and zippered document pocket. For more information on the specs and features, jump to the product page.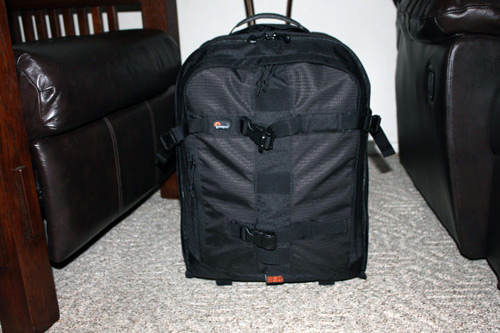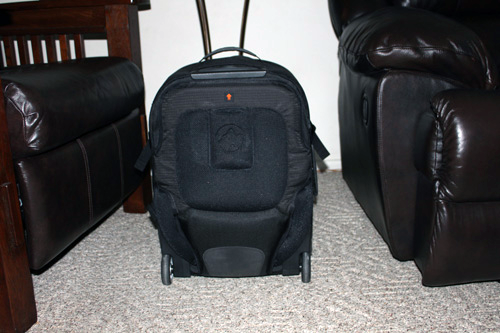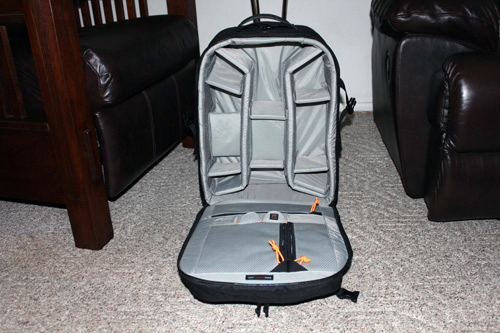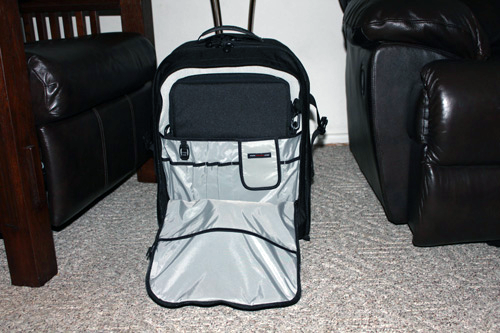 Indeed, this is a large roller bag (12.8W X 6.3D X 17.5H in.). However, the many ergonomic features employed by Lowepro, all work together to provide a pleasant and practical balance between size and usability.
USABILITY
Macworld 2010: This bag was an indispensable partner during my days at Macworld this year. The x450 allowed me to bring along some of my higher end camera gear for the event. Bringing along a Canon 7D body, a couple of lenses, my MacBook Air (I could have brought my 15" MacBook Pro without a problem), some flash gear, cables, and the other miscellaneous stuff Geeks tend to schlep along on any road trip, all fit nicely in the x450. This year, my hotel was farther away from Moscone North and West. This meant that I had to take the Muni and/or walk the nearly eight city blocks with the x450 faithfully following behind. The curved trolley handle and premium wheels made a huge difference during my stay in San Francisco. This roller bag was very easy to pull and maneuver. The curved handle allowed the bag to extend far enough behind so as not to clip your heels when walking at a full stride (very important). My only complaint was/is the lack of a mesh water bottle holder on the outside. This would have been so much easier during my trip. I ended up having to place my water bottle in the outer zipper compartment which made it difficult to access the other items in that compartment (more on this later). All and all, I would have to say that, sans the water bottle issues, the x450 passed the Macworld test with flying colors.
On Location with a Working Photographer: I have used the x450 on a couple of photography shoots this year. For a wedding shoot, I needed to bring along two camera bodies, multiply flashes, multiply wireless triggers, two lenses with their accompanying hoods, my MacBook Pro, a monopod, cables, CF cards, batteries, a battery charger, and a couple of straps. On previous wedding shoots, this would have required a couple of bags. The x450 handled the load in a workman like fashion. As a photography companion, the x450 performed very well.
MAKING A GREAT APP EVEN BETTER
This is a great roller bad to be sure. However, the omission of a mesh water bottle holder, while it may seem to be a small thing, is, in actuality, a big deal. When one is on the road, water is not always easily available. Carrying water with you is a necessity. Having to store that water bottle within the main compartment of the bag, or the outer zipper compartment are not good solutions to the problem. I would like to see Lowepro add a mesh holder to the left side of the x450. This would be a simple remedy to a significant problem IMO.
MyMac.com Review Rating:
The Lowepro Pro Runner x450 AW is the best roller bag I have used. It is roomy and easy to handle in all weather conditions. However, there is one glaring feature missing from this feature rich product, an external mesh water bottle holder. This omission will be a problem for most if not all of the target users of this product. Therefore, I am awarding the Pro Roller x450 AW a well deserved rating of 8 out of 10 in our MyMac.com Rating System.
email – MyMac Magazine – Twitter – Advertise – Reviews Archive – Podcast