Quicken Essentials for Mac (QEM)
Company: Intuit
Price: $69.00
Available at retailers or by direct download
http://www.quicken.com/
Quicken Essentials is an intuitively easy personal money management application that works with data obtained from the user's bank account or money market fund. The application then uses this data to generate reports that help the user track and budget their income.
The setup menu gets the user going right away with easy to understand instructions on how to get the information needed to get started with the application. An Internet connection is required. Quicken Essentials currently can import data from over 12,000 financial institutions. In the case of my own financial institution, a small regional credit union, I was unable to connect directly to my account using the software, but I was able to download the files and import them into Quicken. Once set up, the user needs to review the imported items and make any corrections necessary in the auto categorization, then update as necessary.
I don't have an earlier version of Quicken so I had nothing to upgrade, but I understand that Quicken Essentials has a converter feature to transfer historical data from earlier Quicken programs.
Once all the financial data is in place, Quicken Essentials makes it easy to track using the sidebar, menu, and commands in the open window.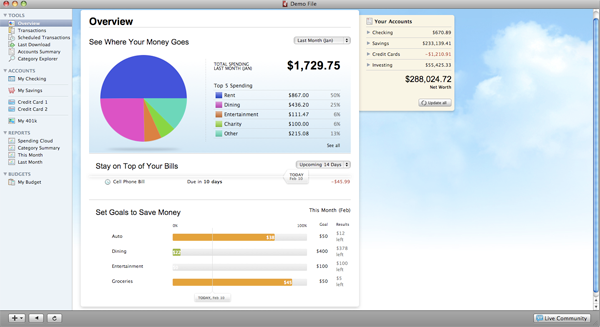 Tools
Overview
Shows your top five spending categories, reminder of bills due, budget goals, and a summary of your accounts
Transactions
List of transactions made in all accounts
Scheduled Transactions
Shows auto payments and other transactions that are input to occur on a regular basis. The user can choose the frequency of the transaction
Last Download
Shows only those transactions that are included in the most recent download
Accounts Summary
A summary of all your assets and liabilities
Category Explorer
This breaks down your spending and income by categories. A colorful pie chart is included.
Accounts
This is the meat of the program, where you add the accounts you want to track. Everything entered here is what runs the application and generates the reports and information for the tools categories. I was quite surprised when I found the application knew which category to assign most of my purchases. The ones it did not know were not auto assigned, they were left blank. I appreciate that, it makes it easier to edit.
The user can enter as many different accounts as needed. I have two savings accounts, a checking account, an IRA, a 401(k), and a Line of Credit. The checking and savings accounts I was able to download from my bank, then import into Quicken.
My IRA, 401(k) and the Line of Credit had to be manually entered because they are not supported by the Quicken download software. As mine are fairly simple it did not take a lot of time to enter an opening balance for the year and the additional activity since then.
Reports
Spending Cloud
Some may find this helpful, I think it's a little like eye candy. It shows the name of the categories, arranged in the clouds. The more you spend in each category the larger the typeface. Click on the category and it shows what was spent and when in that category.
Category Summary
Expenses broken down by category
This Month
Income and Expenses, by date, for the current month
Last Month
Income and Expenses, by date, for the previous month
Budgets
People who rely on a monthly budget should enjoy this feature of Quicken Essentials. It's a bar graph showing budgetary items by general category (auto, clothing, dining, etc.) It shows actual dollars spent, the budgetary goal, and results (how much of the budget category left to spend by date.) There is also a toolbar menu item called Budgets. You can add new budgets or edit your current budget from there.
Located in the lower right hand side of each page is the "Live Community" button. This opens the Q&A portion of Quicken on-line help. The user can search the answers by topic or ask a specific question.
Function buttons such as new, edit, delete, split, schedule, and paid are easy to access below the page screen on the left. Three buttons on the lower right show connection status, settings and update. Clicking update auto connects the user with the login page of her bank account.
I like the simplicity of this application. It functions exactly as it is advertised, as a simple personal money management application. There's been some grumbling about the features it does not have yet, such as stock lot accounting and other high level investment tracking; bill pay; and integration with Turbo Tax. Intuit states in their press release that these features may be available in the future, depending on user feedback. It wondered why Intuit would not integrate this application with TurboTax, so I posed the question to my contact at Intuit, and received this answer from Eddy Wu, Product Manager of Quicken for Mac.
"While many customers use Quicken to make tax filing easier by tracking their tax-deductible expenses over the year, only a small percentage of users export this data directly to TurboTax. While we are definitely considering this feature for the future, for our first release we decided to focus on features that are used by the majority of customers, like the ability to download data from over 12 thousand banks, more than any previous version of Quicken. In the meantime, Quicken Essentials for Mac makes it easy to create a custom category report which you can print out or send to your accountant."
Users who want to be able to export directly to TurboTax need to let Quicken know this is a feature they want.
Quicken Essentials is easy to use, easy to understand, and functional. I'm really delighted to learn that Intuit developed Quicken Essentials from the ground up for Macintosh OS X. Typically accounting and money programs are first developed for a Windows operating system. It's quite nice to have simple yet effective financial management software that isn't bloatware.
One thing that makes Quicken Essentials a bit cumbersome for me is not being able to connect directly to my bank account. Users like me can download and import the data monthly from the bank statements, but for an accurate financial picture more often, transactions need to be manually entered. This is not difficult, but it is a bit more time consuming. For those users who can direct connect, this application is a fast and easy way to keep track of finances.
Pros: Simple, easy to understand personal finance software geared for users who have few accounts, want a budgeting feature, and want to update several times or more per month.
Cons: No tax software integration, though that may be coming soon. Some smaller banks cannot direct connect. I would not recommend this application for people who manage complex investment and retirement accounts. Those users may want a more robust application than Quicken Essentials.
MyMac Review Rating: 8 out of 10
email – MyMac Magazine – Twitter – Advertise – Reviews Archive – Podcast