Bento for iPad
Company: FileMaker, Inc.
Price: $4.99
http://itunes.apple.com/us/app/bento-for-ipad/id363230518?mt=8
There are times when I find my life becomes just too busy. Between planning my high school science classes, grading papers, writing reviews for MyMac.com, maintaining a home and running about for our children, I really need to keep track of my constantly changing schedule without being tied to my iMac. The folks at FileMaker have come up with an elegant solution for iPad owners with Bento for iPad.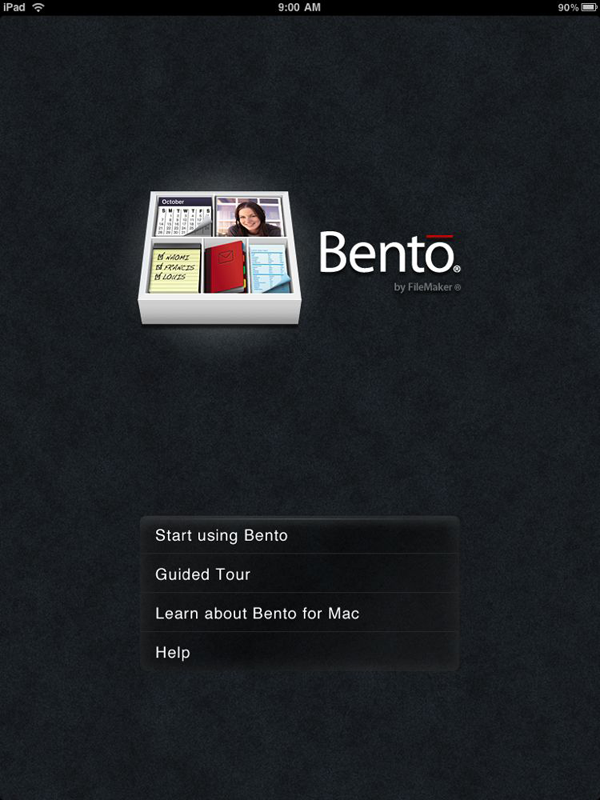 Bento for iPad is a fully customizable database app that allows you to manage your contacts list, keep track of your business/home inventories, log expenses, keep track of projects, keep track of your to do lists and much more. Many Mac users are probably already familiar with the desktop version of Bento, and perhaps even own Bento for iPhone. Bento for iPad takes the iPhone version and adds to it by taking advantage of the larger screen and snappier performance the iPad affords.
When initially starting the app, the first thing a user should do is take a look at the short guided tour FileMaker includes with Bento for iPad. The next task you should consider is setting a pass-code to keep your personal information away from potentially prying eyes. In a matter of minutes, you'll quickly figure out most of the ins and outs of the app. I'm very impressed with the app's intuitive interface and rich graphics. It's clear that Bento for iPad will stand out as an app that takes advantage of the iPad's capabilities, setting a standard for other companies.
Bento for iPad comes complete with 25 templates for libraries, which are the main groupings of your personal information. There are templates for your address book, inventories, projects, student lists, notes, to do lists, recipes, expenses, time logs, vehicle maintenance, exercise logs and more. Each is well thought out with various appropriate data fields that are fully customizable by the user. There is even a blank theme for you to go completely nuts and create a database that's unique to you.
The way Bento for iPad does all this is a fun experience on the iPad. Rotating the iPad to landscape allows you to see all of your libraries on the left while working on data on the right. Switching between libraries and records is fast and easy. Want to focus upon a single record? Rotate your iPad to portrait and your record expands to fill the screen in one of three customizable backgrounds: a leather portfolio, a clipboard, or a sleek sheet of glass on a black background. All of the graphics are very realistic and add the to Bento for iPad experience.
If you're already a Bento user, syncing with Bento for iPad is easy. A touch of the "Sync & Setup" button at the top of the screen allows you to connect to your desktop Mac, keeping any changes in your records consistent.
I plan to use Bento for iPad to bring my sometimes chaotic life to a more Zen-like level. Owners of iPads know that using one is a new and exciting experience. Bento for iPad is what I hope is just the beginning for well thought-out apps that help keep your life manageable while making use of the capabilities of the iPad. Kudos to FileMaker for helping to set the standard!
MyMac.com Review Rating: 9 out of 10
email – MyMac Magazine – Twitter – Advertise – Reviews Archive – Podcast