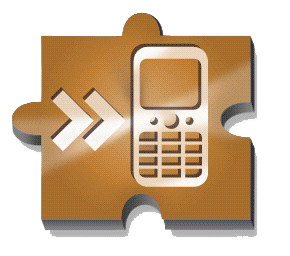 iSync Plug-ins for Mac
Company: Nova Media
Price: $9.95
www.novamedia.de
What would you think if you were to hear the words "It's now a piece of cake to use a Bluetooth enabled cell phone to send text-messages and dial numbers directly from your phone. Hey, even cake eaters would perk up their ears at that not to mention those of us who think of our phones as a piece of us.
So when this plugin for Mac developed by Nova Media that would allow me to quick-dial numbers and send text messages from my desktop came across my desk to tryout I jumped at it. The idea of being able to text directly from my computer without having to pull out my phone sounded like my type of application.
I was one of those teenagers who after spending all day at school with my friends would come home & spend another 2-3 hours on the phone with them that night. It certainly mystified my father who would just shake his head in disbelief as he watched me for yet another countless evening with the phone glued to my ear. Thinking back, who knows what earth shattering events were consuming our lives but as we were teenage girls I can only presume the main topics of conversation were boys, boys and boys in that order.
Jumping ahead 20 years oh how times have changed. My methods of communication for one (not to mention what occupies my mind). These days my fingers do my talking with email being my first choice when it comes to contacting clients, suppliers etc and speed being the number reason for that change.
But lately I've noticed a trend with people using SMS more & more for business use. I'm a huge SMS user when it comes to family & friends. In fact I've come to the conclusion that no one in Ireland uses there cell phone minutes for talking as some of them seem to be able to predictive type faster than they can talk, and that's saying something when it comes to us Irish. Unlike in the United States where cell phone users have to purchase a separate texting plan, Irish consumers benefit from being able to use their minutes for either talk for texting and with talk time being the more expensive of the two, it's understandable how out texting skills developed.
The loading of the plugin is straight forward and once loaded onto your system a small icon appears in the system preference panel where your phone information along with your license and activation data is stored for reference.
Once the plugin is in place, the next step is to sync your phone with your computer via Bluetooth. Now this is where I ran into some difficulties, all of my own making, may I add. If you're reading this you're more than likely a Mac enthusiast. So you'll appreciate it when I say that I'm not big on reading instructions. Are any Mac heads, really? Be honest? (Actually Apple, what were you thinking when it comes to Bluetooth on the iPhone – epic fail, come one, pick it up a notch)
So after spending I won't say how long trying to sync my iPhone with my MacBook Pro, and failing, I finally decided to read Nova Media's documentation and list of compatible phones only to discover the iPhone isn't one of them. I guess I just naturally assumed it would be. Nokia, Motorola, Samsung and SonyEricsson are the only phones that are supported at this time. But as luck would have it and the fact that I refused to be beaten, I rooted out an old Samsung D600 (which is not on the list of supported phones) I had in my desk that I wasn't using. Out came the sim from my iPhone and into the Samsung it went. I synced it with my mac and I was ready to roll. I later tested the Plugin with a SonyEricson C510. (Difference in test results at end of review).
Now down to brass tacks. The developer claimed it was as simple as highlighting a number, right clicking on it and choosing one of two options from the pop up menu. Send a text or dial the number, and that's exactly how it was. I started off with a few numbers from Address Book. When I right clicked on a phone number the plugin options appeared at the end of the menu. But numbers from anywhere will work, webpages, email, notes, you name it, they all dialed.
When I choose to send an SMS, a small box popped up allowing me to write up to 160 characters. If your message is longer it'll be split it up into several messages automatically. Features on the SMS box include spell check, character & message counting (all very handy), and the ability to change your fonts. This latter one I personally don't see the need for. Most cell phones receiving texts wouldn't be able to take advantage of messages in dare I say it 'Comic Sans' or even worse, so this I saw as just a gimmick.
Dialing a number from my desktop was just as easy. When you choose dial number from the menu your cell phone starts to dial and a dialog box appears on your screen. If you're using a contact from Address Book the persons name will be automatically filled in for you.
It's all so user friendly. Apart from my iPhone assumption, instructions were hardly needed.
I belong to the iPhone cult but I'm enjoying the usability of this so much that I haven't put the sim card back into my iPhone yet, so now I'm carrying around two cell phones, my sim less iPhone and my Samsung.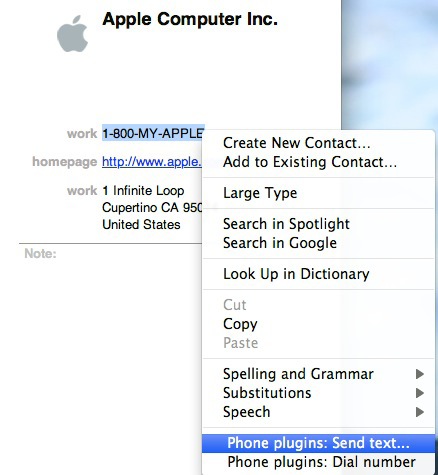 The only failing I could find is that outgoing messages are not saved by your phone. If keeping a record of such things is important, this can be a drawback, but I get around this by copying the message and pasting it into a clients file if it's something that really needs to be kept. Maybe it's something that can be looked at in a future update.
On the subject of using the plugin with the iPhone I contacted Nova Media and their customer support responded immediately to my question explaining that Apple does not offer an API to access the SMS or dial commands and until such a time as that they do, plugins such as theirs will not work. They even went so far as to say that they wish they could support it as then they could use it on their own iPhones but as of January 2010 there is no way of telling the iPhone to send an SMS from the outside.
Test Results: As I mentioned above I tested this plugin with two different brands of cell phones. A Samsung D600 which, although Samsung is on the approved list, the model D600 is not and a SonyEricsson C510 Cyber-Shot. Firstly I'm not telling anyone that their unsupported phone will work with this Plugin so no emails, Skype or nasty grams in my direction if you please. Remember me saying earlier that I'm not big on reading instructions? Well I had my Samsung phone up and working and it was only when I couldn't type texts longer than 160 characters that customer support suggested that maybe my phone wasn't one they supported. All the other features were working perfectly fine. Had I read the list of supported models I would never of tried, so sometimes ignorance can work to your advance. All advertised features worked perfectly on the SonyEricsson C510 Cyber-Shot.
This has been a real time saver for me. Office life 9-5 can be hectic and every little time saver helps so maybe that's why I've taken to this Plugin so much. For those using bluetooth enabled phones that do not have QWERTY keyboards but if they did, I recommend giving this Plugin a try. You won't regret it.
Nova Media have recently updated their website and now offer an easy to follow screen cast for this Phone Plugin as well a demo version for you to try before you buy. What have you got to lose?
Although it's no fault of the developers if it supported the iPhone it'd be a 10/10, without question but until it can do that it won't be complete. This coupled with the non-saving of outgoing messages warrants it a very strong 8 out of 10.
email – MyMac Magazine – Twitter – Advertise – Reviews Archive – Podcast