showTIME
Company: Scosche
Price: $39.99
http://www.scosche.com
If you own any iPod capable of playing video, or an iPhone, and you've always wished you could somehow play a video on a television or display, you'll want to read about Scosche's "showTIME."
I've owned an iPod Touch 2G for about three months and it really has become my favorite piece of electronics gear. Watching a movie is fine, especially on a plane or in a car (not while driving), but when you are in a hotel room, or visiting Aunt Martha, it would be great to display pictures or a movie from the iPod on the big screen. Scosche's "showTIME" cable (ST) will allow you to do just that.
The "showTIME" cable is simply a cable with an iPOD connector on one end and composite video jacks on the other end. To use the ST cable you plug one end into your video iPod, or iPhone, and plug the three connectors on the other end into their color corresponding jacks on a television. Most modern televisions have composite inputs that are color coded red, white, and yellow.
The ST cable itself is six feet long (1.828 meters) and is constructed with tapered metal composite (RCA A/V input) connectors that have colored bands around them which make it easy to match the correct connector to the television port.
The Scosche "showTIME" requires no software. When connected to a television it will play any movies or iPhoto pictures you have on your connected device, and if you have an iPhone or iPod Touch it will even play YouTube videos. The quality is very good on a 27" tube television screen; mileage may vary on large screen TVs.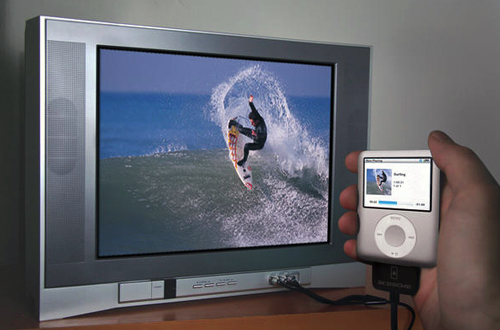 The "showTIME" worked flawlessly during my testing with an iPod Touch 2G, iPod Classic, and even an iPod nano 3G. In addition, the ST works with the latest nano and the iPod with video (5G).
The cable is very easy to use and works exactly as advertised, and worked very well at that.
email – MyMac Magazine – Twitter – Advertise – Reviews Archive – Podcast