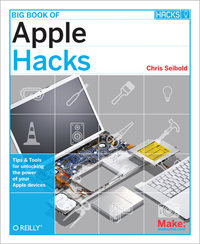 Big Book of Apple Hacks
Chris Seibold
O'Reilly Media
http://oreilly.com
640 pages
US $34.99 CAN $34.99
ISBN 978-0596529826
Are you in the market for a real, honest-to-goodness Macintosh hacks book?
Accept no imitators! Unlike some of the competition's books (are you listening, Scott Kelby?) that are mostly a rehash of help files, Chris Seibold's Big Book of Apple Hacks is a bona fide collection of hacks, advanced hints, and tips.
Seibold's 640 page tome (BBoAH, for short) falls just short of boat-anchor category, so it's still manageable for easy chair, or (my favorite) bathtub reading. I spent many happy hours perusing it.
BBoAH has twelve chapters, covering a range of topics from Networking and Security Hacks, Maximizing Your Mac with Multiple Operating Systems, to Hack Some Hardware.
Here's a short list of some of my favorite hacks:
Scrape the Web for images
Free up Gigabytes of data on your Hard Drive (and never miss the data)
Behold the Power of plist
Fun with MacFUSE
Starting and Stopping UNIX daemons
Run Classic Mac Applications with SheepShaver and Basilisk II
Hacks for Smart Homes
Dual Drive MacBook Pro
Build a Screaming Fast Darwin Machine for $935 (or less)!
Automate Your Download Folder
Resurrecting the IPFW Firewall in Leopard
Read Wikipedia on an iPod
and who would want to miss my most favorite BBoAH hack Awesome Mac Mini in a Car hack.
Seibold's writing style is comfortable and easy to read. While he can be humorous, he avoids the Kelby-style groaners that wear you down after 20 pages. Each hack is rated Easy, Intermediate, or Expert, with a different icon for each level of complexity.
BBoAH is great for content and style, but it's weak on production values. The font size is too small for my 52 year old eyes. Both the photographs and screen shots are all black-and-white, and many of the photos are muddy. New hacks often start in the middle of the page, when it would be easier reading if a new hack started on a new page. Laudably, Seibold includes plenty of code snippets, but I was unable to find anywhere to download them. This means you have to re-type all the code by hand, which is a huge inconvenience.
If you can wade through these annoyances, you'll find a trove of great information. I wish BBoAH had enjoyed a larger production budget.
Conclusion. The Big Book of Apple Hacks has great content, but suffers from so-so production quality.
email – MyMac Magazine – Twitter – Advertise – Reviews Archive – Podcast