Slipstream 20″/40L plus Glide- Everyday Wheeled Pack and Mobile Workstation
Company: Osprey Packs
Price: $160 – 200 online
http://www.ospreypacks.com
Slipstream is a small vertical rolling day pack without shoulder straps, suitable for weekend travel. Glide is a self-contained portable office and laptop computer case. These items went through two phases of evaluation by MyMac Magazine. First was an examination by David Weeks and John Nemerovski, at Nemo's home office. Second was a four-day air and ground trip.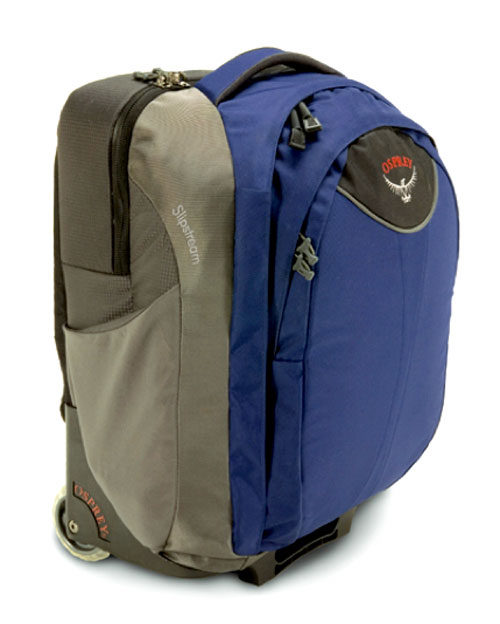 As rolling luggage, "Slipstream Plus," or SP for this review, is very good, but not exceptional. Its plastic wheels and upright frame are fine for undemanding travel situations. The double-bar retractable handle is stable, if not super sturdy. A thick grab handle on the top of the pack is secure, but not easy to carry when the case is fully loaded. Zippers are heavy duty, but sometimes are hard to zip easily.
Two stretchy side-mounted bottle holders are excellent, and we recommend other companies learn from Osprey's example. One large and two small drop-in compartments are basic in design, with well-considered placement and sizing. Without inserting the Glide case into SP's main storage area, I travelled comfortably from Tucson to Chicago and back, with the addition of a small backpack for food and reading materials.
SP is constructed of high-quality loose-fitting weatherproof material that is good for small or medium loads, and very good for cramming into an overhead luggage space on an airplane. When empty, SP is light-weight, so when it's full, weight is not excessive. As a rolling pack/suitcase, I was pleased with its stability and performance, and I can recommend it. How does SP's companion, Glide, serve as mobile storage and office?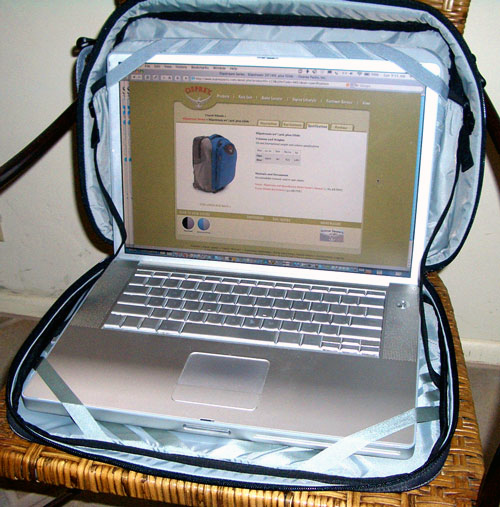 David Weeks doesn't like Glide, because its laptop retaining straps are perfectly wrong for holding his MacBook Pro in place, and are even worse for "open and shut case" functionality. The latter is Glide's claim to fame. I didn't have as many complaints, even though our computers are almost identical. Latest release Apple laptops have a different closing mechanism, and Glide shouldn't interfere with their closing and opening.
Using Glide for my traveling techie work as a peripatetic professional, I'm impressed with how much utilitarian equipment it holds within a slender satchel. Its two grab handles and two shoulder strap lugs are not large, but are adequate for their purposes, although the included padded strap is a disappointment. A pair of slipover straps are designed to hold Glide securely on top of SP, which is clever and practical.
A zippered mesh zone on Glide's bottom opens for cable access while your laptop computer is residing within the case. A small, shallow zippered exterior compartment is large enough for laptop power unit, Glide's shoulder strap, and not much else. A dozen so smallish or largish zippered or mesh or slip-in internal storage spaces can contain all essentials for the traveling worker.
When Glide is fully loaded, it's heavier than its modest handles or strap can comfortably manage. Osprey needs to address these deficiencies. But in operation, once you become accustomed to its unusual design and compartments, this versatile case is good value.
email – MyMac Magazine – Twitter – Advertise – Reviews Archive – Podcast