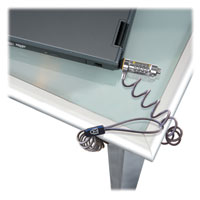 Kensington ComboSaver Combination Portable Notebook Lock
Company: Kensington
Price: $24.99
kensington.com
In its promotional materials for the ComboSaver Combination Portable Notebook Lock, Kensington notes that in the U.S. a laptop computer is stolen every 53 seconds (this from a 2005 FBI/CSI survey). Other studies have shown mind-boggling statistics on laptops "lost" at airports, to the tune over 12,000 per week! Although many of those losses occur at security checkpoints, a number of them take place in common areas like concessions and lounges. Sure, some of these laptops may have been legitimately lost, but it's hard not to argue that an ounce of prevention, in the form of a simple notebook lock, is worth at least a pound of cure when it comes to theft.
Which brings us to the subject of this review-the Kensington ComboSaver Combination Portable Notebook Lock, which is, to be precise, four ounces of prevention in a relatively compact form factor. As you would expect from a Kensington product, the ComboSaver fits the Kensington security slot found on 99% of all laptop computers, both Mac and Wintel models. Because it's only four ounces and occupies about the same space as a roll of quarters, it's hard to argue against carrying it with your laptop everywhere you go, even if you have concerns about the added weight or bulk.
The ComboSaver uses a 4-digit combination lock, handy because you don't need to worry about carrying (or losing) the key when traveling. Should you experience a bout of severe forgetfulness and "lose" the combination, Kensington provides a thoughtful option that allows you to store your combination online when you register, so that it can be easily retrieved should the need arise. I had a bit of difficulty registering this specific ComboSaver model on Kensington's site, as the registration page insisted it was a keyed MicroSaver lock no matter what option I selected. Nevertheless, I was able to store the combination in one of the provided fields on the registration form for future reference.

The reset tool, pictured here, is permanently attached, which makes it pretty difficult to lose. Resetting the combination is a very simple process that's fully covered in the provided instructions.
The enclosed instructions, though short on descriptive text, are easy to follow and describe how to attach the lock and how to reset the combination (Kensington and I both heartily recommend that you don't leave it at the default "0000") using the included reset tool. Given the four digits used by this lock and my limited math skills, I calculate that there are 10,000 possible combinations from which to choose. Resetting the combination is a simple process when following the instructions and the reset tool is virtually impossible to lose or misplace, as it's permanently attached to the lock's cable.
The locking mechanism itself is round, approximately two inches long and about the width of a dime in circumference. In spite of its small size-and my advanced age-I found it very easy to discern each individual digit and to dial up the combination, as the area where the numbers need to be aligned in order to open the lock is framed in a bright yellow outline. Kensington has also seen fit to attach a rubber "bumper" of sorts to the end of the lock that connects into the security slot, so as to protect your laptop against nicks and scratches.

Lining up the digits in order to open the lock is made easier via the bright yellow outline that surrounds the area where the numbers are aligned. You can also see the black rubber "bumper" that protects your laptop from being scratched or nicked by the steel lock mechanism.
The self-coiling locking cable has a steel core and extends to a length of six feet, though when you allow it to self-coil it compacts itself into just a bit over three inches in length. It's covered by a rubbery sheath so there's no chance of snagging any ragged bits of steel cable on your skin or clothes, something that can happen over time with bare steel cables. Assuming that you do intend to keep this lock around for a good long time, Kensington does provide a limited lifetime warranty, which essentially means if it breaks, they'll repair or replace it at no cost, provided that you are the lock's original owner.
So what's not to like about this ComboSaver Combination Portable? Like the lock itself, very little. However, let's be realistic about the thickness of this lock's steel cable; in order to save weight and allow for its compact design, the cable is about as thin as any I've ever seen for a computer lock. If you're the type who is impressed by thick, bulky cables and massive locking mechanisms, you might not feel comfortable trusting your laptop to this particular lock. If, on the other hand, you can't stand the thought of even one extra ounce of weight in your luggage, yet you still require a reasonable level of protection, this lock looks like a winner. And at $24.99, I might even argue that it's, er, a steal…
email – MyMac Magazine – Twitter – Advertise – Reviews Archive – Podcast