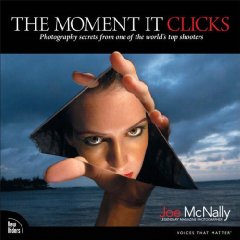 The Moment It Clicks
By Joe McNally
O'Reilly
256 pages
US $54.99, CAN $59.99, UK £29.99
http://www.PeachPit.com
ISBN-13 978-0-321-54408-7
If you're a serious a photographer who keeps up with what's going on in the photography industry, you've no doubt heard about acclaimed photographer Joe McNally's recently published book, The Moment It Clicks. It has been blogged and reviewed aplenty on many websites. His friend and editor, Photoshop guru Scott Kelby, has promoted the book on his blog and other places, and there's been a healthy debate amongst Amazon.com reviewers about how useful the book is or isn't to learning McNally's awesome photography techniques.
I'm not here to necessarily write a review of the book. There's plenty of reviews already published. I want to respond with my own personal likes and dislikes of what some readers are calling a great guide book, while others claiming it's basically a great coffee table photography with little to learn from. First off, when I saw it in the bookstore, I simply wanted it for the awesome photos and the creative energy the images convey. I could tell that with the sparse amount of text that there wouldn't be a wealth of how-to information in the book, so I wasn't expecting that.
Plus, when I saw and briefly read the four pages of pictures and lists of McNally's lighting and photography gear, I had no inclinations that I would be able to pull off the type of work that he does with my meager camera bag of gear.
So for me, this book was about inspiration. I know I'll probably never shoot the subjects that McNally has. He's done portrait shots of James Brown (days before his death), to weird location shots of a skier atop the Empire State Building looking over Manhattan, to a nine camera field shot of a NASA shuttle launch in which he got one perfect shot, despite a storm hitting the area just before liftoff – destroying his and other photographers' equipment.
You no doubt can guess that someone who has shot for the likes of Time, Sports Illustrated, Life and National Geographic has some awesome stories to tell about his work. In fact, much of what he says about his photos are stories behind the images. The how-to parts get thrown in for extra measure. But this doesn't mean you can't learn from what he has to offer.
I discovered as I read the book, that McNally took and made many of his photos with his knowledge of simple lighting techniques. While his gear includes thousand dollar Elinchrom Octa studio lights, Butterfly Foldaway Frames, and Lastolite Skylite Kits, many of his images are shot using existing natural light or a strobe or two. It's amazing what shots can be produced simply by using window light or colored gel over a strobe. Other photos simply required a fill flash to offset direct sunlight.
By actually reading through the book I discovered that it's not all about the gear, but more about discovering clickable moments and knowing what to do to capture them. Of course, it does help that you can work and get paid to visit all sorts events and locations throughout the world to capture amazing, once in a lifetime moments, but on the other hand, there's also the challenge of making amazing photographs of people and surroundings in your own life.
If someone ask me for whom is The Moment It Clicks is written for, I'd say that it's for those who appreciate powerful photographic images. So whether you're a professional photographer, a serious hobbyists, or an admirer of this art form, The Moment It Clicks should appeal to you. The sheer variety of images and the stories behind them make for a great Summer read and an essential book for any photographer's library.
The only missing aspect of this book, which is a little surprising, is that McNally doesn't share any of his post-production strategies. As amazing as his work is, we know that his photos certainly don't come out of the camera well sharpened, saturated, and color corrected. So it would have been useful for him to share some tips and strategies in his post-production process. To be fair, though, the book doesn't promise to provide anything about Photoshop strategies and the like.
The Moment It Clicks is about capturing great photos at an opportune moments. You won't find too many other contemporary books like it around today.
email – MyMac Magazine – Twitter – Advertise – Reviews Archive – Podcast