It's been a very tough winter here in New Hampshire.
Yesteday we had another 6" snowfall, and that puts the total snowfall for this winter at 101" recorded in Peterborough NH where I live.
The official records are kept in Concord, NH where they have 108.9″ recorded for this year.
That is the sixth highest snowfall total ever. But the next five records are pretty close with the all time record of 122″ recorded during the 1873-1874 WInter.
It looks like we are going for the record.
The biggest problem at the moment is where to put it?? Every snowfall now brings the problem of where to throw the new snow. There isn't any room and the piles are gigantic. You should see store parking lots! Further north, the snow is even deeper and some roofs are collapsing under the weight of the snow.
The second problem will be melting. There is a lot of water tied up in that snow pack, which is now at 24" here in Peterborough, but up to 40″ elsewhere. If there is a sudden, fast snow melt, flooding will quickly become an issue.
You'd be surprised at how many hours my kids and I have worked at snow removal this winter. There has been little time for anything else.
Spring can't come soon enough for us.
Are you having a tough winter where you live?
A few pixs to put this in perspective:
My front walk: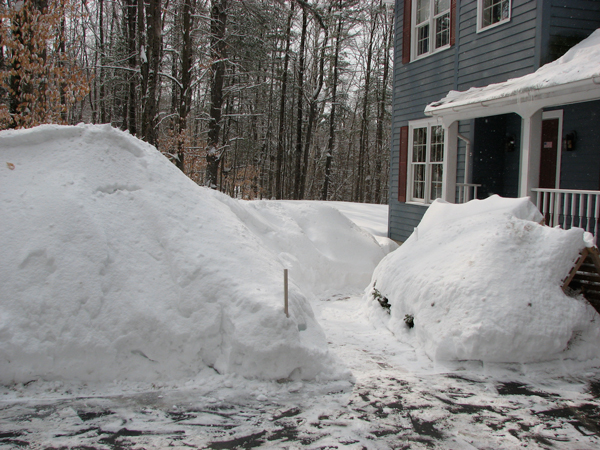 We've had to cut paths through the snow to walk:

The roads are getting so narrow, only one car can pass at a time:

The mailman is using a jeep:

We gave up on the back steps weeks ago: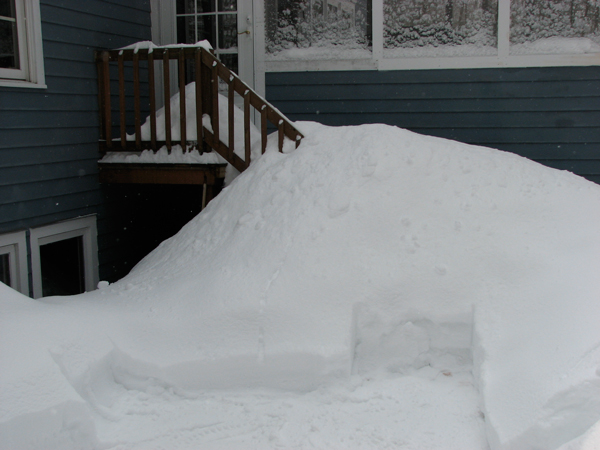 I'll be posting more pixs and info on my website as we close in on the record.
Visit my website to keep track of the Weather here in New England.
.