Carbon Copy Cloner
Company: Bombich Software
Price: Free (donations suggested); always free to educational institutions
http://www.bombich.com/software/ccc.html
SuperDuper
Company: Shirt Pocket Software
Price: $27.95 for all features; free trial mode allows basic backup
http://www.shirt-pocket.com/SuperDuper/
We've all been admonished time and time again about the importance of backing up our data. Problem is, even if you do finally seize the initiative to finally begin a regular backup regimen, there's a bewildering array of backup solutions out there, making it difficult to choose the one that's best for you. For the severely cash-strapped among us, the choices become a bit simpler; you'll be pleased to know there are at least two options from which you can choose that are not only extremely affordable, but can be relied upon to save your bacon when disaster strikes.
Carbon Copy Cloner (hereinafter referred to as "CCCloner"), from Mike Bombich of Bombich Software, is "donation-ware," which basically means it's shareware that you're not obligated to purchase. However, if you do wind up using it, I think you might be inspired to slip a few bucks Mike's way just the same. It's a bare-bones program designed simply to create a bootable "clone"—a perfect copy—of your hard drive, either on demand or via a repeating schedule. CCCloner's interface is pretty basic, you simply select the drive you want to clone on the left and the drive you want to clone to on the right, and away you go.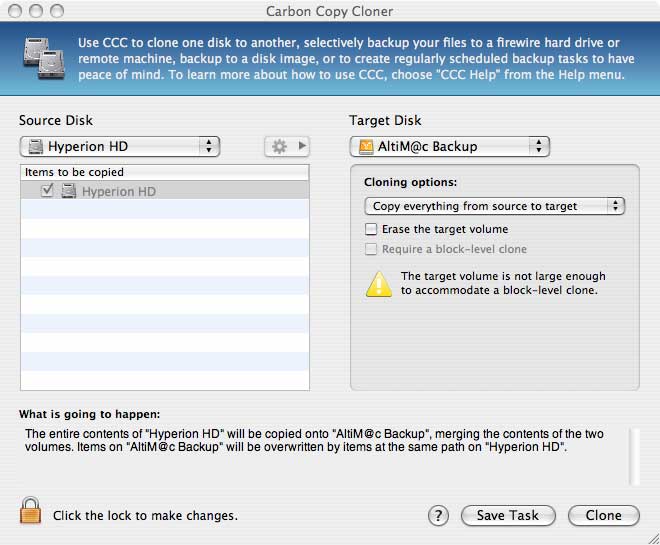 In addition to the basic set of options for copying or cloning, note the "What is going to happen" area at bottom, which describes in plain English the results of the options you've chosen. CCCloner did not include this info in earlier versions, while SuperDuper always has, so we suspect Mike may have been inspired by the folks at Shirt Pocket to provide this. In any case, it's a nice touch and very helpful to the end user.
In addition to physical drives, you can clone to disk images or even remote Macs via SSH, a protocol for accessing other computers securely (for more on SSH, see the Wikipedia entry). Besides creating an exact duplicate, you can choose to copy only selected items from your source drive, with options to delete items that don't exist on the source, and also to archive modified and deleted items to date-stamped folders. Once you've created your "task," you can instruct CCCloner to run it immediately, or you can use the "Save Task" button to schedule your clone to repeat on an hourly, daily, weekly and/or monthly basis. There's even an option to start cloning as soon as the destination drive is attached, very handy for situations where a backup destination is being shared or for a laptop that's not in your home or office on a regular basis.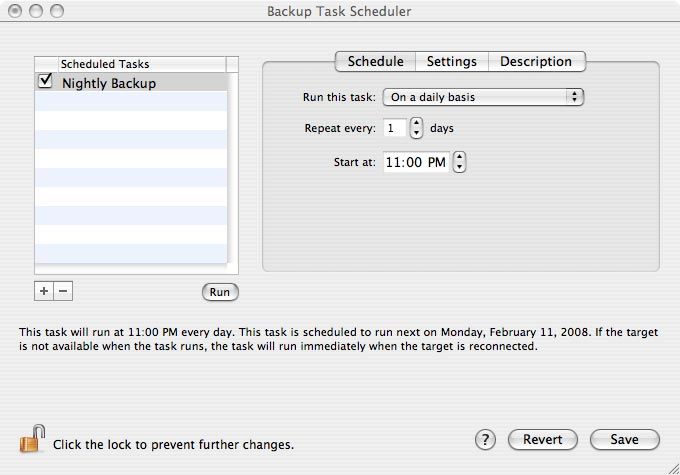 Although CCCloner's scheduling options are not as extensive as those found in Super Duper, they should be adequate for most users.
In my experience, CCCloner has been extremely reliable in terms of making accurate, bootable clones, and at completing scheduled cloning tasks appropriately. If CCCloner discovers that either a source or destination disk is unavailable for cloning when a task is about to run, it will alert you to that effect so you can take action to remedy the situation. All in all, it's a pretty complete package considering the price tag. There's no manual, only some rudimentary help files, but I can't really take issue with this in that the program is so simple to set up and use, the lack of comprehensive documentation is really not a major omission.
By comparison, SuperDuper, from the folks at Shirt Pocket Software, does provide a comprehensive 60-page User's Guide that is both wonderfully written and extremely useful. In SuperDuper's case, the manual does come in handy given its more extensive feature set. While you can use SuperDuper in free trial mode to perform simple cloning tasks (although you can't set up scheduled backups in trial mode), purchasing the software unlocks some real nifty options that go far beyond the capabilities of CCCloner. One of these features, known as "sandboxing," allows you to essentially "freeze" your system software at a specific point in time, preserving your applications and data and allowing you to revert to the original system after an antivirus software installation or system update goes awry and you find yourself booting up to an empty blue screen.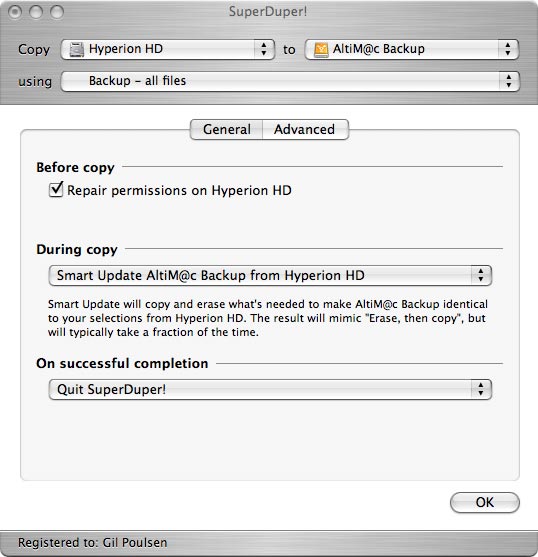 SuperDuper's main window is just as straightforward as CCCloner's when it comes to setting up a simple backup or clone operation. The "On successful completion" is a nice option available to registered users that lets you tell your Mac to sleep, shut down, restart from your boot drive or even restart from the destination disk (assuming you've created a bootable clone).
The "Copy Scripts" feature offered by SuperDuper allows you almost limitless customization in determining which files you want to back up, a very powerful option. It's a tad more complicated to set up when compared to CCCloner's file selectors, which simply allow you to browse your entire drive and check the files or folders you want to include in the backup. Because SuperDuper lets you use wildcards and specify file/folder paths, you have much more control over what gets copied, but you may need to spend a little time in the manual to get the gist of how this feature can be put to work for you.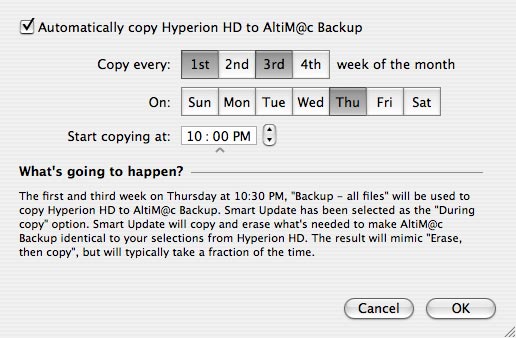 The scheduling options found in SuperDuper take you a few steps beyond those available with CCCloner. Here I'm setting my backup to occur only on the 1st and 3rd Thursdays of each month, starting at 10:00 PM.
SuperDuper also provides more flexible scheduling options than CCCloner—while the latter lets you designate a backup to run, say, every six hours or every 2 weeks, SuperDuper goes one better by allowing for scheduled clones on the first and third Thursdays of each month, for example, or even on Monday, Wednesday and Friday evenings only. Shirt Pocket also has a far more extensive support structure, including very prompt and personal email response to questions or problems, and an RSS feed that is constantly updated with FAQs and new support info as it becomes available. The paid version of SuperDuper also allows for "Smart Update" when duplicating a drive, meaning it copies only the changed files instead of starting from scratch (CCCloner does this by default), resulting in a much speedier cloning experience.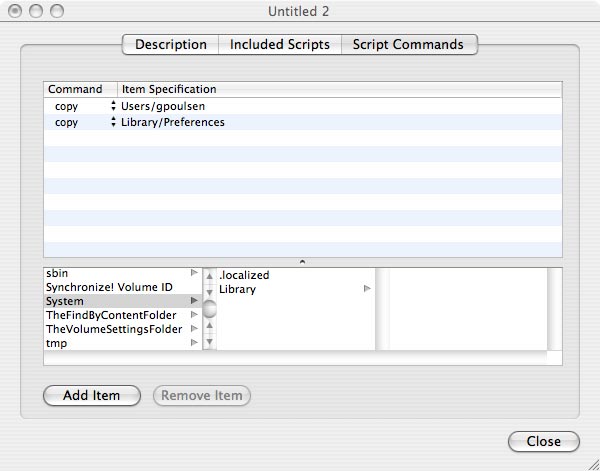 Most of us will need to consult the extremely thorough and well-written manual for SuperDuper to use the Copy Scripts feature successfully, but there is a great deal of power and flexibility available to you in terms of including or excluding particular files and directories based on paths and wildcards. In this example I'm instructing SuperDuper to copy only my User folder and the main Library's Preferences folder.
And while we're on the subject of speed, while I wouldn't go so far as to say that CCC is "slow" when performing cloning tasks, I can confirm that SuperDuper is exhilaratingly fast by comparison, something to consider if you're frequently cloning or copying large amounts of data on a regular basis.
So which is a better choice for you? Both programs accurately and reliably create bootable clones, but as with many utility programs, the best option for you all depends on what you want to accomplish. If you simply want to set up a nightly, automated, "no-fuss, no-muss" clone of your boot drive to an external disk, CCCloner will more than meet your needs as it allows for scheduled backups while copying only changed files each time. If you require more exotic scheduling options, if you're a power user or a developer who understands and appreciates SuperDuper's Sandbox feature, or if you just want that warm, fuzzy feeling you get when you know a product's developers are standing by with multiple support options and a comprehensive User's Guide, you'll be more than happy should you elect to fork over the paltry sum of $27.95 to gain access to SuperDuper's advanced features.
No matter which program you choose, there's one key feature that both of these products offer in spades: Peace of mind.
MyMac.com Rating: Carbon Copy Cloner: 3 out of 5; SuperDuper: 4 out of 5