Timeline 2.0
Company: BeeDocuments
Price: $40
http://www.beedocuments.com
Creating an illustrated timeline on your computer, or even by hand, can be a very time consuming process. Timeline, by Bee Documents is a program that aims to simplify this process and save you a lot of time. Timeline 2.0 is Leopard (10.5) only, and it takes advantage of Quick Look and spotlight.
If you use iWorks, opening Timeline will look very familiar. When you open the program you are presented with a quick-start window where you can choose a color theme from your timeline and a source. There are eight color schemes to choose from, or you can create your own.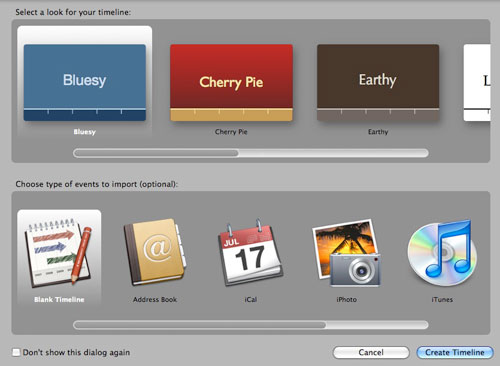 You source is where you want items for your timeline chosen from. This is where the time saving factor comes into play. Your source can be a range of dates in iCal, a selection of photos from iPhoto, past songs played in iTunes, items from birthdays your Address Book, items from System Profiler, and it will even retrieve images from Skitch ( a great screen capture utility currently in beta by Plasq). You can also make a timeline from scratch.
Once you set your parameters for your timeline, the program instantly creates a timeline for you. Choosing iTunes as your source will produce a timeline within a date range that shows when you played what albums when. Album art can also be displayed in the timeline.
An iPhoto timeline will create a timeline of photos in order they were taken. Click a little arrow button on the timeline will give a large preview of it. You can also add notes to each item in your timeline.
Timelines can be exported as pdf, png, tiff, and eps files.
Other features include the ability to email a timeline, iPhoto integration, embedding links into the timeline, doing a full screen presentation right in the program, and more.
You might be asking "What about video?" I had the same question. You can add links to videos on the web or your hard drive, but you cannot directly put playable video into a timeline. The developer seemed receptive to this idea, and hopefully this is a possible feature in a future release of Timeline.
Overall, Timeline 2.0 is an easy to use, and fast solution for making Timelines. My only complaint is the lack of video support in the program itself. For presentations, student work, and more it is definitely worth trying out. A free downloadable is available from the website. The website is also a great place to check out more sample timelines.
At $40 it is well worth the price if it is a program you see yourself using.