RapidWeaver 3.6
Company: RealMac Software
Price: US$ 49.00 / € 35.82
http://www.realmacsoftware.com/rapidweaver
In the beginning of the web, a html page was a hand-coded effort. There isn't a lot to basic HTML, but it takes a while to get used to this page description language. With the advent of the first WYSIWYG (what you see is what you get) editors the tedious task of typing HTML was no more difficult then creating a document in Word or Pages. Still you needed a bit of a design talent to make the page look good.
Template based web design tools help you create stunning web-pages in a flash. A good template based design tool will also have features, which will let you incorporate your digital life, such as photos, videos and of course your blogs and/or podcasts. The market is pretty much divided between iWeb and RapidWeaver and our very own Guy Serle has done a marvelous job outlining the abilities of iWeb. I will keep this review of RapidWevaer rather short, so please consider it a brief introduction rather than a full review.
RapidWeaver has a number of advantages over iWeb but they mostly can be summed up as:
1.) extensibility
2.) .mac independent publishing (although php enabled space is required for some features, and of course .mac publishing is possible)
Let's look at extensibility quickly, before we look at the application itself. RapidWeaver has rapidly (pun intended) in popularity and with that you can find a multitude of free and paid for themes and lots and lots of extensions, making your RapidWeaver suite your needs perfectly. Many of them are listed right on the RapidWeaver website at http://www.realmacsoftware.com/addons/ and if you want a guestbook, add smart blocks, snippets and more you will find many to choose from. This is what sets RapidWeaver apart from iWeb, more than anything else.
RapidWeaver is delivered with well over 30 free templates and many of them look really great, you will find everything from playful to professional. If you don't find what you are looking for, check on the internet to find additional, great looking templates for a fee.
When you initially open RapidWeaver a very friendly (and very green) screen lets you know what to do. Upon clicking the little plus in the bottom left corner of the window you get to pick the type of page you want to create. It becomes apparent, that RapidWeaver plays its strength in blogging and incorporating your digital life from photos to movies and more.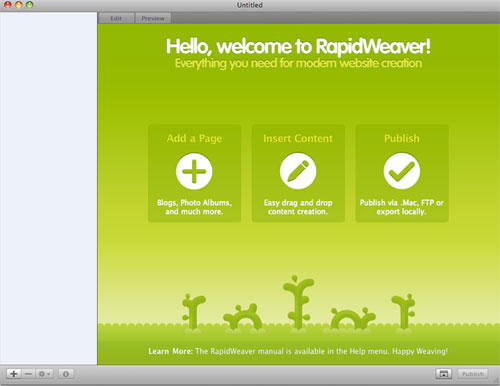 The Blog function is easy to use and allows you to classify and tag each blog as well as add your audio or video podcast. The simplicity of this systems puts many professional web-based blogging tools to shame and it clearly shows that good blogs and podcasts can be established, without having to install WordPress first, or using the standard features of blogger.com and co. I was well impressed with the ease of this feature. RSS feeds are of course supported and it couldn't be easier.
The Photo Album digs into your iPhoto library and lets you select pictures from there. The biggest advantage over a tool like iWeb – RapidWeaver supports flash-based slideshows. If you've seen iWeb pages not hosted on .mac, you know that you only get a very basic slideshow. Therefore RapidWeaver plays a real strength here. You get to determine the resolution of your images and RapidWeaver will resize them for you and put them inside the flash show for you. I like this feature an awful lot!
To incorporate your movies you get two options QuickTime and Movie Album and they serve different purposes. The QuickTime function lets you incorporate and play a single item (could be audio as well, of course), while the Movie Album lets you setup a listing of your home movies, ready for your visitors to view.
In addition RapidWeaver supports a Contact Form, which requires PHP support to send you the eMail that it generates, but is extremely simple to setup. The solution provided here is truly convenient, as you do not need to know anything about PHP or setting up html forms to make this happen in a simple drop down menu – adding forms couldn't be easier and this is a feature I would hope our friends at Apple would incorporate in iWeb.
You get to add HTML Code, iFrames, Offsite Pages (for example if you wish to link to mymac.com) and styled text, so there is everything there that lets you get started. If you need more, you can look yet again for extensions on the internet – there are plenty to be found.
As said, this is a very brief introduction, thus I would like to point you to http://www.realmacsoftware.com/tour/, where you find links to video tutorials, which will get you a better idea of what this tutorial is all about. In addition, please don't forget that there is a trial version available.
My verdict:
I have had the hardest time to write this review. When I downloaded RapidWeaver and asked for an evaluation copy I had a firm target in mind, a website for my upcoming wedding. When I first looked into it, I realized the power of RapidWeaver, but pretty much right away realized its limitations when compared to other more flexible editors such as Adobe GoLive CS. While Adobe GoLive gives me more flexibility, it doesn't support blogging efforts with the same ease as RapidWeaver does. But I wasn't looking for blogging.
At the time I also had iWeb which came with iLife '06 and I wasn't quite happy with iWeb – I was almost ready to do that page with Adobe GoLive CS, but then came along my new iMac and with it iLife 08 and the new iWeb has more features, and nice designs and they allowed me to do the type of page I wanted. This doesn't mean to say that iWeb is better than RapidWeaver – it is better for the one purpose I had in mind and only for my particular need.
So where am I going with this? Well, it is simple – it all depends on what you need the tool for.
If you are looking at creating stylish webpages, that are extensible and shine when it comes to blogging – RapidWeaver is awesome. It deserves a very high rating for what it does, as its execution is virtually flawless.
If you are looking at a quick way of creating stylizing webpages, that are heavily template based, while allowing you to incorporate blogs, and your digital life, accepting that some features will only shine if used with .mac – then iWeb is right for you.
If you are the type of person, who doesn't need templates, well you probably wouldn't read this review 😉
MyMac.com Rating: 4.5 out of 5
System Requirements:
RapidWeaver 3.6.5 requires Mac OS X Tiger 10.4.3 or greater and is Leopard ready