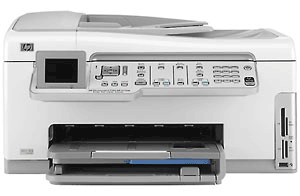 Hewlett-Packard Photosmart 7280 All-In-One Printer
Company: HP
http://www.hp.com
US $299.00
I've been a long-time user of HP all-in-one printers. My Photosmart 2710 has a reliable workhorse for me, in spite of a few small irritations.
While there are some drawbacks to having all your printing/scanning/copying/faxing eggs in one mechanical basket, I love the convenience of having only one box to deal with. When I was offered the chance to review the Photosmart 7280, I jumped at the chance.
Features and Specifications
The technical term for the 7280 is "jam-packed full o' features." Here's the list of features and technical specifications:
Print technology – HP Thermal Inkjet
Print quality, black – Up to 1200 rendered dpi black (when printing from a computer)
Print quality, color – Up to 4800 x 1200 optimized dpi color (when printing from a computer and 1200 input dpi)
Number of cartridges – 6 (1 each black, cyan, magenta, yellow, light cyan, light magenta)
Paper tray(s) – 2
Input capacity – Up to 100 sheets
Automatic Duplex printing
Media sizes – Letter, legal, executive, No. 10 envelopes, cards, borderless photo (4 x 6-in, 5 x 7-in, 8 x 10-in), borderless panorama (4 x 10-in, 4 x 11-in, 4 x 12-in)
Memory – 64MB
Up to 19200 dpi Scanning
Maximum scan size – flatbed – 8.5 x 11.7 in
Connectivity – 1 USB, 1 Ethernet, 1 PictBridge, 1 Wireless 802.11g (optional HP Printer Adapters with Bluetooth Wireless Technology)
Minimum system requirements – Mac OS X v 10.3.9, 10.4 (or later); Power PC G3, G4, G5 or Intel Core processor; 128 MB RAM, 200 MB available hard disk space, CD ROM, USB port
Setup
The 7280 comes well packaged against shipping abuse; virtually every moving part is taped down to protect against damage in shipping. I'd recommend following the unpacking directions to ensure you don't miss some packing tape, and leave some moving part taped in place.
When it's time to install the print cartridges, you'll notice one major difference between the 7280 and its predecessors. Unlike many older HP printers, which used large, three-color ink cartridges, the 7280 uses six smaller cartridges. Black, yellow, cyan, light cyan, magenta, and light magenta each have their own cartridge. This has two advantages; you can replace each color separately. Older HP printers used a large three-color cartridge, requiring you to replace the whole cartridge as soon as one color ran low, even if the other colors still had plenty of ink. HP charges $9.99 for a single 7280 color cartridge, and $17.99 for a standard black cartridge. In comparison, HP wants $34.99 for a standard tri-color cartridge for my old Photosmart 2710, and $19.99 for a standard black cartridge.
Also, the extra colors (light cyan and light magenta) allow for better color reproduction.
Installation was trouble-free, but it must be done when connected via USB. I did the regular installation under Mac OS 10.4.9 Tiger, which installs the full version of ReadIris Pro optical scanning reader software. Also installed is HP Studio, a scan and image management application most Mac users will probably not often use.
Note to Leopard users! The software I installed when running Tiger runs uneventfully under Leopard. One minor glitch is that the installer version shipped with Tiger refers to the "Printer Setup Utility." Leopard does not have this; the preference pane has been renamed "Print and Fax." You'll need to open it manually, then add the printer.
HP has a beta version of the 7280 software available for download from the Support area of their web site, for those who are willing to use beta software. I installed it partway through the testing process, and had no problems with it. It's a 217 MB disk image, and you can download it here.
Be forewarned that you'll be nagged to register your unit. One nag I can understand, but I was annoyed when I was nagged to register each time I installed another driver (network or wireless). You need to go out of your way to tell the software not to nag you about registration. Why can't the software see that I already registered?
Like its predecessors, the various print/scan/copy fax features are accessed via the HP Device Manager application. The installer conveniently places an icon in the Dock for easy access. If you prefer, you can access these functions through the front panel buttons.
Printing
Basic printing is Macintosh easy. The HP print driver allows you to select from a wide variety of paper types, two-sided printing, borderless printing, etc. It's worth the small amount of time to choose the paper you're printing with, as the 7280 will adjust the output accordingly. I was pleasantly surprised at how good photo printing looked on plain paper when "plain paper" was chosen. If you choose paper type "Automatic" but actually use plain paper for photos, print quality is disappointing. You need to choose the right paper type for the 7280 to shine. When you choose, and use, high quality glossy paper in the print dialog box, the 7280's print quality is very good, considering it's not a specialized photo printer.
I tested the 7280 with my Airport Extreme network that allows both 802.11g and 802.11n connections. The base station sits only three feet from the printer, so any decrease in throughput due to distance was not an issue. The 7280 is a "g" unit.
Printing via Wireless was trouble-free, and only a bit slower than USB printing.
With the improved printer driver, and paper selection choices, the 7280's print quality is noticeably superior to my old 2710. But there are some tradeoffs.
If you don't print frequently, you'll be annoyed at how much time the 7280 takes to initialize itself; the unit can take up to thirty seconds of noisy grinding and clacking to ready itself to print. From time to time, it will bump and grind on it's own, even if you are not actually printing.
Once the printer has convinced itself it's ready for work, the actual print quality is good. Photos printed on plain paper are better quality than on the 2710, and photos printed on high-quality HP photo paper are clearly better than the 2710. Having extra ink colors does make for better prints.
Scanning, Copying, and Faxing
Scanning via USB was quick and uneventful. You can choose to save your scan in a wide variety of formats.
As expected, scanning via Airport was substantially slower. The initial scan of an 8×10 color photo at 200 DPI (20 MB in Preview) took roughly 2 minutes via Airport. Scanning the same photo via USB took 55 seconds; less than 1/2 as long. Wireless scanning works fine; just don't be in a hurry.
The purchase price of the 7280 includes a copy of ReadIRIS Pro 11 for Macintosh and Windows. While I'm not going to review the ReadIRIS software, I did try a few quick scans to OCR; READIris Pro easily recognized and OCR'd them all.
Copying and faxing are functions I always do from the front panel. The whole point of having a multi-function unit that copies is that you don't need to use the computer to make a copy. It was easy to use the front panel controls to set the number and quality of copies. During testing, I made dozens of copies and sent and received close to a hundred pages of faxes. Copy quality was excellent. I had no trouble connecting to several different kinds of fax machines, and all of my received faxes came through uneventfully.
Perhaps my favorite feature of the 7280 is the 50-sheet document feeder. My old 2760 had no sheet feeder, and without one, making multi-page copies and faxes is a time-consuming hassle. The 7280 sheet feeder worked perfectly through all copying and faxing, even with slightly wrinkled originals. For me, the feeder is worth the price of admission.
Card Reader
The 7280 can do card tricks!
The unit is able to read images directly from numerous kinds of digital camera cards, so I popped the Secure Digital card out of My Canon Powershot, and slid it into the SD Card slot on the front panel of the 7280. The card immediately recognized all twelve images on the card, and I was presented with several options. I could print albums, individual prints, and multiple prints on one page. The Photosmart Express software built into the printer even allows you to do basic cropping.
I can't imagine that anyone would do serious printing without using photo editing software, but if you need to print something immediately, and don't want to take the time to import your images into iPhoto, printing with the front panel controls is the quickest way get an image on paper.
Summary
Overall, I was quite impressed with the Photosmart 7280. It has the flexibility to use USB, 802.11, and network interfaces. As long as you don't expect too much speed from the wireless connection, you can print, scan, and copy with with some patience. The HP software installed easily, and was fairly easy to use. Print quality was better than older HP Photosmart printers that used tri-color ink cartridges. The document feeder was one of the high points of my testing.