While we're waiting for Tom Schmidt's technical review of Wi-Fire from hField Technologies, let's have a first look sneak peek. Wi-Fire is an affordable bus-powered USB alternative to Apple's AirPort wireless technology. Install its software, restart, connect Wi-Fire to your computer's USB port, launch its WLan application, choose SETUP -> OPEN SETUP WINDOW, wait a moment, and observe all wireless networks with Wi-Fire's extensive range.
If you know or think Wi-Fire is missing a potential wi-fi source, rotate its antenna and click on REFRESH in the WIRELESS LAN CONFIGURATION window. Each available network is displayed along with its potential connectivity strength. Depending upon whether you're hugging cacti near where I live, or in an urban apartment or office building, the results can range from none or one to very many networks.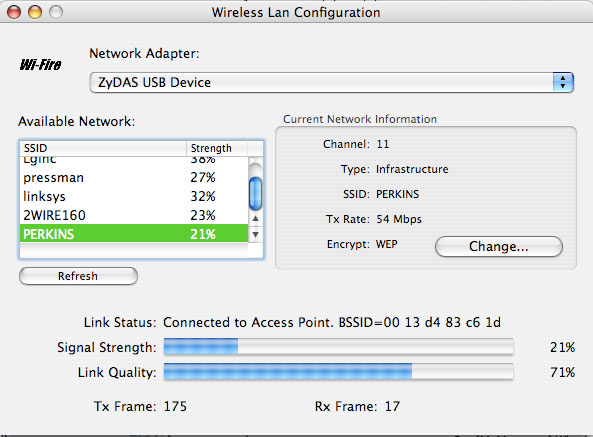 "Who is Perkins? Who cares! His or her network is open for business."
Setup and installation of the hField/Wi-Fire/WLan software takes about two minutes, but there are a couple of steps that are less than obvious, involving System Preferences -> Network settings. The company is rewriting their included written setup manual, but if you are confused and can't get Wi-Fire to work within ten minutes, call or email their helpful tech support department.
At home in Tucson, I can barely connect via AirPort card on my G4 PowerBook to my office Linksys-G wireless router when I'm in my house breakfast room, fifty feet and three walls away from the Linksys. Using Wi-Fire, I'm wireless at full throttle twenty feet and one wall farther away, at the dining room table.
Even better, using Wi-Fire, again at home, I can pick up open networks from two of my neighbors, each 100 to 200 feet from where I'm sitting indoors. Signal strength and link quality are improved when I move ten feet east to the outdoor patio. If my network is down and one of theirs is up, each from a different provider, surf's up at Nemoland 24/7 without interruptions.
* * * * *
With all thumbs up where performance is concerned, I have a few items on my Gen2Wi-Fire wish list:
• It would be nice to be able to resize the configuration window to show more available networks in that little panel on its left side.
• Because Wi-Fire's response is so speedy and accurate in a large apartment/office building situation, how about an auto refresh feature? It could be set for every minute, or five minutes, or whenever, to reflect changing external network availability and strength.
• It's remarkable how many home or office networks are open and unsecured, with generic names such as Linksys. Wi-Fire could gently remind users to secure their personal or work networks. I know there may be dispute on this matter, but I'll let that comment take whatever hits it receives.
• I don't like Wi-Fire's spring loaded USB cable very much. It snags almost every time on my unit. I suggest the company work with a different vendor or higher quality of retractable USB plug. Can we substitute any other USB cable that has the same plug end configurations? I'll check with hField.
• Users need better instructions for various ways of mounting and positioning Wi-Fire on variety of surfaces and displays. Its quirky clamp/stand defies positional logic, and should not be so difficult to affix or stabilize.
* * * * *
Are people stealing Internet services from neighbors when using Wi-Fire? Do wireless ethics affect or influence our behavior? If I'm borrowing someone else's connection do I have an obligation to keep my network open and unsecured? Let's discuss these matters in a different forum, but they should not be swept under the wi-fi rug.
Wi-Fire's $79 US price tag is very affordable for the product's versatility and extended range. The Mac and Windows versions look identical, but they need to be ordered separately, and are not interchangeable.
The hField company's web site is loaded with technical and consumer information on Wi-Fire, plus links to dozens of prior reviews and forum postings. It will take you over an hour to study all the pertinent material on this informative series of pages. All you really need to understand is how to install, setup, and use Wi-Fire, and I can teach you to become an expert in five minutes or less.
Tom Schmidt may agree or disagree with my assessment, but I thank him for bringing Wi-Fire and hField to our attention at MyMac.com. Hey! There's my neighbor at the door, wanting to borrow my unit. His network is down, and he needs to transfer some important work files. With a big grin, I'll tell him my wife took the Wi-Fire to a friend's for a demo, and she decided to stay there for a couple of days. I guess my neighbor will have to buy one for himself. Life is good.
Nice job on this v1 Mac accessory innovation, hField. What's next from your creative team?