Mojo Courier 17″ Computer Case
Company: SpireUSA
Price: $100 US
The Mojo laptop case by SpireUSA is designed for couriers, bicycle messengers, and active commuters or students with strong shoulders. This bag's many pockets are deep, but yours don't need to be in order to purchase this spacious case suitable for 17″ and smaller laptop computers.
Here is the full list of the Mojo's specs, provided by the company:
TripleShockâ"¢ padding system
Mesh water bottle pocket
Beefy 2″ single-buckle closure
Die-cut reflective ovals
Multiple internal and external pockets
Pass-through for rolling luggage handle
Removable key fob
MP3 pocket with headphone grommet
Padded handle with anti-sag reinforcement
Removable waist strap
Glow-in-the-dark zipper pulls
Rugged 1680D Ballistic nylon exterior
Light gray interior
Asymmetrical shoulder strap pad
Lifetime warranty against defects
2008 Mojo Specs

Product Code

MJ8

Price

$100.00

Laptop Compartment

15.75″ x 11.5″ x 2.0″

External Dims

17.5″ x 13.0″ x 6.0″

Capacity

1360 Cubic Inches

Weight

2.6 Lbs

External Fabric

1680 Denier Ballistic Nylon

External Pockets

6

Internal Pockets

4 (+ 2 Pen Pockets)

Padded Handle

Yes

Padded Shoulder Strap

Yes

Removable Waist Strap

Yes
* * * * *
In our conversation with SpireUSA, we learned their design/production team emphasizes:
• The mesh water bottle pocket. Most people want this feature but many laptop bags do not have it.
• "TripleShock" foam padding in the bottom, with three layers of foam in the bottom to protect the laptop. There's a thick removable foam pad, plus the padding in the laptop compartment, plus padding built into the bottom of the bag. The Mojo's built-in padding is only under the laptop compartment. Many bags will just run the foam across the entire bottom, where you don't need it. Who needs padding for their books? Spire's padding system reduces bulk and weight, and is flexible. If you get a larger laptop, you can remove the foam rectangle from the bottom for more space.
• Reflective ovals for nighttime visibility and styling.
• Asymmetrical shoulder strap pad, half of which is curved for comfort when the bag is slung across your body.
• The bag is designed to be water resistant, so in normal weather conditions (light rain/snow) it does just fine. However, like most bags, it is not designed to be to be waterproof.
• Three subdued colors that don't draw too much attention to themselves. The green color of our evaluation case is turning out to be very popular. The other two are dark blue and all-black.
* * * * *
I filled a green Mojo with as much gear as I could carry, and used it as my workhorse case for laptop + accessories during our review period. My thoughts are:
The Mojo's CARRYING HANDLE is not comfortable enough for extensive carrying of a heavy bag in briefcase mode. This would be a deal breaker for me, and I urge the company to create a superior handle. I'll gladly test all prototypes.
QUALITY OF CONSTRUCTION is first rate throughout, and will allow a Mojo to be in active service much longer than any laptop it carries.
SIDE POUCHES for water bottle and iPod are genuine assets, and I can't live without them.
Internal and external SLIP-IN POUCHES are numerous, but their loose, open-top design is really annoying.
LAPTOP SECURITY AND STABILITY are fine. No margin for error in this matter. How about an extra inch of Velcro?
RAIN PROTECTION is inadequate. Either do it fully or leave it out.
SHOULDER STRAP, WAIST BAND, and ROLLING SUITCASE PASS-THROUGH are excellent.
The oversized front MULTIPURPOSE COMPARTMENT is enormous, which is consistent with the capacity of Spire's TORQ backpack reviewed here.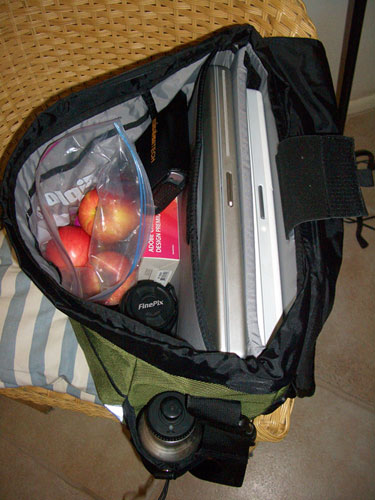 Vertical photo of SpireUSA's Mojo case, containing two computers, water bottle, software box, digital camera, portable hard drive, and bag of apples. The case was heavy, but there was still a lot of room for more accessories.
Additional SAMPLE PHOTOS are very instructive, located by clicking on the "Images" tab at this web site.
* * * * *
Let's hear from David Weeks. In real life he's an airline pilot, with high-usage demands on any case for his MacBook Pro. He loaded up Mojo, and I took notes while he evaluated the case.
David says:
The Mojo's handle is nice, Nemo, and its big, wide strap can take a lot a weight. There's a neat, zippered rear pouch that will fit over a rolling suitcase, but if this rear pouch is meant to hold anything, it won't do that very well. Without any velcro or upper zipper it's too easy for stuff to auto-eject. I don't like a snap clasp on the bottom front, because I prefer computer access directly from the top.
The front pocket is okay, but too narrow for such a large front flap. I don't personally use foldover tops, because then I need room behind the case to fold back the top for access to my gear. But I do like the slots under the front cover for pens and pencils.
I like the inner computer compartment. It has plenty of room for my 15″ MacBook Pro, even when its Case-Mate handle is attached. The Mojo's big inside zippered pockets have lots of room, but no elastic tops or ways to close them. I'm also concerned something will fall out from open slot mini compartments
Spire's Mojo's top draw strap too easily finds its way into the zipper, which is clumsy. There's a nice clip-removable key fob, plus a small side "iPod" pocket with a hole for headphone cable but no controls. This is an okay idea, but I'm not sure how practical it would be for me.
A messenger can carry a lot of stuff in this Mojo, but the case is not designed for the traveling business person or airline pilot. It has lots of storage space, which is not especially well secured.
Ergonomics are decent for biking or commuting. The rear cinch buckle strap will help you rappel down the north face of K2, and it's good for bike riders to keep from shifting.
* * * * *
We understand airline pilots are not the Mojo's designated drivers. Spire's representative tells MyMac.com:
"The bag is designed to be carried primarily on the shoulder, not by the handle. Many courier/messenger bags do not even have a handle! I agree the handle could be beefed up in the future. We'll certainly take a look at this for the next version of the bag.
"The rear pocket is for magazines/newspapers. We had considered putting a Velcro closure on this pocket, but I decided the no-Velcro ease of access outweighed any risk of the magazines falling out. Personally I have not had a problem with magazines falling out of it. If the bag is empty this may happen more because there isn't any tension on the pocket. But usually when you carry the bag around, it's going to be full of something.
"The size of the front pocket is something people will be split on. The bag that preceded the Mojo had a larger front pocket, which some people like. We made it smaller because usually you're going to put something small in it — keys, chapstick, loose change, etc. So fishing around for these items in a large pocket, especially one that extends across the whole flap, is less convenient. Depends on what you carry I guess.
"Same thing goes for the open-top pockets…it depends on what you carry. I use the external pockets for my checkbook and sunglasses. They don't fall out. I don't carry my cell phone or Nano in these pockets, I use the side (zippered) pocket because it is more secure. I do agree that it would be useful to have Velcro on at least one of them though."
* * * * *
Overall, the Mojo by SpireUSA has an equal balance of raves and gripes from MyMac.com.
David Weeks and John Nemo rate Spire's Mojo at 3.5 out of 5, for the target audience.