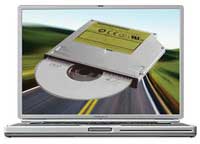 OWC Mercury PowerBook G4 SuperDrive – Review
Company: Other World Computing
Price: $109.99
http://eshop.macsales.com
When I bought my PowerBook G4 a couple years ago, I purchased the lower priced 15″ model with the combo drive. I figured if I wanted to burn a DVD I'd just do it at work. Early this year, I got the incentive to upgrade – I replaced my slightly dodgy DVD player with a DVD recorder that supports DVD-RAM discs and dual layer DVDs. Combo drives can't read DVD-RAM. What you can do with DVD-RAM and a Mac will be the subject of a follow up article.
Whatever gives you cause to upgrade (upgrade from a combo drive, dual layer support, or just faster burning), there are a few options to choose from. Most of the available PowerBook upgrades include a Panasonic drive mechanism, the most commonly used brand in laptops, so while this will be a hardware review it will also touch on the support provided by OWC.
Included in the box was a Panasonic UJ-85J-B DVD-RAM drive (exact model may vary) with instructions for installing the drive into an older Titanium (400 MHz-1 GHz) 15″ PowerBook G4. If you have an Aluminum model PowerBook G4, OWC recommends professional installation and offers installation service. Not including installation instructions provided the perfect opportunity to test OWC tech support.
I've disassembled a number of PowerBooks over the years as a service tech, so I tried to approach the call as a less experienced user. I reached a live person quickly and asked about installation instructions for an Aluminum 15″ PowerBook G4. I wasn't surprised with the answer I received, but it wasn't what I hoped they would say. The tech recommended professional installation, but also stated that I should be able to find disassembly instructions using Google. I also asked a few other questions about burn support, all of which were answered accurately.
The most likely reason the Aluminum PowerBook G4 instructions are not included is liability, but that doesn't explain why the older Titanium PowerBook G4 instructions are included. Even with three times as many screws, the difficulty of installation in a 15″ or 17″ Aluminum PowerBook G4 is about the same as the older Titanium. If you have a 12″ PowerBook G4, don't try to install it yourself as removal of nearly every part inside is required – including the logic board.
The Panasonic UJ-85J-B is fully supported by Mac OS X 10.4. 10.3 down to 9.1 require installation of additional software. Read and write speeds are on par with, and in some ways surpass, the drives included with the current MacBook Pro. CD read speed is 24x and DVD is 8x. Record speed for CD-R is 24x, 8x for DVD±R, and 4x for DVD±R DL. Rewriteable speeds are 16x for CD-RW, 6x DVD-RW, 8x DVD+RW, and 5x DVD-RAM. Tests with a variety of media had no failures.
If you've been thinking of upgrading your PowerBook's disc drive you would be hard pressed to do better than this fast, reliable drive. While I understand why OWC likely didn't include install instructions for 15″ and 17″ Aluminum PowerBook G4s, it's still a disappointment. I would have given 5 out of 5 with complete instructions. As it is, it rates 4.5 out of 5.
One last thing – I've seen many ruined computers from badly done self installs over the years. If you're going to install anything yourself, find a good, correct set of instructions with photos and follow them carefully. If you don't feel comfortable, have a professional do it for you.
Pros: Fast, reliable, supports all CD/DVD media including DVD-RAM.
Cons: None really, but install instructions for a wider range of models would be nice.