Concert To Go
i.Sound
Price: $135
isound.net
Hearing is believing. Concert to Go is the best one-piece audio system of the iPod generation. If it cost twice as much as $135 US, it would still be superior to its competitors. Every college dorm, kid's bedroom, and urban/suburban kitchen should be endowed with one. We'll abbreviate it as C2Go in this review.
I brought my white C2Go unit into a crowded Apple retail store one busy afternoon, and quickly compared its sonic output to Apple's overpriced $350 iPod Hi-Fi single-purpose speaker box. Just as quickly, I was gone, convinced the i.Sound is better. You can buy nearly three iPod shuffles with the $200 difference in savings.
Back at home, I tested C2Go's 36 watts against Samson Audio's mighty Resolv50A powered $240 reference studio speakers, reviewed here. Music clarity and presence are superior from i.Sound. Even though the Samson monitors are much louder (dangerously so) at their top volume, C2Go is PLENTY LOUD when cranked up to 40, its maximum.
Do you remember the legendary $100-150 Sony one-piece CFS-series cassette/radio boomboxes? C2Go is portable too, with a pair of battery compartments each holding six "C" cells. C2Go is heavier with batteries installed than without, but you can take your iPod or AM/FM radio concert with you to a park or picnic or puppy training session. This i.Sound portable has rigid carrying handles at each end.
* * * * *
Inserts are provided for every iPod with a dock connector. C2Go's dock will charge these iPods. An auxiliary audio cable is included for playing music via the 3.5mm headphone/speaker jack from nearly every computer and music device worldwide. TV/Video/iPodVideo players can have their audio presented via C2Go with its included video cable. A handy battery-powered remote enables you to control every feature and setting on the speaker system. Bonus: a built-in USB port and provided cable allow you to sync your iPod with a computer.
Treble and bass controls are adjustable from minus-8-to-plus-8, and are natural-sounding. They're not always necessary to use, thanks to C2Go's enjoyable inherent bias and timbre. Clock radio works as advertised. The black-on-white LCD display is easy on the eyes and extremely legible. AM/FM is on a digital tuner, meaning you may not have a strong FM radio signal for each station, but that is beyond your control, in spite of the included antenna. The radio has a memory feature to save favorite stations.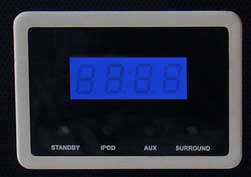 A skimpy Instruction Manual is included that could be more thorough. Toll-free USA tech support is offered, as are web-based queries. You won't need much help with C2Go once you are accustomed to its features.
* * * * *
C2Go has two quirks to know about before you obtain your player. First is a slight delay of sound coming from the speakers when using the remote plus 3.5mm cable from a computer. When you press an up or down volume key on your keyboard, audio begins. Second is bizarre: LOUD alarm going off with gamelan-sounding music, in the middle of the night. C2Go's alarm is set to ON at the factory, so make sure you turn it OFF immediately upon setup, or your first night will be a shocker. This happened to me on both eval units provided by i.Sound. The first time it was funny, at 4:00 a.m. The second time, at 12:30 a.m., my wife was ready to [fill in the blank yourself here].
MyMac.com alerted the company, and we received this reply: "I'm so sorry that you got woken up in such an unpleasant manner! I hope you've since reset the alarm timer! Or you might be sleeping on the couch, huh? 😉 Yes, indeed the factory has a bizarre pre-set alarm time on the product. We have discussed it with them and these should not be present on the future batches. I really hope your wife has forgiven you, John, and is understanding of the 'guinea pig' profession you chose!"  Our rating below will reflect these minor annoyances, plus the need for a more comprehensive written manual.
* * * * *
I've been using C2Go as my full-time audio playback system for a month, and I'm very impressed. Music quality, volume, and tone are consistently excellent. When not attached to my docked iPod, C2Go has a cable AUX (auxiliary) connection to my G5 tower. In a word, music sounds great.
We give i.Sound's Concert to Go a high recommendation. Price is exceptional, appearance is attractive, features are numerous, controls are straightforward, portability is versatile, and audio is first rate. C2Go is available in white or black from a few online retailers, and from the company. Prices are dipping toward $100 US for this sound system, so shop around.
FYI: C2Go was an Innovations and Engineering Awards Showcase Honoree in the Audio Accessories category at the 2007 Consumer Electronics Show. Well deserved!