BurnAgain DVD
freeridecoding
Price: $24.50 ($14.50 upgrade from BurnAgain)
http://www.freeridecoding.com
I have a friend who is always asking me if he can burn a CD or DVD with files and then add to it at a later date. I have never been sure of an answer for him, until I tried BurnAgain DVD. BurnAgain DVD allows you to do just that, and it works great.
BurnAgain DVD actually replaces a program called BurnAgain, adding DVD+RW compatibility. It also works with CDR and CDRW discs. Support for other formats is in development.
The program could not be any easier to use. The simple interface below opens and you drag and drop the items you want to burn to the disc. Click "Burn" and you are good to go.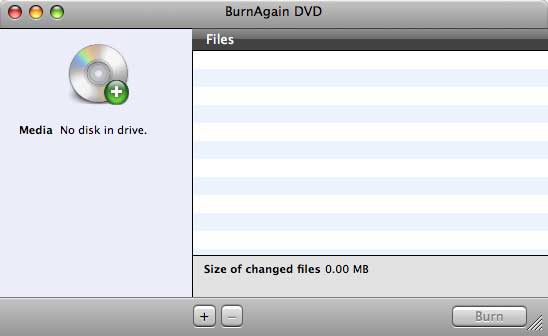 Of course, what sets BurnAgainDVD apart from burning in the Finder or another application is the ability to add files to a disc you have already burnt to in BurnAgainDVD. (You cannot add files to a disc originally burnt in the Finder, for example.)
My favorite feature of BurnAgainDVD is that ability to burn the same folder of files over and over again, and only rewrite files that have changed or files that are new. This is great for backing up , especially for those that don't have a second hard drive. You can even rename a disc, and hide old burns.
My only issue with the program lies in the settings. In the setting you can choose what speed to burn the disc at. The options are automatic, 1x, 2x, 3x, and 4x. Even if the drive is capable of burning more than 4x, it does not appear in the menu. However, automatic seemed to burn a CDR at the highest speed possible of my 52x external burner, and it was not limited to 4x.
If you hate burning files to a CD or DVD and barely using any of the space on the disc, this program is worth looking into. Even though media is extremely cheap these days, the price adds up and more media used=more storage space needed. At $24.95 BurnAgain DVD will pay for itself in the long run.
One note: This program is for burning discs for storing files, not for making a playable DVD or audio CD.