Slyder for iPod Nano
Company: Marware
Price: $24.95
www.marware.com
I've had the opportunity to review several Marware iPod cases in the past, and each case I have reviewed has put a unique twist on the iPod case. It is usually a feature that no other case has. The Slyder for iPod Nano (2nd generation) is another Marware case that presents another new concept for an iPod case.
The Slyder is a hard shell case made of clear plastic. For those that don't like iPod cases because you can't see your iPod's color (especially 2nd generation Nanos) this is a nice feature. The hard shell covers every part of the Nano except for the headphone jack, and hold button.
The unique feature of the Slyder is that it slides open. You slide the front bottom down to access your iPod.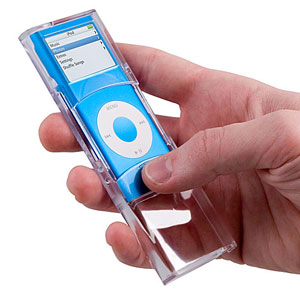 This is a nice idea in concept and looks, but it is a real annoyance. You have to slide the case open to insert and remove it, you slide it open to use the click wheel, and you slide it open to sync. This basically removes the option of reaching down to your belt, or in your pocket, or in your bag, and controlling your iPod with one hand (something I do all the time).
The design of the case could use some improvement, as well. Sliding the iPod in and out of the case was extremely tight. It was so tight that I was afraid I would scratch the Nano (I didn't scratch it, but it was a concern). The sliding portion of the case came off several times, and it is not the easiest piece to get back on. It is not the hardest thing to do, but it is not easy. Also, if you "over-slide" the front of the case, you can't angle it up. It has to slide into the right spot so that it can be lifted.
On a positive note, the Slyder comes with a belt clip which is applied to the back of the case with an adhesive backing. I thought an adhesive belt clip may not be a great idea, but it definitely works. I have tried and tried to pull the clip off the case, and it is not going anywhere. It is a nice quality belt clip, too.
Unfortunately, having a nice belt clip does not make an iPod case a great case. When it comes to protection and a cool concept, the Slyder is great. However, in reality the idea just does not work well.